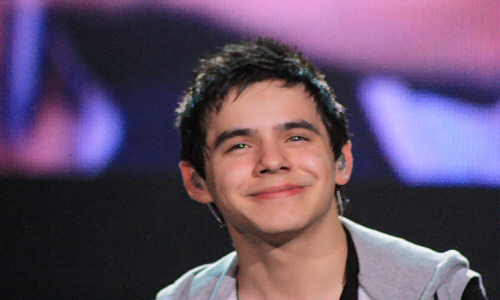 Photo by Pam Pike
I just got back from a video duplication store and need to share this wonderful story about David Archuleta and the magic of his persona. A friend gave me a video of David singing at the Del Mar Fair in San Diego, Calif. in June. He was absolutely perfect that night and showed such excitement on stage. She gave it to me the night of his Los Angeles Concert at the Nokia Theater and I was so grateful for the beautiful gift. Another close friend wanted a copy but for some reason my expertise lacked the experience to copy it correctly. So I decided to find someone who could.
A wonderful lady answered the phone and said they could get it back to me by the end of the day so I ran over and dropped it off. We worked out the time and I paid in advance to save time when I went to pick it up.
She called me in the afternoon and said it was ready and I went right over to get it. She smiled at me and said I hope you don't mind but I watched the whole video before we copied to make sure it was playing correctly. I said of course not and she continued to ask me questions about David. His age, does he have an album out, where does he usually sing and what Label is he under!!! Very good questions I thought!! She said he was really very, very good and she loved his voice and wanted to get his album. BINGO!!! I handed her a Promo Card and told her where she could get his album and she said she would definitely download his Fan Pack tonight and go to Walmart and get his album tomorrow.
We discussed a few more attributes about David and I definitely can say she is and will be a fan for life. Amazing how little it takes for David to win over a new fan. Just listen to his velvet voice and watch his charming and adorable demeanor and you are hooked, line and sunk into Davidville. We will get each fan one at at time if need be!!!! I will be going back to utilize their services again for other video related items and will check to see if my new friend has caught up to the rest of his ODD fans and perhaps ask if she would like to go and see David in concert. There is nothing like seeing David in person!!!!
Copy this short URL to share this post anywhere: http://www.dabuzzing.org/?p=2768

Tags: Del Mar · Nokia Theater · photos
Filed in: music|photos
This Post has earned 3 Buzzes.