David Archuleta Arriving at JFKI love this candid photo of David as he arrives at JFK under the watchful guard of a professional 'star handler.' David seems full of innocent curiosity as the bodyguard's watchful gaze scans the scene to assure David's safe arrival. Wearing backpack and sneakers that denote lightness in his spirited walk, David greets fans with a beaming smile. With his adorable fawn-like demeanor he embraces the world with amazing kindness, perceiving the good in all and everything. He's a world-class ambassador who changes for the better each and every person he meets.
David will forever be a Honeybee's source of inspiration.
In the years ahead many words will be written about David Archuleta. Writers will wax poetic. Critics will pen rave reviews. Journalists will tell a good story. But as writers have long said, "A picture is worth ten thousand words." A single photo of David speaks volumes!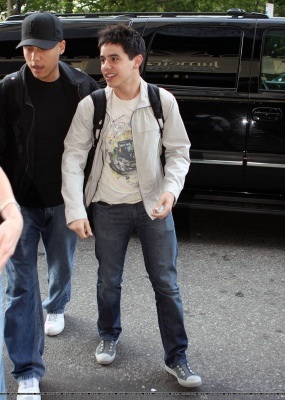 David arriving at JFK, Photo: david-hq.org archive
Photo posted on http://www.david-hq.org/photos/index.php
David Archuleta, a Photographer's Dream.
Copy this short URL to share this post anywhere: http://www.dabuzzing.org/?p=1867

Tags: JFK Airport · Photo of the Week · photos · topazjazz
Filed in: columnists|photos|topazjazz
This Post has earned 2 Buzzes.