It's hard to distinguish who is more impressed with whom—David Archuleta with the songwriters he has been working with these last few weeks or the  songwriters Emanuel Kiriakou and Claude Kelly with David. 
Such amazing talent gathered together in one room creating the best of Pop Music today with the realization they have the best Pop singer in their presence!  Their mutual admiration for one another is priceless and so will be the music they are creating!  What a treat we will have when David's album is finished!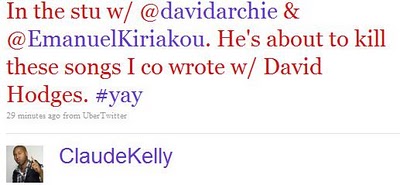 Some background information on Claude Kelly!
"Growing up on the Lower East Side, I was hearing reggae and super-soulful stuff like Marvin Gaye and pop and rock. I think people are surprised I can do it but I really genuinely did grow up listening to it all." By age two, he was playing the piano and by seven, the flute. His single mother, a nurse who moved to the States from Jamaica, made sure Claude's talents didn't go to waste. "She kept me busy," he says. "There was swimming and dance—activities every single day, church on Sunday and back at it on Monday. There was no time to linger in the streets, ever." He can also credit his diverse ear and writing skills to his travels. Upon graduation, Claude decided to formally study music at Boston's prestigious Berklee College of Music. Eager to begin his career in music, Claude doubled up on coursework and completed his degree in three years. Claude landed his first song on a compilation album for the popular Japanese clothing line, "A Bathing Ape." In 2006, his song "Daddy's Little Girl" landed on Frankie J's album "Priceless."
Claude Kelly can't remember how he came to be nicknamed the "Studio Beast," but when you get a moniker like that, it's not something you dispute, right? "I've been trying to figure out where that came from for years," says the wunderkind, who really hasn't had long to mull over it anyway. Check the math: in just seven years, Claude went from college grad to writing #1 hits for Kelly Clarkson("My Life Would Suck Without You")Britney Spears("Circus") and giving Chrisette Michele one of those enduring, career defining ballads ("Blame It On Me") that helped send her album straight to the top of the charts in its first week. So yes, "studio beast" fits. But "chameleon" might work too. Claude does it all—from pop toR&B to rock and soul—and the versatility is no doubt the effect of growing up on Manhattan's Lower East Side.
Claude prides himself on coaching singers to do their best work, and treats each song as a journey. "I think I have a gift, but what keeps getting me work is the attention that I give to the artists themselves. I really pay attention to what songs make the artist better. It's not about me– It's about respecting the art, and making the best songs whether it takes five minutes, five hours, or five days. Ultimately I'm there to make everyone sound better." He's a songwriter deeply devoted to his craft, determined to put the pursuit of quality over everything else. "To me, a song is supposed to take you to a special place… The reason we love music is because it can take you to place where you were heartbroken, or want to dance, or were in love for the first time. As soon as the song comes on you should feel that vibe and get lost in it."
Copy this short URL to share this post anywhere: http://www.dabuzzing.org/?p=12291

Tags: Claude Kelly · David Archuleta · David Hodges · Emanuel Kiriakou · Pop Music · Songwriters · Twitters
Filed in: career|David Archuleta|music|news|opinions|reviews|voice
This Post has earned 1 Buzz.