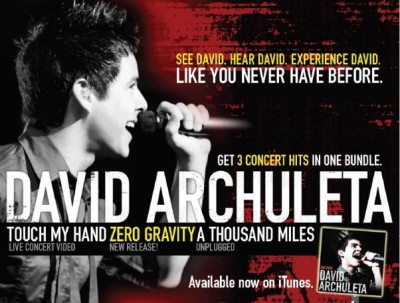 In conjunction with passing out Promo Cards for David's Fan Pack, I will be giving away at the Los Angeles concert 5 Itunes Fan Pack GIFT CERTIFICATES and 5 at the Las Vegas concert.  So anyone in line may be the Lucky Recipient!  They can be new, old or not yet fans.  My goal is to make sure everyone has an opportunity to enjoy David's music!!
Please help me expand David's fan base and get him to Platinum.  To hear him is to Love him and to see him is an exciting experience!  Help me!  Just download the Itunes Fan Pack onto good sturdy paper as a gift and it make's a lovely lettersize certificate.  You can even print a message out to the lucky fan!
Enjoy David's Music —  Don't forget to Vote for him on TCA!!
If we all offered a couple of certificates to people standing in line, Think how many new fans he would receive!
GET ON BOARD – TAKE THE CHALLENGE!!!  – GO HONEYBEES!!!! – WE CAN DO IT!
           THANKS FOR HELPING DAVID GET WHERE HE BELONGS!!!!
Copy this short URL to share this post anywhere: http://www.dabuzzing.org/?p=2259

Tags:
Filed in: career|music|news
This Post has earned 1 Buzz.