Great interview from Brian Mansfield from Idol Chatter on David Archuleta's feelings about songwriting, his time in Nashville and his upcoming memoir! It's a must read! Enjoy!
Brian Mansfield Interview with David Archuleta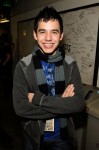 Last week, David Archuleta returned to Nashville to write more songs for his next album. As he did during his last Music City visit in October, he worked with singer/songwriter Joy Williams, even staying at the house of Williams and her husband, Nate Yetton. "Sometimes, people are like, 'Nashville, it's only the country and the ballads,'" David said Friday morning, while sitting at Williams' breakfast table, eating a bowl of cereal and granola. "They are good at that kind of stuff, but they care about the music. Sometimes people forget that special thing and piece to music that is so important. People get lost in 'We need the hit' and 'We need the hook.' So much is missing from that that I enjoy about music."
David and Williams brought a variety of other writers into last week's collaborations, among them Cary Barlowe (co-writer of Lady Antebellum's latest country hit, American Honey), Hillary Lindsey (Carrie Underwood's Jesus, Take the Wheel), Danny Orton (Josh Gracin and Tim McGraw's Telluride), Jenn Schott and Jamie Kenney.
"Jamie's just such a sensitive person," says the 19-year-old singer. "Even the melodies, and the way he plays the piano are so sensitive and emotional. When he was playing the piano part on the track, he paid so much attention to the way he played, how it emoted and what was trying to be said and felt in the song. I loved that. I've never seen anybody pay that much attention to those kinds of details, which I loved."
On Tuesday, for instance, David, Williams, Kenney and Jesse Frasure wrote a song called Nervous. "It's about going ahead and doing it, even if you're scared," David says. "The main thing is, 'So what if I'm nervous?' Sometimes you have to take those risks, and sometimes you'll be nervous, but why should that be an excuse? Some things, you need to do that way. And sometimes those are the most fulfilling things in life.
Monday brought a love song with Jeremy Bowes and Cindy Morgan ("It wasn't about anyone specifically; it was about wondering who that person might be in the future"). Wednesday yielded a ballad with Kenney and Schott ("It was an honest song, about admitting that you're not perfect … It's just about letting the inside out").
In all, David says he's written about 20 songs so far for his next album. And as much as he'd like to have more hit singles, he says it's more important to him to convey his personality through his music.
"So many people know who I am and say they're fans and don't know I have an album out, even," he says. "People are still fans, and it's interesting, because it's not even because of my music.
I want people to say, 'I appreciate what David's trying to do, in that he tries his best to be who he is and keep doing what he's doing, and that shows in his music. I can see him and feel him in his music. I can see his personality, and I can see what he believes in and what's important to him.'"
David started writing for the album in the fall, but then came his Christmas album and holiday tour. Then had had to work on his memoir, Chords of Strength: A Memoir of Soul, Song and the Power of Perseverance, set for a June 1 release.
"Now I'm finally getting back to the music," he says.
Writing Chords of Strength was a difficult process, David says. "I never thought I was interesting enough to write about myself. I didn't think I had enough words to come out of me to make sense."
David calls writing the book a great learning experience, "because it helped me remember things I hadn't thought about for a long time. Sometimes you get so caught up in what everybody else is focusing on — the music, American Idol — that that's where your life is. It's like that's where you were born.
"Some people don't even think about your life before music. Even the writer I was working with would just focus on music. I started liking music and singing when I was 6. I didn't feel that into it until I was 11. I had a life.
"But my life isn't just music. Music's a part of my life. That's the thing I tried to make most apparent: Music is a part of my life, it isn't my life."
David generally shies away from discussing his religious convictions during interviews. "I don't want to weird people out," he says. "People have different views of life, and I try to respect that. I feel like music has a universal common ground, so I've just let the music do the speaking."
However, he delves into the subject of his faith in Chords of Strength.
"I decided if people want to know who I am, they need to know this about me, this part of my life and how important it is to me and how it has affected my decisions, how I view things, and why I am who I am.
"I feel like God's the reason why I'm here, and the way that I've tried to do what I feel is right is the reason why I'm here.
"Sometimes I feel like I don't have the knowledge it takes to be in this position. I don't know if I deserve this. But God has different plans for me, and I trust him."
While David's last trip to Nashville involved several outings in additions to his writing sessions, this most recent visit was more work-focused. He even had to skip a Lady Antebellum concert, which he had hoped to attend with actress/singer Jennette McCurdy because he was in the studio recording one of the new songs.
"I still want to go to the Pancake Pantry," he says. "That's the place that people keep telling me about. I haven't been there yet."
Copy this short URL to share this post anywhere: http://www.dabuzzing.org/?p=13743

Tags: Brian Mansfield · Chords of Strength · David Archuleta · Idol Chatter · Nashville
Filed in: career|David Archuleta|music|voice
This Post has no Buzz yet.