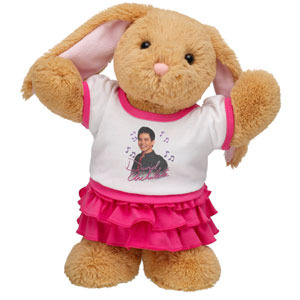 The Buzz Mom by Erin Tales – Sunday, September 6th 2009
There are a lot of American Idol fans out there. So you know who David Archuleta is – the runner up in American Idol Season 7. He ended up with 44% of the votes and now has tons of fans – The Archie and Arch Angels.
Since the release of his debut, self-titled album, Archuleta has released 3 new songs – one being "Let's Talk About Love," an exclusive for Build-A-Bear. You can download this Build-A-Bear workshop song by donating a $1 to Save the Children at Build-A-Bear.com. This $1 donation not only gets you "Let's Talk About Love," but also a FREE Let's Talk About Love Tee for your online character at buildabearville.com! Also, David Archuleta fans will LOVE the David Archuleta Lil' Bunny Big Ears. For $25 you get a 14 inch Lil' Bunny Big Ears, a David Archuleta Tee and a Fuchsia Layered Skirt This is a limited edition plush, so don't wait too long to get it!
The Buzz Mom also has a contest at http//www.themombuzz.com/2009/09 win=david=archuleta-fans-let-talk.html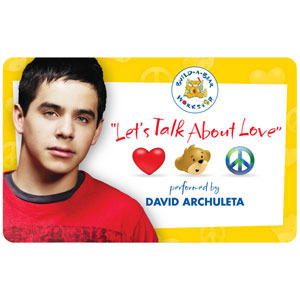 This is just too cute for words, I have already ordered two one for me and my 3 year old great niece!
Copy this short URL to share this post anywhere: http://www.dabuzzing.org/?p=4914

Tags: Build-a-Bear
Filed in: career|David Archuleta|news
This Post has earned 1 Buzz.