Chords of Strength Quiz
CoS Random Questions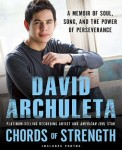 The following Chords of Strength quiz covers pages 1 through 50 of David Archuleta's best-selling memoir. After you submit your answers, your score will be displayed on a new web page. Each correct answer will have a reference to the page in the book, so you can double-check to make sure. Please let me know if I made an error! It wouldn't be good if the questioner doesn't know the answers.
Have fun and good luck!
Check back soon for another CoS quiz. By the middle of the summer, we'll all be CoS experts!