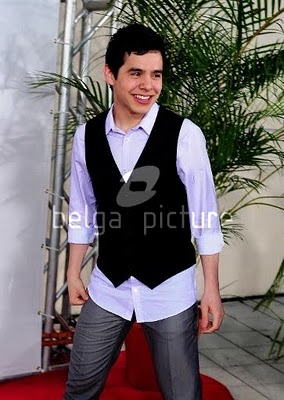 We have all been wondering about the songs David has been working on and perhaps this following list will ease our anxiety just a little. From what we have heard, one is a real 'tear jerker' and I believe 'Today' is one that is a favorite of David's.
Twenty songs seem to be finished and how many more are still to come, we don't know. Perhaps they need more songs for the album and maybe that's why David's memoir has been moved back a few weeks so he can finish writing before, (wink, wink) he goes on a book tour. Wouldn't that be lovely!! Let's hope David gets the songs he wants on his album and we get a release soon. A book tour or a concert tour is desperately needed!!
This information is from David and twitters about his album. This starts from last year's writing sessions, not just the new writing sessions this year. The more recent songwriting collaborations are written down in the groups of people he has worked with. There are a few duplicate names on the 'writing with' list.
The song list isn't up to date, especially with the recent sessions in LA. The Nashville total should be close to the right total.
From: (CBismyhero) – Great List!
HAS WRITTEN/WORKED WITH DAVID:
Wayne Hector
Joy Williams
Matthew Bronleewe
Andy Dodd
Andrew Fromm
Robert Marvin
Jeremy Bose
Matt Wertz
Ed Cash
Rick Seibold
Jeymes Samuels
Victoria Horn(Lady V)
Matt Squire
Daniel Bedingfield
Kina Grannis
Andre Merritt
Adam Messinger & Nasri Atweh (The Messengers)
Emanuel Kiriakou
Benton Paul
Dapo Torimiro
Priscilla Renea
Lindy Robbins
Jackie Boyz(w/ Dapo Torimiro)
Drew Ryan Scott(w/ Dapo Torimiro)
august Rigo(w/ justin graham, stereotypestv, eric nicks)
Jeremy Bose, Cindy Morgan
Cary Barlowe, Jesse Frasure, Joy Williams
Jamie Kenney, Jenn Schott, Joy Williams
Danny Orton(w/ Joy Williams, Jenn Schott)
Hillary Lindsey(w/ Joy Williams, Jamie Kenney)
WAS WORKING/WRITING FOR DAVID:
Jack Knight
Paul Mabury
Jess Cates
Claude Kelly
David Hodges
Inara George
Lil Eddie
The Writing Camp
Eddie Galan
SONGS:
– Nobody Knows (co-written with Rock Mafia)
– Notice Me (co-written with Joy Williams, Matt Bronleewe, Andrew Fromm)
– Sooner or Later (produced by Robert Marvin)
– Falling Awake (produced by Robert Marvin)
– Best Behavior (co-written with Matt Wertz)
– Today (cowritten with NasriWorld)
– 3 songs (co-written with Dapo Torimiro, Priscilla Renea, Lindy Robbins[1])
– Ballad (co-written with Joy Williams, Jamie Kenny, Jenn Schott)
– 3-4 songs (written by Eman, Claude Kelly, Jess Cates)
– 11 done in Nashville (estimate)
– 4 in LA (not up to date)
Copy this short URL to share this post anywhere: http://www.dabuzzing.org/?p=13795

Tags: Chords of Strength · David Archuleta · Songwriters
Filed in: career|David Archuleta|music|news
This Post has earned 1 Buzz.