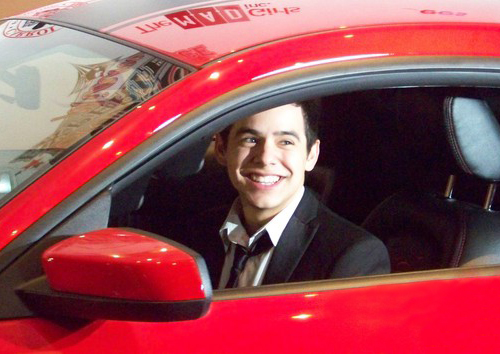 David Archuleta looked really classy in that GT500 Super Snake Coupe at the Jordin Sparks Experience in Miami, Florida the other night. It gave him a brief illusion of freedom as if he had freedom for work, from all the worries and responsibilities, from the hard work he has been putting into his songwriting and all of his charity work.
The car ads on television and in magazines always suggest an ideal world, connecting the idea of the automobile to freedom, openness, endless power and possibility. But does it really transform our lives? Does it really change our world?
For one young man, David Archuleta, I am sure it would not change him at all. For someone who is more concerned about people instead of things and doesn't spend money on much other than food, he might feel this is over the top spending. We have seen him in a energy-saving car and he is concerned about the environment. Remember when he was on AI he stated he dislikes people not putting trash in the trash cans. They even had a commercial of him doing just that. Haha!
Nevertheless, he did look awfully cute in that shiny red car!
Copy this short URL to share this post anywhere: http://www.dabuzzing.org/?p=11451

Tags: GT500 Super Snake Coupe · Jordin Sparks Experience · Miami Florida · Superbowl
Filed in: David Archuleta|news|photos
This Post has earned 1 Buzz.