David Archuleta and Mannheim Steamroller were the musical artists for Pandora Unforgettable Holiday Moments on Ice broadcast on NBC on Sunday, November 27, 2011.  The collaboration turned out to be pure genius, and David was in his element performing with this well-known group.  All of the performances were stellar, but David singing "Above The Northern Lights" was particularly stunning.  Sublime and hauntingly beautiful describe both the melody (set in a minor key) and David's vocals.  Skaters Naomi Lang & Peter Tchernyshev, five-time U.S. National Ice Dance Champions, wonderfully interpreted the music with their choreography.
(Credit:  amberberkoff47 – mjsbigblog)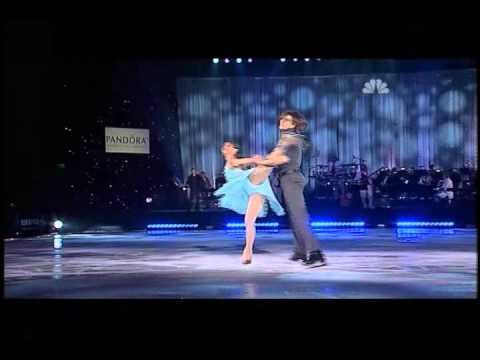 Chip Davis, founder of Mannheim Steamroller, co-hosted the program with Kristi Yamaguchi, and he referred to David as "the remarkable David Archuleta."  It's clear there was mutual admiration between David and the Mannheim musicians.  The group sent out the following tweet regarding this performance of "Above The Northern Lights."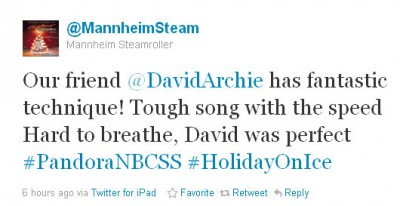 Copy this short URL to share this post anywhere: http://www.dabuzzing.org/?p=18717

Tags: Christmas Music · Mannheim Steamroller · Pandora Unforgettable Holiday Moments on Ice
Filed in: David Archuleta|music|performances
This Post has earned 4 Buzzes.