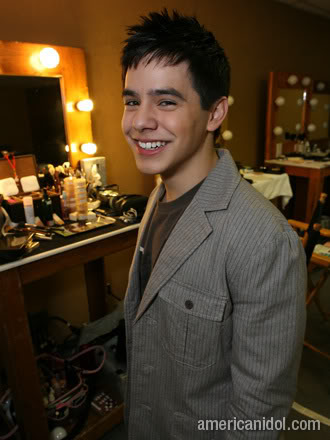 For several reasons this article tickles my funny bone as neither writer, Christina Kinon nor Donna Reynolds, listed David Archuleta as one of their favorite Idol contestants. But behold, look who is winning! As of this date with 42% of the vote, he is leading. It always amazes me there are still a few people who just don't get it yet!!!! Oh well, they will eventually come around! Haha! David Archuleta, the King of Polls!
Syracuse.com
by Donna Reynolds
Who is your all time favorite 'American Idol' contestant?
New York Daily News reality TV expert Cristina Kinon has put together a photo gallery of her all-time favorite American Idol contestants. She justifies her choices, which include some obvious and others not so obvious.
Kinon's list includes David Cook, Kelly Clarkson, Ace Young, Amanda Overmyer, Chris Daughtry, Fantasia, Blake Lewis, Jennifer Hudson, Elliott Yamin, Carrie Underwood, Bo Bice, Matt Rogers, and Adam Lambert.
While I agree with most of her choices, I would take exception to Matt Rogers, the Season 3 jock…and Blake Lewis, the beat-boxing misfit whose inclusion in the Season 6 finals is still baffling. I'm not totally buying Ace Young in this group either, but he's a good guy and has had an impressive post-Idol career on Broadway.
My all-time favorite Idol is Bo Bice who blazed the trail for future Idol rockers. I would also put Elliott Yamin and Adam Lambert on my list, along with Jennifer Hudson, Carrie Underwood, George Huff, Fantasia, Clay Aiken, Taylor Hicks, Kellie Pickler, and Allison Iraheta.
Who are your favorite Idols?
David Cook 2% (169 votes)
Kris Allen <1% (8 votes)
Adam Lambert 5% (535 votes)
Clay Aiken 3% (322 votes)
Chris Daughtry 1% (38 votes)
Elliott Yamin <1% (38 votes)
Jennifer Hudson <1% (5 votes)
Carrie Underwood 23% (2,449 votes)
David Archuleta 42% (4,473 votes)
Fantasia <1% (4 votes)
Kelly Clarkson 20% (2,149 votes)
Ruben Studdard <1% (5 votes)
Bo Bice 1% (74 votes)
Taylor Hicks 3% (354 votes)
Katharine McPhee <1% (5 votes)
Jordin Sparks <1% (1 votes)
Kellie Pickler <1% (17 votes)
Other: 1% (93 votes)
Total Votes: 10,739
Copy this short URL to share this post anywhere: http://www.dabuzzing.org/?p=13863

Tags: polls
Filed in: David Archuleta|opinions
This Post has earned 1 Buzz.