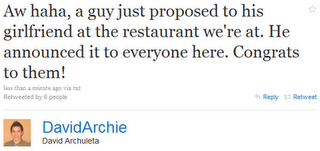 David Archuleta in a restaurant tonight overhears a guy propose to his girlfriend and the guy announced it to everyone. Only David would embrace the moment and congratulate them by singing. He said it was nice. It was more than nice. The couple will remember this special moment the rest of their lives and will always know that David Archuleta took the time to wish them happiness by singing to them. The memory of this gesture will forever stay in their hearts.
David, you are a special young man, sensitive and caring by giving this couple a special gift they will never forget. You are a sweetheart!
Copy this short URL to share this post anywhere: http://www.dabuzzing.org/?p=14650

Tags: David Archuleta · Engaged Couple · Restaurant
Filed in: David Archuleta|music
This Post has earned 1 Buzz.