Another great picture of David Archuleta and Rick Springfield has popped up from the People Magazine Photo Shoot.  It seems a lot of attention has been given by several older Teen Idols on David's popularity and talent.  Just the other day Frankie Avalon was asked to comment on who he felt comes close to the teen idol status he had and said, "I like David Archuleta, I just saw him on a video the other day.  He's doing a lot of good stuff."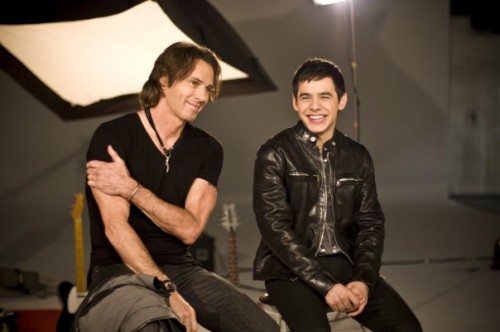 Paul Anka a few months ago also commented on how he would love David Archuleta to appear as him in a theatrical production he is writing.  As many of you remember, Anka was quite popular and was very young when he started in the music business.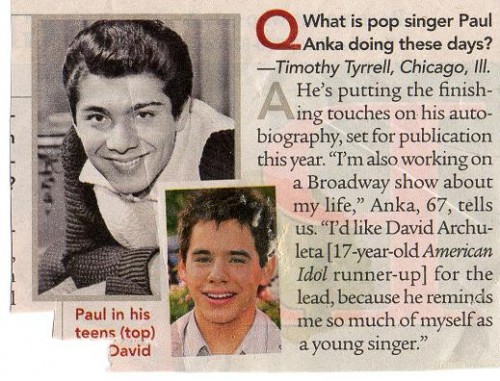 If you notice to the far right you'll see a picture of another Teen Idol, Elvis Presley.  As David signed the Ice Cream Truck (Rock Star) Hall of Fame Wall in Anaheim after his concert on December 2, 2009, it brought back all those memories as a teen listening to the "dreamboats," as we called them, on our transistor radios and our 45s, and waiting for American Bandstand every week.
The creation of idols has always depended on chemistry and hormones, a notoriously unpredictable mix.  But the men and women in the business, the people who know all those facts, say that forces larger than adolescent desire are at work. 
"In the history of teen idoldom, starting from Frank Sinatra and the Beatles, the teen idols who have become real icons have all been musical," said Randi Reisfeld, the editor of Sixteen magazine. "These days," she said, "music has become so polarized, it's hard because there aren't that many outlets for the type of music traditionally associated with teen idols—accessible music, with a pop sound…It's hard to get your stuff played on the radio."  The internet with itunes gives our teens an outlet, and live concerts are more accessible to the preteen than ever before.  
As much as I dislike American Idol, it has given many teenagers the opportunity to pick and choose and cast their vote for their particular "dreamboat".   It gives the preteen the opportunity to enjoy their idols that we shared on many teen dance shows years ago.
David Archuleta is the ultimate prize package as a teen idol; not only does he have the looks, character, soul, personality, he quite frankly has the best singing voice of all the teen idols I can remember, then and now.  The buzz around him is not just us Honeybees, but it is large media attention that is finally recognizing his talent.
Copy this short URL to share this post anywhere: http://www.dabuzzing.org/?p=9421

Tags: American Idol · Elvis Presley · Frankie Avalon · Paul Anka · teen idols
Filed in: career|David Archuleta|music|news
This Post has no Buzz yet.