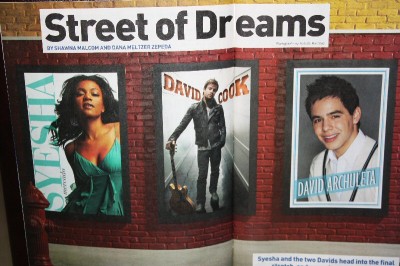 American Idol Top Three highlighted in TV Guide, May 19-25, 2008 issue!
Remember when we bought any and all magazines that featured David Archuleta when he was on Season 7 of American Idol?  Somehow I missed out and was lucky enough to order this copy on Amazon.com and it arrived today.  Haha!  I need to clarify this statement—I still buy any and all magazines that feature David in them. 
This issue mentioned how their dreams are about to come true and gives an exclusive look at their hopes and fears.  This particular moment with David in the studio recording is very cute. The sound engineer flings pencils at the wall of clear glass separating him from David to punctuate his point when it's clear David is doing something right.
In the recording studio, the Voice is once again filling the room.  The engineer tosses another pencil at the window in approval.  "How many pencils do you have?" David asks, dissolving once again into giggles.
"A lot, "Brad says. "Bring it home, man."  David's in the zone.  "Singing gets me in such a good mood," he says.  "It takes you to a whole other place in life, away from everything, for a few moments at least."
That's exactly what David's singing does for the rest of us too!
Copy this short URL to share this post anywhere: http://www.dabuzzing.org/?p=12320

Tags: American Idol · David A · Season 7 · TV Guide
Filed in: David Archuleta|news|opinions|photos|reviews
This Post has no Buzz yet.