Stay tuned for more information on Derek Sheldon's interview with David Archuleta this Wednesday!
Update: Interview will be later on Wednesday www.ainow.org and later that day on his site www.worldasiderseeit.com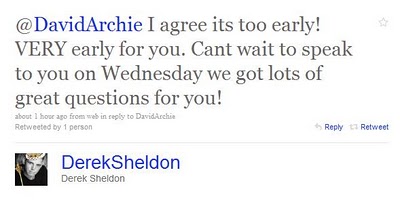 From Archuleta Avenue
Industry: Entertainment Reporter/Singer/Songwriter
Occupation: Entertainment Writer/Personality Extraordinaire
Location: Exeter, Pennsylvania; Los Angeles, CA; New York, NY; London/ Kent, United Kingdom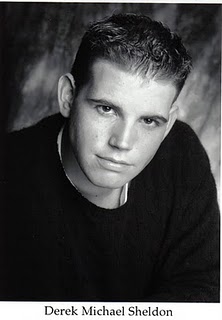 About Me: I love the entertainment industry. I am glad to have been a part of it in my past and looking forward to giving my prospective insight for the future. I will probably be as controversial as most, but I tend to always compromise for the sake of fair.
Interests: Music, Music, and Music…and of course Movies. Singing, Internet Exploration, Car Shopping.
Favorite Movies: There are so many to list and I do not think it would be fair to post here..but I can say that my favorite movie time period is from 1939-1965.
Favorite Music: As a performing artist again it's unfair to single out any specific genre. I do like all sounds of melodic tone; however I do love ballads best and I am a fan of Jann Arden and Frank Sinatra.
Favorite Books: I do love classics such as Dickens, but my favorite print would mostly be poems specifically by Emily Dickinson.
Copy this short URL to share this post anywhere: http://www.dabuzzing.org/?p=11647

Tags: Derek Sheldon · interview
Filed in: career|David Archuleta|music|news|reviews
This Post has earned 1 Buzz.