Could she be his Valentine?
Much speculation has been generated this week on whether Katie Stevens and David Archuleta would be a great match.  They are both talented, young and good looking but she might be a little too young for David as he has mentioned he would be careful to make sure  someone he is with would be at least 18.  There is plenty of time for both of them to get to know each other, and then she would be in that acceptable age group.  Can you see these two together!  She is very cute…..but I don't see it….do you?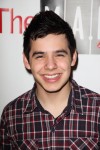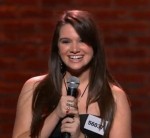 Idol Moments: Oh, the lessons you'll learn during Hollywood Week
by Cary Aspinwall – World Scene Writer
A potential "American Idol" contestant's suggested checklist for Hollywood week:
1. Memorize your lyrics. If you want to be a singer, that's a big part of your job.
2. Before auditioning, choose a handful of songs that show off your voice nicely and don't make you sound like a strangled cat.
3. If you want to win "American Idol," be prepared to sing in a group at Hollywood week and if you're lucky enough to crack the top 24.
4. Try not to act like a total brat on camera during Hollywood Week, because America will likely see this — and remember, that's who will eventually be voting for you.
5. Don't boss around the "American Idol" vocal coach and musicians — you want them to like you. You need them to like you.
6. You may love Gwen Stefani ( I do!) — but stay the hell away from her catalog unless you know you can nail it. Otherwise, you're Sanjaya.
Those crazy kids, they never listen to me.
They should. I'm often right, it turns out.
I get that working with inexperienced teenagers could be annoying for her, but young Katie Stevens seemed to work well with the older members in group "Three men and a baby."
Stevens, 17, is so good that she may force me to rethink my policy of disliking precocious teen contestants.
Maybe. (Side note: Isn't she just the perfect, lab-created girlfriend for my all-time favorite precocious teen wonder, David Archuleta — a.k.a. CUTEBOT-5000. They made a girl model!)
Copy this short URL to share this post anywhere: http://www.dabuzzing.org/?p=12144

Tags: American Idol · Katie Stevens · Valentine's Day
Filed in: David Archuleta|opinions|photos
This Post has earned 2 Buzzes.