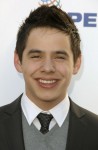 This is great news everyone: Donny Osmond will have his own radio show in Salt Lake City, Utah.  Now we know he likes David Archuleta so I think we should start sending emails to encourage him to have David on one of his first broadcast shows. The more comments and email requests the better, so start actively submitting those request as soon as you can.
Osmond's radio show coming to Salt Lake
 
by Lynn Arave 
Deseret News 
Published: Wednesday, Jan. 13, 2010 5:28 p.m. MST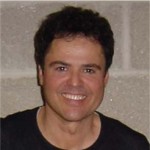 Singer, dancer and Las Vegas performer Donny Osmond will now ride his entertainment wave into the radio world. He will be the host of a new syndicated radio show starting Jan. 18. It will air on some 60 U.S. radio stations, including KBEE (FM-98.7) locally. However, his show won't cost any radio host their job in Salt Lake City.
"It will not impact the employment of any Citadel S.L. employee," Eric Hauenstein, general manager of Salt Lake's Citadel radio stations, stressed.
He said he might shorten some local personalities' on-air shifts to accommodate Osmond's show, but that will be the extent of it.
This new program, "The Donny Osmond Show," will be a five-hour, lifestyle-driven music radio show, slanted to females and produced by Citadel Media.
Hauenstein also cautioned that because of programming issues, KBEE may or may not be able to air Osmond's first several shows.
"We will make it then (Jan. 18), or in a few days after," Hauenstein said.
Nationally, the show will air weekdays from 10 a.m.-3 p.m., Eastern time.
Hauenstein said it is still unclear when the show would air each weekday on KBEE.
 "I'm so excited to have this show," he said, noting that Marie Osmond had a radio show, also on KBEE, about five years ago.
"The Osmond show in Vegas is such a huge hit," Hauenstein said. "Donny's riding the wave.…He's such a polished pro."
He said Osmond's show has been at least six months in the making, and he predicts it will be a big hit. And, although no other non-Citadel stations in the Salt Lake market can air the new show, he expects a station in St. George and some others elsewhere in Utah — Osmond's home state — to eventually carry it.
The show is designed for both adult contemporary and classic hits radio formats.
 "Our team is extremely proud to be part of introducing 'The Donny Osmond Show' to radio listeners in the new year," Mike McVay, president of McVay Syndication, said in a press release. "Donny is such a relatable, natural personality and has historically drawn the interest of a wide-ranging audience. His recent popularity and success on Dancing With the Stars has reminded all of us what a dynamic performer he is and charmed a new generation of fans as well."
SOURCE: Deseret News article
Copy this short URL to share this post anywhere: http://www.dabuzzing.org/?p=9527

Tags: Deseret News · Donny Osmond · radio
Filed in: career|David Archuleta|music|news|opinions|performances
This Post has no Buzz yet.