This is so funny on so many levels, how and where do I start! In the car this morning when David Archuleta sent this over Twitter, I nearly drove off the freeway laughing my head off. Someone needs to document all of his twitters in a book and publish them. Amazon.com surely would have gigantic sales increase just selling this book. Perhaps, after his memoir, Chords of Strength, is released someone could start working on gathering and documenting all of them or just the best ones. Haha! How would you decide which ones were better? "Hush Cats" or maybe the "The Chipmunk" ones or the random melodies he has in his head, such as singing "Stormy Weather."
David is more entertaining than watching "Comedy Central"! Pure comedy comes from life's experiences and there is nothing funnier than David experiencing life! Haha!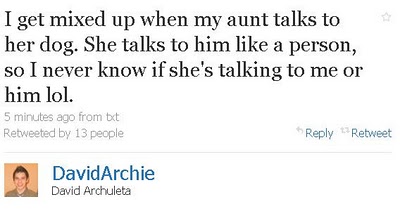 Copy this short URL to share this post anywhere: http://www.dabuzzing.org/?p=11978

Tags: Amazon.com · Chords of Strength · Comedy Central · David Archuleta · Twitters
Filed in: David Archuleta|opinions
This Post has earned 2 Buzzes.