Kids are so sweet and especially when they love David. I sent my friend an email with a picture of my first Christmas of 2009. I had the items placed on a dresser and under the items was a huge poster of David.
Well, it just so happened I was talking to my friend on the phone when she opened my email. Her 8 year old son was there at the PC with her and when he saw the picture of my "first Christmas" he said 'Oh, that's cool'. I heard his remark over the phone and thought he meant my Christmas treasures… but was very excited and pleased when I found out he was referring to the poster of David!
So, this boy LOVES David Archuleta. Who doesn't, but it pleases me no end when I hear someone else have the same excitement that I have. He is going to get a Two Thumbs Up postcard to mail to David as soon as I see him.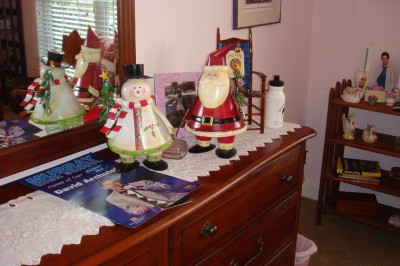 First Christmas Treasures
Copy this short URL to share this post anywhere: http://www.dabuzzing.org/?p=5858

Tags: Christmas
Filed in: David Archuleta|opinions|photos
This Post has no Buzz yet.