As I promised earlier, I am posting a picture of my 'smart' and special little Dachshund, Cauley, wearing her new DA Honeybee T-shirt. She is smart because she likes this little tee that I got her which will advertise for David and the Honeybee fans when she's out running errands with me.  My baby is special because she is blind, and yet has no fear of finding her way around places (and spreading the word for David—haha)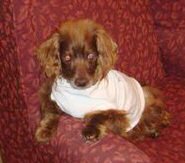 I know Cauley enjoys David's music as much as I do because she becomes so calm when we are playing his songs. Doesn't she look great in her DA Honeybees t-shirt? The t-shirt says, "My mom is a Honeybee. She creates Sweet Buzz for David Archuleta." Now I have a walking advertisement for David! That is, if I can ever get Cauley off the sofa. Whenever we go for walks, people always ask me what kind of breed Cauley is. Now they will be asking wonderful questions about David as well! I'm sure we'll make new fans and friends. Here's a close-up of the sweater. Cauley has had many years of practice in stealing the show…so now she'll create 'sweet commotions' all about David.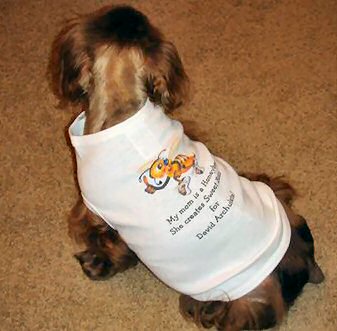 Cauley wears DA Honeybees doggie sweater very well!
Copy this short URL to share this post anywhere: http://www.dabuzzing.org/?p=5367

Tags: DA Honeybees · t-shirt
Filed in: opinions|photos
This Post has earned 2 Buzzes.