Songs It is springtime in New England and I am excited to see so many signs of its arrival. The weather is getting warmer and the days are growing longer. The forsythia bushes are in full bloom and I see buds on the lilac trees. Daffodils and tulips are springing up from their long winter's nap and the robins are out in full force.
But best of all, baseball season has arrived. Oh, how I love to watch the 'great American pastime'. I am a huge baseball fan. Every year I root for my team, the Boston Red Sox, and my family and I try to watch every game we can. Usually during the 7th inning stretch, there is the singing of "God Bless America." It is a moment that always leaves me with a lump in my throat. Today, as I watched my Red Sox play Kansas City and the 7th inning was beginning, I was thinking back to a particular Red Sox game in which "God Bless America" was sung so beautifully and with such emotion that I was left with more than a lump in my throat. The singer gave me chills. In case you have not guessed it,
The Song of the Week is…
"God Bless America"
"God Bless America" is an American patriotic song written by Irving Berlin in 1918. Mr. Berlin, who was Jewish, revised the song in 1938, as Hitler began his rise to power. Berlin felt it was time to revive it as a "peace song," and so it was introduced on an Armistice Day broadcast in 1938. At that time, it was sung by American singer, Kate Smith. She was accompanied by a full band, progressing into a grand march tempo. It was a very emotional performance and the song became a huge hit in the United States. Mr. Berlin gave the royalties of the song to the God Bless America Fund for redistribution to the Boy Scouts and Girl Scouts of America.
Here is Kate Smith singing the original "God Bless America."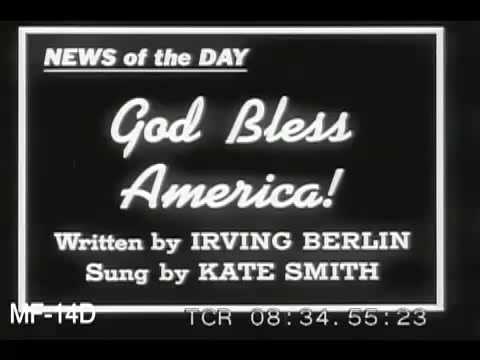 "God Bless America" is often sung at sporting events, recitals, and other public events where national anthems suit the occasion. David Archuleta has sung "God Bless America" for many of those occasions, but one event in particular really stands out for me. It was the ALCS baseball game on October 10, 2008 and the Boston Red Sox were playing the Tampa Bay Devil Rays. As I tuned in to watch my Red Sox, I was so excited to see David Archuleta open the game with his rendition of "God Bless America."
Here is David singing "God Bless America" for the ALCS game, Boston Red Sox vs Tampa Bay Devil Rays. I know David was born in Florida, so I have forgiven him for wearing a Rays jersey! 😉 This is such an amazing rendition, very powerful.
~Traditional Lyrics to "God Bless America" written by Irving Berlin

While the storm clouds gather far across the sea,
Let us swear allegiance to a land that's free,
Let us all be grateful for a land so fair,
As we raise our voices in a solemn prayer.

God Bless America,
Land that I love.
Stand beside her, and guide her
Through the night with a light from above.
From the mountains, to the prairies,
To the oceans, white with foam
God bless America, My home sweet home.
Hope you are all enjoying many of the signs of spring, wherever you may live.
As always, take care and…
GO SOX! 🙂
Katie
Listen to Song of Last Week.
David Archuleta, the Voice
Copy this short URL to share this post anywhere: http://www.dabuzzing.org/?p=15219

Tags: baf · bigarchiefan · Boston Red Sox · God Bless America · Irving Berlin · Song of the Week
Filed in: bigarchiefan|David Archuleta|music|opinions|performances|reviews|voice
This Post has earned 2 Buzzes.