Songs Tell me why I can't seem to face the truth / And I really don't know what to do / I'm just a little too not over you, not over you…. As a David Archuleta fan, those words will stand the test of time. I will forever be a fan and "a little too not over" David. As the Billboard reviewer wrote, "Archuleta will touch hearts as he breaks the charts." Chosen as the second single from his eponymous debut album, "A Little Too Not Over You" was co-written by David.
"A Little Too Not Over You"
by David Archuleta
"ALTNOY," the music video
(3:19 minutes, nearly 3 million views on YouTube):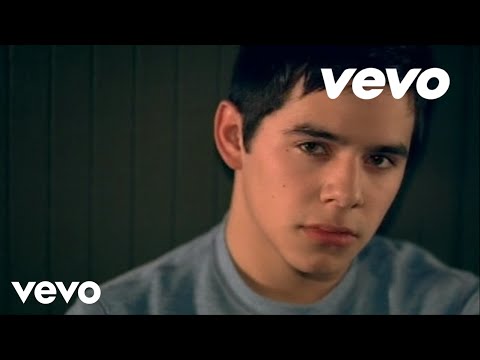 Written by David Archuleta, Matthew Gerrard, Mike Krompass, and Robbie Nevil
Released by Jive Records as the second single, after the hit "Crush", on January 6, 2009
First performed on November 27, 2008 on the AOL Live Sessions
"ALTNOY" peaked at number 14 on the U.S. Billboard's Bubbling Under Hot 100 Singles chart
Purchase the album, David Archuleta, on Amazon.
A Masterclass review of David Archuleta's new CD
by Rosanne Simunovic, MasterClassLady, Canadian Vocal Teacher & Blogger Extraordinaire
5 December 2008
Read more: MCL reviews
And this is the song that has all the fans a-buzzing on all the message boards and blogs. Scheduled to be released as his next single, this song truly has it all. It is wonderfully composed by David Archuleta and friends and impeccably produced.

David's voice, right from the outset, sounds energetic and buoyant – as one of the composers of this song, he is obviously very connected to both the lyrics and the music.

There are some wonderful harmonic progressions in this song, especially in the refrain on the word "truth". David's vocals sound expressive and transparent – lots of superb phrasing elements throughout this number that highlight the lyrical and melodic elements of this number.

I love David's head voice swimming over the orchestral refrain during the 2:06 -2:21 segment that follows the bridge. David's voice sounds so darn beautiful and he emits his vocal sound with expressive ease and elasticity.

This song screams "mucho hit" and the stuff of Grammy awards. This is most definitely one of the strongest songs on this CD –both the words and the music are truly inspired and just perfect for David's artistic gifts. Bravo!
"ALTNOY" Review from Billboard
by Michael Menachem, Billboard.com
January 31, 2009
Source: ALTNOY Billboard review
The soulful "A Little Too Not Over You" follows David Archuleta's No. 2 Billboard Hot 100 breakout ballad "Crush." "Ay ay ay" chants cement the track's chorus, and a sweet acoustic strum and floating melody deliver a fitting contrast to the "American Idol" runner-up's soulful conviction, while a climactic falsetto at the bridge takes this one home. Here is the voice of a new generation: With his emotive pop consistency, Archuleta will touch hearts as he breaks the charts.
MTV's Best of 2009 Making a Difference
from MTV
15 January 2009
ALTNOY making a difference
From the comments:
"Look up the word kind in the dictionary and David Archuleta will be featured. He is so genuine and good-hearted in everything he does. Bravo David! He also has the best voice out there. A true artist." ~ Hollyre

"David Archuleta is a gifted musician as well as a compassionate person. Thank you for recognizing his contributions to lift up those in need." ~ Jackie

"aww awesome this is on the playlist for musicians who give back best of '09 playlist" ~ Rachel

"Really great video. Clever concept and David proves a natural in front of the camera. Really enjoy it." ~ RufusinHouston
AceShowBiz Video Premiere
from AceShowBiz
16 December 2008
David Archuleta has debuted a music video for his brand new single "A Little Too Not Over You". On the Scott Speer-directed video, he is seen sitting in a dimmed room watching his pictures with ex-girlfriend through a digital camera.
Love this video. He and the girl with him match perfectly and their acting is so natural, it's almost real. David is not only an amazing singer, he is a good actor, too.Those beautiful hazel eyes of his are too die for and his face is very expressive, too. Great job, D! ~ KathyKat
I love it!!! The song and the video are AWESOME! David is a true artist! amazing singer, songwriter, musician, actor! he can do it all! ~ sdb
Read about "ALTNOY" on Katie's "Song of the Week" column, written on 10 May 2010.
Listen to last week's Song of the Week.
David Archuleta, the Voice
Copy this short URL to share this post anywhere: http://www.dabuzzing.org/?p=17192

Tags: A Little Too Not Over You · AceShowBiz · Billboard · MasterClassLady · MTV · Song of the Week
Filed in: career|David Archuleta|music|performances|reviews
This Post has earned 2 Buzzes.