David Archuleta has been writing with the Jackie Boyz in Los Angeles this week with Dapo and Nasri. It looks like his album is coming along beautifully. If some of his songs are soft R&B like many of the Jackie Boyz album, The Beginning, we are in for a real treat! Soft and Sweet!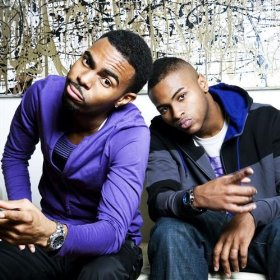 The sultry sounds of R&B mixed with modern day music complete this triple threat duo, The Jackie Boyz (@JackieBoyz). Their ability to write, sing, and perform has paved the way for their success. They are currently working with award winning producers and artists such as Flo Rida, Harvey Mason Jr., Rodney "Darkchild" Jerkins, Brian Kennedy, Rob Knox (of The Underdogs), and The StereoTypes, to name a few. They have proved their talents ensure hits and they are highly sought after knowing that they bring success to each of the projects they are involved with.
As Songwriters they continue to explode on the scene collaborating on:
+ Flo Rida's recent hit "Sugar" released March 21st, 2009.
+ Justin Beiber's third single "Down to Earth" to release in fall 09'
As Artists they started their music career singing at the pier on River Street in Savannah, Georgia, where they were born and raised. Their inspiration and love for music was instilled in them early on from their mother Jackie Battey (R.I.P). Their name, The Jackie Boyz, carries on the memory of their mother through their music and reaches out to their fans…Southern Style. The Boyz arrived in LA three years ago and have been grinding it out ever since. They are currently performing locally and in the studio coming up with fresh concepts and ideas.
As Businessmen they are developing an empire based on innovative visions and pure talent. The Jackie Boyz (@JackieBoyz) are building the type of relationships and recognition that sets their value apart from others in today's industry. They have established two publishing companies, Apartment 4 Publishing and Mall B Publishing, both affiliated with ASCAP. Jackie Boyz are very diverse songwriters with the ability to write many styles, including pop, rock, r&b, and hooks. There is no music challenge that they cannot face; just stick them in a room without music and you will end up with a great song!
The Jackie Boyz have recently come out with their debut album entitled, The Beginning. The album can be digitally downloaded via Amazon.
Copy this short URL to share this post anywhere: http://www.dabuzzing.org/?p=12818

Tags: Jackie Boyz · Songwriting
Filed in: David Archuleta|music|news|performances
This Post has no Buzz yet.