Crush is #1 Idol Single on AOL!
Top 10 'American Idol' Songs
Posted by Boonsri Dickinson – AOL Radio Blog
With each 'American Idol' season, without fail, we fall in love with these unknown, small town voices and vote on our favorites. We listen to the judges' critiques; Simon Cowell's bickering (with this season to be his last) and Randy Jackson's belief in promising stars (for he fortuitously predicted Adam Lambert, Carrie Underwood and Kelly Clarkson's success on day one). But in the end, we, the viewers, decide who stays in the running, where finalists hope the show will jump-start their careers, and soon after commercialize their talent. Over the past eight seasons, here are the Top 'American Idol' Songs that have been successful on the airwaves and rated by AOL Radio listeners. Let us know in the comments which idol songs are your favorite!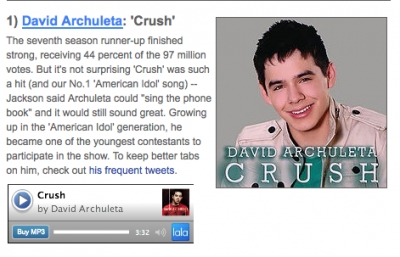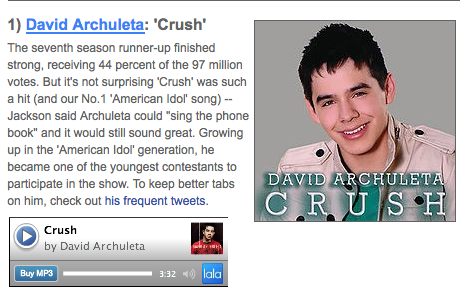 1) David Archuleta: 'Crush'
The seventh season runner-up finished strong, receiving 44 percent of the 97 million votes. But it's not surprising 'Crush' was such a hit (and our No.1 'American Idol' song) — Jackson said Archuleta could "sing the phone book" and it would still sound great. Growing up in the 'American Idol' generation, he became one of the youngest contestants to participate in the show. To keep better tabs on him, check out his frequent tweets.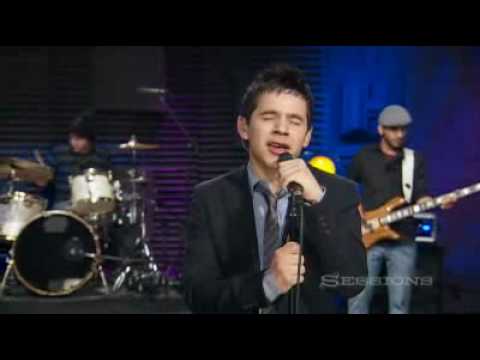 2. Chris Daughtry: 'Home'
3. Kelly Clarkson: 'Breakaway'
4. Carrie Underwood: 'Before'
5. Adam Lambert: 'Wantaya Want From Me'
6. Jordin Sparks: 'No Air'
7. David Cook: 'Permanent'
8. Elliott Yamin: 'Wait For You'
9. Kris Allen: 'Heartless'
10. Katherine McPhee: 'Over It'
Copy this short URL to share this post anywhere: http://www.dabuzzing.org/?p=14039

Tags: American Idol · AOL
Filed in: David Archuleta|music|news|voice
This Post has no Buzz yet.