pikepss Weekly on David Archuleta
Good Morning to all Honeybees!
This October 2009 David Archuleta has a mega Christmas hit of an album! With his classic performances of songs like "What Child is This," "Ave Maria," the jazzy "I'll be Home for Christmas," and "Pat-a-Pan," this holiday season has started out with an explosion of great reviews! Searching my own personal archive of holiday music, nothing seems to come close!
David had big dreams, and as a result, he has truly become a superstar. David has one of those once in a decade pop voices, a silky tenor that makes him a heart-breaker. His debut of Christmas music exploits that quality with a spiritual emotional genius. Presently, I make sure there is a proper towel at my feet when listening to this album because invariably I end up a melted puddle on the floor!
In addition to CFTH reviews we have twitters about Nashville songwriting sessions and a shortage of CDs in Utah! Concert dates have been announced, a Women's conference scheduled and upcoming charity auctions! A great week for David and his fans! May you enjoy these precious moments in time! Have a great week!
Media
Reviews and Interviews
13 October
Idol Chatter – by Mark Franklin
Lots of mentions of some Wunderkind producer, Richard Parkinson. Hmmm…need to check him out! I love how this writer did his homework and checked out producers, musicians and arrangers, including them in his write-up.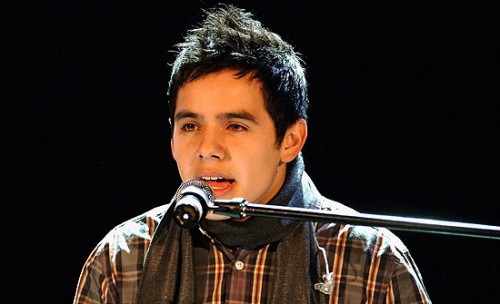 On the road again!
I don't think anyone will be surprised when I say that the stand-outs on this CD for me are "Ave Maria," "O Holy Night," "Silent Night," and "What Child Is This," which David sings with heartfelt and genuine conviction. In particular, I have to emphasize how much I love his "Ave Maria" (!!!) – I've gotten so used to it being sung with operatic embellishments, it's a breath of fresh air to have it sung simply and reverently, while still eliciting that strong emotional reaction that this beautiful song inspires.
Snarky Archies
Christmas From the Heart numbers!
iTunes:
Top albums: #8 (on live feed)
Thanks for the cap, tamster1328!
AMAZON: Update – 10/17/09
Pop – Adult contemporary #3
Bestsellers in Music: #23
Opera and Vocal: #3
Miscellaneous/Holiday: #2
Mp3 DOwnloads: #1
14 October
The entire interview from Latinaroom.com, Part 1 and 2 – It is long but very worthwhile and felt this is one interview all of you would not want to miss. Enjoy its delightful!
From Latinaroom.com:
David Archuleta: Family First (Interview Part 1 Of 2)
10/13/2009 | By: Lauren Walker | Filed Under: Interviews, David-Archuleta
18 year old American Idol season seven runner-up David Archuleta sits down with LatinaRoom and chats with us about how his life transformed after American Idol, his latest project and most importantly how his Latino roots and his family has kept him going, giving him strength through it all.
Latinaroom: What has been the biggest change in your life since American Idol?
David Archuleta: The biggest change – I don't know kind of all of it together – everyone now recognizing who you are, getting to travel a lot more. You know getting into your core and getting to tour, I mean it's all a pretty drastic change you know! You're not really home anymore because you're all over the place, but it's really fun; I really love it.
Latinaroom: Being so young, what goes through your mind when performing in big arenas? What's your biggest fear?
David Archuleta: Biggest fear…I guess it depends on the performance, usually arenas don't really bother me. It's usually the special events that I get really nervous for but the arenas usually are just fun. I guess the biggest thing is making sure that you pace yourself, because if you don't pace yourself you won't have a voice for the rest of your set. So you have to make sure, you don't sing all out for the first few songs because then it's like "oh my voice is gone" and I have four, five, six more songs to sing you know (laughs). So I guess that's the scariest thing, because if you lose your voice then that can be a little dangerous. But just making sure you do your best and that the crowd is having a good time, that's what I'm always nervous about, because you can mess up but if the crowd is not having a good time then you feel like "Uh Oh, I'm not doing what I'm supposed to be doing."
Latinaroom: Your fans want to know what type of girl do you like?
David Archuleta: (Laughs) Well…people who just don't feel like they have to try too hard or anything. But I like it when girls have respect for themselves. Not in a cocky way like, "I'm so amazing," but just someone who respects themselves and someone who respects other people. Someone who is a little adventurous in trying different things, like you know going to different restaurants maybe or on a hike; just doing adventurous things. If they're just like "Oh I just want to sit down and watch a movie all week long with you, I don't want to do anything," then that's pretty lame, you know. [I like] someone who likes to be involved in things, someone who can be independent, but still cares about other people…Does that make sense? And they have to like music obviously, that's pretty important (Laughs).
Latinaroom: Speaking of different restaurants…what's your favorite food?
David Archuleta: Thai food. I love Thai food! Thai food is AMAZING! Oooh, I just love it, I love Mediterranean too. It's a blend of like spicy sweet and sour, they use coconut and milk and peanuts and I love that kind of stuff! My parents have always loved it; they're like obsessed with it and so I just got it from them, kind of inherited the gene of loving Thai food. Then with Mediterranean food, my friend introduced it to me because their family is Persian. And I just love it, just again with the spices and herbs that they use in the meats, and I love the yogurt that they use in Mediterranean food is just really good. But Thai food is the ultimate one.
Latinaroom: Do you come from a musical family background? Where do you draw your inspiration from?
David Archuleta: Yeah my mom actually sings and dances salsa, meringue and stuff like that and my Dad is a Jazz trumpet player, so they both craft music in different ways. I think they kind of help inspire me. The biggest thing for me though was American Idol the first season (Laugh). That was like the biggest change in making me want to do music, making me want to perform, making me want to do the same thing I saw those people performing on the show. It's like "Man, Wow…" I was so amazed at the way that they sang and the emotion that they had in their songs. I was like "…I want to do that!" And that was kind of a big step for me, so it's kind of funny to see this bit come full circle. I liked singing before then, but that was like the big thing that made me say "I want to, I have to do music."
Latinaroom: What are your plans to promote the Christmas CD "Christmas from the Heart" as far as touring goes?
David Archuleta: Yeah I will be going on tour actually. I'll be going on tour during the winter time, and I'll just be singing some of the familiar songs along with Christmas songs, so that should be fun. I'm just excited to do Christmas songs and perform again; it's been a nice little break. I got my wisdom teeth pulled last week so I've been home. I'm going to be working on the next Pop album now. I'll be going to Nashville, New York and LA to do some writing. So it'll be nice to get back into gear. After working on that stuff, I'll be going and working on the Christmas tour and that should be fun, I'm really excited to do another solo tour.
Latinaroom: When should fans expect your next studio album to be released?
David Archuleta: The next Pop album? I'm not sure exactly when, but it'll be coming out sometime next year.
Latinaroom: Okay, back to the Christmas album. Are the songs mostly remakes or did you write some new songs?
David Archuleta: They're mainly the traditional Christmas songs, there's an original on there too; but it's mainly just the traditional heartfelt kind of Christmas songs that everyone kind of grew up listening to and the songs that mean a lot to me. Along with some other ones that I wasn't familiar with but really loved and thought were really cool sounding and added a little flavor to the rest of the traditional sounding Christmas songs.
Latinaroom: Are there any French or Spanish songs on the disc?
David Archuleta: Yes there are. There's a song…I've never spoken French before so I hope that it's good. I hope that people approve of it. I sing a song called "Riu Riu Chiu" and that's actually a Spanish traditional song…like an old school Christmas Spanish song. And it's a really cool sounding song. I'm excited to see what people think about it.
Latinaroom: If you were to do a duet, who would you do it with and why?
David Archuleta: I think it would be so cool to do a duet with Natasha Bedingfield. I think she's so talented, she's been a big influence on me and I think it would still be fun to do a duet with Jordin Sparks sometime. She's so cool and she's close to my age and she's just an amazing singer.
Latinaroom: Would you do a reality TV show?
David Archuleta: I guess it would have to depend on what I was doing. It is just a weird concept of a camera following you around. But if there were good intentions behind it… like a good reason why they (the cameras) are there…like if I'm trying to help people understand where I'm coming from or something versus just looking like an idiot on camera. If there was something beneficial from it then maybe!
Latinaroom: What does being Latino mean to you?
David Archuleta: I think it means having strong roots…having a strong family. Family is so important, I think, especially with the Latin culture. They're the ones who carry you, they're the ones who support you, they love you, they raised you and I feel like that's kind of the center of everything. It's the family. And that's what I love about it. I love how it seems like with all Latin culture that they really focus on family and the strengths in the family because sometimes that's all you have; and it makes you appreciate what they do and they appreciate each other so much more. That's something that has always been big for me; the people and both sides of my family have been really important in my life. They've taught me a lot and they've been my strength. I wouldn't be able to do all of this if I didn't have them.
From Latina Room:
David Archuleta: I Love My Fans! (Interview Part 2 of 2)
After we completed our routine interview questions with 18 year old star David Archuleta, we thought we would take some questions from the people who adore this handsome young man the most; his fans. We reached out to David's fans on Twitter and they poured in over 500 questions. Below are the fans that Latinaroom selected to personally get their questions answered by David.
Latinaroom: Before we get into questions from your fans, what is the nicest thing you have ever done for a fan or your fans?
David Archuleta: I don't know I try my best to make sure that they know how much I appreciate them. You know I wouldn't be in this if they didn't enjoy it. I try to make sure I get to know them; I try to get familiar with my fans. I try to make good music for them; I try to perform my best for them.
Latinaroom: (@pam05) David I hear you sing a Spanish & French song on your Christmas CD, will you be doing a Spanish CD someday?
David Archuleta: I am definitely planning on doing a Spanish CD. I think that would be so great to do and it would be so important to get back and reach out to that side of my heritage. That's a big part of my life, half of my family is Latino, a lot of them don't speak English, so I want to give back to them too. I think Spanish music is so beautiful too, I love how you can get very emotional with music and very sensitive and very powerful with it.
Latinaroom: (@Smkndofpnutdssr) What are a few of your favorite Christmas traditions?
David Archuleta: I remember always going to my Grandpa's and having dinner and then we would have a family talent show. So people would play instruments and sing, and tell stories that was something really fun to do during the Christmas time. On my mom's side it was like a party. It was kind of like the same thing we would have a talent show but it was a SHOW with performances, costumes and dancing. So both sides have fun memories; it just depends on where I am celebrating.
Latinaroom: (@missbianca) How/why he picked up on this P90X exercise stuff he's been tweeting about.
David Archuleta: (Laughing) My friend just invited me actually to do it and I've been running anyway, so…it's really good actually. It works your entire body. It's just a good workout. You can take different exercises and they have different programs and for each area of your body. Your abs, shoulders and cardio. You say to yourself: "Oh, kill me now!" when you're doing it, but afterward you just feel so good and it actually helps a lot with your breathing too. And it just gives you so much energy; it's like before I had to like get a lot of sleep. I get up earlier now and I just feel good, and the breathing is another big thing because when you have that going for you, you sing better, like I have a lot more air for my singing.
Latinaroom: (@maninmirror) What's your favorite song to jam to in the car?
David Archuleta: It depends on what kind of mood I'm in. Battlefield, that's a good one.
Latinaroom: (@Jonerz) Your fans were blown away by your performance on the ALMA awards. Were you pleased with it?
David Archuleta: Aww, thanks! I was so nervous I don't even remember. It was so fun, I love that song and it's so beautiful, it's one of those classic Spanish songs. I was just so nervous just because it was my first time singing in Spanish on TV, but it was so cool at the same time. So I don't remember exactly what was going on because I was a little nervous…I had such a fun time…sure I could've done better, I'm sure but I'm still really happy with getting to do it. Getting to say: "Hey I am Latino," I do have it in me; and I want to give back to you guys and it's me being able to sing in Spanish and being able to reach out to that side of my culture.
Latinaroom: (@YourLightShines) What was your favorite moment of the ALMA awards? Who were you the most excited to meet?
David Archuleta: I didn't get to meet him, but Rainn Wilson was there. (Laughing) He's not Latino even, but he was there. I was like Oooh Rainn Wilson! Because I do like "The Office"; I don't watch TV, but sometimes every now and then I'll watch a little bit of "The Office" and it's just so funny. So, I got real excited because he was there but I didn't want to bug him because he was going up to present or something. But my favorite was singing and having my mom there. Just to have my mom experience it all with me. So those 2 things!
Latinaroom: (@maninmirror) How did you get the nickname, Lechuga?
David Archuleta: Well people, like my friends, called me lettuce boy because I love. So some of my fans started calling me Lechuga, because it's Spanish for lettuce.
Latinaroom: (@elliexarchiie) what do you like most about being famous?
David Archuleta: Just getting to sing. Getting to do music, getting to travel, and getting to meet new people. So now getting to sing all the time, and getting to see other people enjoy it. So getting to see other people and the way they love what you're doing is so cool.
Latinaroom: (@pastelpastel) You have toured, recorded, performed, helped fund-raise this past year…what are the highlights?
David Archuleta: There've been lots of highlights. The tour was a big highlight, getting to go to different places…getting to meet some of the people that I got to me.
Internet Buzzzzz
David is featured on Yahoo's This Week in Music!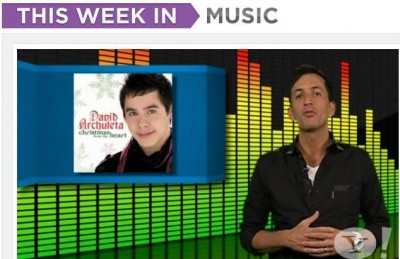 Neon Limelight (All for the Hall)
Shine On Media (All for the Hall)
Just Jared (All for the Hall)
Bring Da Beat Back (new album buzz)
15 October
 
"The CD is one of the best holiday albums we have heard."
Disney Dreaming LOVES David.
David Archuleta "Christmas From The Heart" Album Review
Now let us just preface this morning. It's so super cold out, we've got our Snuggie nearby, and we've been thinking of making some hot cocoa since we woke up – and now we're listening to David Archuleta's new holiday album "Christmas From The Heart." This morning is pretty close to perfect!
David Archuleta – Christmas From the Heart
David Archuleta Is a Christmas Music Natural
Christmas from the Heart is the second studio album from David Archuleta, and, although it is a holiday collection, it is quite possibly a stronger album achievement than his last. His voice is perfectly suited for this type of material. David Archuleta's voice is full and tremendously appealing to a wide range of listeners. He can stand up easily to big productions, but he avoids over singing and ever sounding bombastic. Christmas From the Heart is a holiday album you will happily return to in years to come.
Please go to Snarky Archies for the rest of this long but beautiful review.
NOTE: The reviews are so numerous it's difficult to list all of them, but let's just say the reviews have been great and everyone is enjoying Christmas early, thanks to David Archuleta!
16 October
From: Snarky Archies
First week CFTH sales predictions!
Update: HITS Daily Double revised the numbers to 15-20k.
From HITS Daily Double:
Next up is a pair of unlikely matched holiday albums in Jive/JLG's David Archuleta (18-21k) and Bob Dylan (15-18k), with Columbia's Five for Fighting also on tap (12-15k).
AWESOME for a Christmas CD in October!!
Again, these are ESTIMATES.. The real numbers come out next week. Keep in mind that the numbers could be lower. But if this is any indication, HECK YES!
Twitters
DavidArchie & Friends
11 October
DavidArchie – Lulu what are the names of the and members in Relient K?
12 October
DavidArchie – Good morning. Let's see if I have time to exercise a little before beginning the rest of the day.
DavidArchie – Got some exercising in this morning! Writing time!
DavidArchie – hey guys! exciting news! check it out here – http://tinyurl.com/yzq3w8gab
DavidArchie – new video blog up!!! http://tinyurl.com/yhyt6nr
DavidArchie – VIP Packages available for fall tour! get your here!! – iloveallaccess.com
DavidArchie – Wow idk why but all of a sudden I got exhausted and kepp drifting in and out of consciousness lol. Stay up David.
13 October
Christmas album comes out today!!
DavidArchie – Finished early with writing for the day. Had a good time.
DavidArchie – At the Keith Urban and friends We're all for the Hall benefit concert. A lot of talented people performing!
DavidArchie – I feel no shame I'm proud of where I came from I was born and raised in the boondocks! I love this song!
DavidArchie – Lady Antebellum is on now. This world keeps spinning faster, into a new diaster so I run to you, I run to you.
DavidArchie What a great concert that was! I'm so tired though Have sweet dreams everyone.
14 October
DavidArchie – Only had time for doing the ab exercises today, but man does that kill!
DavidArchie – Wow thanks for all your comments you guys! Can't believe so many of you have already listened to Christmas stuff in med October lol.
DavidArchie – Why am I do good at getting lost? I guess it makies for better adventures.
DavidArchie – My phone died, so I have to borrow @JoyWilliam's laptop and let you guys know we're havin' a grand ol' time writing!
DavidArchie – Finally made it back tonight. Another good day of work today. Tomorrow's another day of writing haha.
15 October
DavidArchie – Me working on chest, shoulders, and triceps= dad lol.
DavidArchie – Leaves all over the car. Welcome to fall.
DavidArchie – Just finished another session with Joy and @MatWertz. Crazy how this morning this song didn't exist an now it does! haha
DavidArchie – Time to practice and work on a little guitar, then on to working on practicing some vocals.
onerichsong. Okay, who needs "Christmas From The heart" CD's I pleaded my case today about there not being enough CD's here in Utah.
DavidArchie – Went with Matt Wertz to the Mat Kearney concert. Good stuff!
16 October
DavidArchie – Only had enough time to do part of he workout this morning. Have to get ready to get workin' on music today though!
DavidArchie – Another good writing session! Feeling a more laid back vibe today.
DavidArchie – At the Kings of Leon concert with Joy's husband Nate. They sound really good.
DavidArchie – You know that I could use somebody.
17 October
DavidArchie – I love the core synergistic workout. It gets my lungs going really well. Now for a bowl of cereal with some almond milk.
DavidArchie – Oh wow my friends have a copy of my Christmas CD on the counter. First time I've seen a physical copy of it haha.
DavidArchie – T@realbrookewhite Surely! RT@ Riri Gunawan. brooke, help us, let us #beat cancer – gotta get back to working on these songs now haha.
DavidArchie – Woo! Long but great day today! Had a really good time writing, and really excited about the songs! Voice has had enough today though lol.
Concerts
Christmas Tour
13 October
Neon Limelite
David Archuleta To Take 'Christmas From The Heart' On The Road
by Story Gilmore
David Archuleta – Wireimage
What's better than receiving David Archuleta's new holiday CD Christmas From The Heart as a present this holiday season? Receiving tickets to see him performing the songs live on his newly announced holiday tour!
The touring addict will close out his opening stint on the Demi Lovato tour next month and jump right back out on the road later the same month in support of the record. Archie will start out the tour with a two-nighter in his home state, then wrap things up (pun intended!) in New York.
Christmas From The Heart released (October 13).
Tour dates according to official press release:
11/24 Salt Lake City, UT Abravanel Hall
11/25 Salt Lake City, UT Abravanel Hall
11/27 Ann Arbor, MI Ann Arbor Symphony/Hill Auditorium
11/28 Bakersfield, CA Rabobank Theater
11/29 Santa Rosa, CA Wells Fargo Performing Arts Center
11/30 San Francisco, CA Warfield Theatre
12/2 Anaheim, CA The Grove
12/4 Rexburg, ID Hart Auditorium – BYU University, ID
12/6 Beaver Creek, CO Vilar Performing Arts Center
12/8 Kansas City, MO Midland Theater
12/9 St. Paul, MN Fitzgerald Auditorium
12/11 Waukegan, IL Genesee Theater
12/12 Cleveland, OH Playhouse Square
12/13 Montclair, NJ The Wellmont Theater
12/15 Baltimore, MD Lyric Theater
12/17 Mashantucket, CT MGM Foxwoods Casino
12/18 Stroudsburg, PA The Sherman Theater
12/19 Boston, Ma House of Blues
12/20 Westbury, NY Capitol One Bank Theatre at Westbury
Please check out I Love All Access for VIP package tickets with Meet and Greets – There are different times and date for sales
Google Alerts
Holiday album and tour
David Archuleta To Release Christmas Album, Go On Holiday Road Show
October 12, 2009 1:03 p.m. EST
Anne Lu – Celebrity News Service News Writer
New York, NY (CNS) – "American Idol" runner-up David Archuleta is set to release a Christmas holiday album complete with an accompanying tour. The 18-year-old singer will be releasing "Christmas From the Heart" album on October 13, which will be followed by a 17-city U.S. tour.
Archuleta will showcase his original composition "Melodies of Christmas" in the album. The classics "I'll Be Home for Christmas" and "Silent Night" will also be included, as well as "Have Yourself a Merry Little Christmas," a duet with Filipino vocalist Charice Pempengco.
The Salt Lake Children's Choir and The City of Prague Philharmonic Orchestra accompany some of the tracks.
His road show will begin on November 24 at the Abravanel Hall in Salt Lake City, Utah and will conclude on December 20 in Westbury, New York.
Archuleta said, "This album represents my love for Christmastime, and what it really is all about. This is a special time of year that we spend with family and loved ones. It means so much to each one of us. I hope you can all feel that in the music."
17 October
Hollywood Outbreak – David Archuleta – Senior year is overrated compared to stardom –
Note: I have read and listened to comments from David and regarding this article and David did not make this statement. This was purely Editors Choice of Title and did not reflect David feelings. – Many comments from fans felt this was not the best descriptive title.
David Archuleta has toured nationally for American Idol, has a healthy singing career and is performing to sellout crowds. But, he knows that he missed a bit of fun during his senior year of high school.
But, don't think for a second that it's bringing him down. Archuleta understands how fortunate he is. Besides, his class buddies are just a phone call away.
Click onto media bar for season seven runner-up, David Archuleta's thoughts on stardom during the senior year of high school.
Archuleta is set to begin a Christmas tour to promote his new Christmas From the Heart album, which is already on store shelves.
Fans
blogs, vids, VIPs
12 October
From FOD
*****
Some Stores Selling Christmas from the Heart Early
Check out this early gift for Lily:
WOULD YOU BELIEVE… I just came home with David's CD! I haven't opened it yet… *real life* beckons first!
Yesterday, I went to my Target store a few blocks away and asked the electronics clerk if they will have the CDs in-store on Tuesday.
This morning she informed me that they have gotten a few (5) in already and she had set a copy aside for me… and she said, "come on down"! Well, I just got home with the little *TREASURE* in my hot little hands! LOL.
So… check your stores! Target price: $13.99 (Our closest Wal-Mart store sells them *online* only!)
I've ordered several copies from AMAZON for gifts… but I didn't want to wait for my own copy!
*Word of warning: sales made before the official release date may not count toward Billboard sales figures. It's better to wait.
*****
We all seem to find a way to beat the odds and get David's music ASAP!! HaHa!
15 October
David Archuleta: Country Music Man – Just Jared Jr. – Celebuzz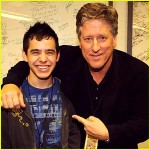 David Archuleta hangs out with CAA rep John Huie backstage at the "We're All For The Hall" benefit concert for the Country Music Hall of Fame held at the Sommet Center in Nashville, Tenn., on Tuesday night (October 13).
The 18-year-old singer also met up with good pal and former costar Jennette McCurdy plus Lady Antebellum lead singer Hillary Scott.
David tweeted from the event, singing out some country tunes: "I feel no shame I'm proud of where I came from I was born and raised in the boondocks! I love this song!" The song is "Boondocks" from Sugarland and Little Big Town.
Read more: David at the Country Music Hall of Fame benefit
17 October
Fan Story – by pikepss
On Tuesday the 13th I gifted all my employees with an early Christmas present, David Archuelta's Christmas from the Heart! The next morning one of my receptionists told me that when she dropped her son off to school that morning the crossing traffic guard stopped her car. She wondered what she had done wrong but instead she found out that he wanted to know if that was David Archuleta singing from her car. She said yes and was asked if he could have the CD to burn a copy. She said no! You need to go buy one! He laughed and said OK! She said she was so popular that morning everyone was trying to listen to her music in the car! She said everyone loved hearing it and said they needed to get a copy! She told me that this Christmas CD was the best she ever had! There you go David bringing joy to everyone around!
Human Interest
Rolling Stone
Rock & Roll Daily – Rolling Stone
Tour Tracker: David Archuleta, Owl City and Brett Dennen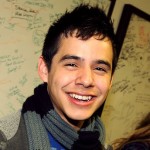 American Idol Season Seven runner-up David Archuleta plans a holiday run, Owl City take flight into 2010 and Brett Dennen hits the road with Grace Potter and the Nocturnals. Full dates for all three treks, after the jump.
15 October 
Thursday, October 15, 2009
David to speak at Women's Conference in Utah.
From Deseret News:
David Archuleta to speak at women's conference
Utah's most famous American Idol will speak about reaching his dreams during the Annual Conference for Women later this month.
David Archuleta will join former first lady Laura Bush, Utah's first lady Jeanette Herbert and pianist Roger Williams at this year's conference, which is sponsored by Sen. Orrin Hatch and his wife Elaine.
"I am so pleased that David Archuleta was able to fit this conference into a demanding concert schedule," Orrin Hatch said. "He is an unbelievable talent and a special performer who has a great story to share."
The Murray teen will address the morning keynote session on how he "accomplished reaching his dreams, while staying grounded in life." He was the runner-up during the seventh season of the popular "American Idol" TV show and is currently preparing for a winter concert headlining tour featuring songs from his newly-released Christmas album.
The conference will be held Oct. 26 at Abravanel Hall. To register, call 801-413-9133.
16 October
Love, Love this Album Preview for David's Christmas From the Heart!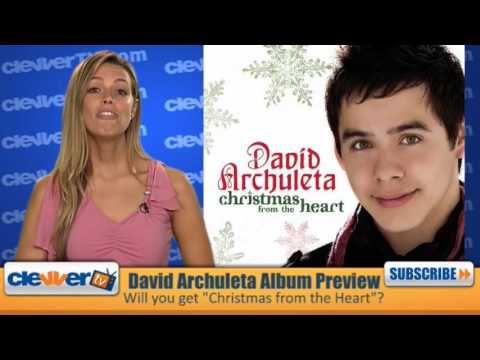 17 October
Archuleta Fanscene
David Archuleta – Limited Edition Autograph Items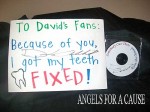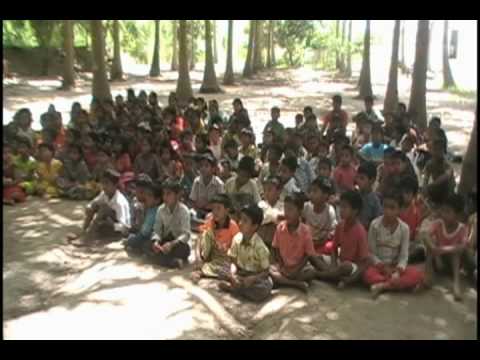 In the video, the children are holding posters/sign thanking David Archuleta and his fans. David has been gracious enough to take the time to autograph a few of the signs and a DVD of the amazing "Rising Star/Somebody Out There" video. Combine the Autographed poster/sign with the autographed DVD: PRICELESS!!
Angels for a Cause will have these limited edition items available soon. AFAC has three different sets! New fundraiser to be announced soon.
 
pikepss' Pick of the Week
Uncle David Cook
This video I must admit generated a belly laugh! Uncle David Cook tells a story about speaking to his niece (6) and nephew (8) on phone!
October 11th 2009 Declaration Tour – The Paramount – Charlotteville, VA.
Out of the mouth of babes! – Maybe Uncle David could take them to see David Archuleta in concert!!!! HaHa!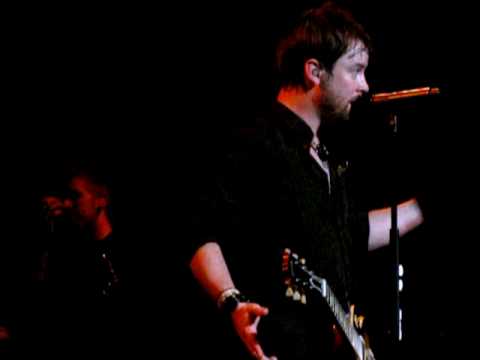 Did you miss last week's Buzz Wrap?
DA Weekly Buzz about David Archuleta!
Copy this short URL to share this post anywhere: http://www.dabuzzing.org/?p=6568

Tags: Buzz Wrap · Christmas from the Heart · holiday music · pikepss · Weekly Wrap
Filed in: career|David Archuleta|music|news|opinions|performances|photos|pikepss|reviews|voice
This Post has earned 5 Buzzes.