pikepss Weekly on David Archuleta
Good Morning Honeybees and Fans!
Music is probably the greatest way David Archuleta gives to others. He feels music has the power to change how you feel. David has used his music and fame to help others, especially children, in need. And his charity work has inspired many of his fans to help others as well.
David is totally about giving and this holiday season we have the opportunity to give David's greatest gift, Christmas from the Heart. Through gifting we can share the spirit of Christmas, the essence of David's emotional soul.
So remember, if you can, bring CFTH to the "Hearts" of many this season!
Exciting news this past week! Fantastic sales numbers, LA vs Nashville – Nashville wins! Benton Paul will open for David's winter tour and cute videos of David caroling with Jim Cantiello at MTV offices in NY! Will we ever be the same? No, because when David smiles, we all smile with him!
Have a wonderful week!
Media
Reviews and Interviews
18 October
MasterclassLady – A Masterclass Review of David Archuleta's Christmas from the Heart
I finally managed to find some "me" time to savor the golden voice of David Archuleta in his wonderful Christmas recording, Christmas from the Heart.
As expected, David's vocal artistry, combined with his magical team of musicians and arrangers, offer the listener fresh, exciting arrangements to these popular Christmas songs and carols.
MasterclassLady's Review is very extensive and beautiful. Don't miss the comments! Please go to her site and enjoy.
19 October
First week CFTH sales.
Update 4: With HDD's final numbers CFTH has moved 16,254 units. Update 10/21/09 -16,776 Billboard – Los Angeles Times -17,000 in sales
Update 10/22/09 – CFTH Debut #30 on Billboard 200 – Digital Albums 17 – Holiday Albums 2 – 16,776 Copies
Great numbers for Christmas music in October. Numbers will increase as we get closer to December.
20 October
From USA Today's Idol Chatter:
David Archuleta on writing in Nashville
David Archuleta knows he's not the world's most eloquent guy. He's hoping writing songs can help him with that.
"My mind has, like, this chronic brain cramp," says the 18-year-old singer, noted for the deer-in-the-headlights he got on American Idol whenever he had to speak instead of sing. "I'm never good with words. I'm never good at explaining things. So to write songs and tells stories and have a structured song has always been difficult for me, but it's something I know I need to work on."
David co-wrote two songs for his 2008 debut album (A Little Too Not Over You and Don't Let Go), as well as a handful of the bonus tracks. He also co-wrote Melodies of Christmas, the lone original on his new Christmas From the Heart set.
While his fans were snatching up copies of Christmas from the Heart, David was already hard at work on his next album. David spent most of last in Nashville, where singer-songwriter Joy Williams, a co-writer of Waiting for Yesterday, helped him put together songwriting sessions. During his Nashville stay, David also worked with singer-songwriter Matt Wertz, Mat Kearney producer Robert Marvin, and producer/songwriter/novelist Matt Bronleewe.
But Joy was at the center of the week. "She really pays attention to what I have to say, what's going on in my mind," David says. "She wants to make sure that what's coming out of me is really what I want to talk about, what I feel, what I connect with. That's been really cool.
"The other writers here, too, they really take note of that. Instead of saying, 'We need to write a hit! Smash! That's not good enough! It's not catchy enough!' they're like, 'Let's just write and see what comes out.' They really care about what I like and what makes me feel good.
"It's cool getting to talk about things I want to talk about. I feel like it's me talking in these songs, and that's what I really like about them. Even though I talk weird and stuff, I guess that's what makes me the way I am. There's more of my personality in these songs."
David's reluctant to talk about the songs he finished during his Music City stay — "You don't know what will happen" — but he says, "Lately, I've been thinking about keeping on going forward in life, keep on doing your best.
"I don't like to pretend with myself. I like to be real. I like to be firm with myself and honest with myself. Like, 'David, you're kind of weird sometimes, you're kind of clumsy sometimes, but you keep going forward.' Those kinds of things. I'm not really talking myself down or saying I'm a nobody, I'm a loser. But I'm saying I'm kind of weird, I guess, I'm still going to keep working hard in this life. I'm still trying to do my best, and I'm happy with that. Even though it gets hard sometimes. It gets frustrating. Everybody gets frustrated in life, but there's still a lot of good to be looking at.
"I want my music to make people feel good. I want people to be able to connect with me and my music. You know, it's just figuring out how to do that the best way — because I'm not good with words, but I think I'm learning to do that more and more, as I get more involved with writing."
David and his Nashville collaborators typically finished one or two songs each day, not only getting them written but recording high-quality demos as well.
"We usually write the song, then record it by the end of the day," David says. "That takes a lot of work, because usually I spend a few hours just recording the song. When I've written before, I've usually taken a few days to write a song, so being able to do it in a day, for me, is really good.
"It's cool to see that we have a song that we started today, and now we have a song finished. And we still have time to go out."
David had plenty of time to go out in Nashville, taking in a Grand Ole Opry show and attending Keith Urban's star-studded All for the Hall benefit concert for the Country Music Hall of Fame, as well as shows by Kings of Leon and Mat Kearney.
David says he prefers Nashville's relaxed pace to Los Angeles.
"L.A.'s not my favorite place, but you get to keep busy there," he says. "You use your time well, but it feels like a job. I feel like I'm at work when I'm in L.A., no matter where I am."
Nashville, on the other hand, "It's so laid-back. When you go eat somewhere, everyone's there, no matter where you go. Everyone eats out here, everyone hangs, and everyone's friends. But everyone's in the music business, too, and everyone's into music. It's crazy to see how much is going on here, even though it feels like a neighborhood.
"I wouldn't mind living here. I seriously wouldn't. People always go, 'Is there anywhere you'd like to move to?' and I always say, 'I'm happy in Utah, thanks.' But if I had to, I would probably move here."
David compares the songwriting sessions to the P90X workout regimen he recently began. "I feel like I'm exercising my mind every day while I'm here," he says. "I'm not this ripped person. I'm not this songwriter bodybuilder with my brain. But I'm getting there. I'm getting it worked, and I'm starting to get my mind going. It's really neat to be able to do that."
21 October
The Spectrum – Buffalo University
Archuleta's CD is from the heart
Grade: A-
Greg Silberman, Staff Writer
A star was born during the seventh season of American Idol, when one of the youngest finalists in the show's history took the stage. At 18 years old, former 'Idol' runner-up David Archuleta has already released his sophomore album, Christmas from the Heart.
To no one's surprise, Archuleta's holiday album, filled with heart-warming traditional tunes, has been soaring up the charts at an incredible pace. On the first day of release, Christmas from the Heart quickly reached the Top 10 on iTunes Top 200 albums, a particularly rare accomplishment for a Christmas album.
Archuleta seems to have the perfect singing voice for most of the CD's well-known songs, including, "Joy to the World," "Silent Night" and "Have Yourself a Merry Little Christmas," which he performs beautifully with Filipina star Charice Penpemgco.
"Melodies of Christmas," the only original song of the album, references several Christmas songs and how powerful they are to their listeners.
Archuleta even incorporates his multilingual talents into the album as he sings in Latin, French and Spanish. "Pat-A-Pan" is a French, upbeat version of the "Little Drummer Boy".
The singer shows off his vocal range in "Riu Riu Chiu," which has received a lot of immediate attention and praise, and is sung in Spanish. Archuleta's voice drips with passion as he beautifully sings "Ave Maria" in Latin.
The remaining songs from the album include "Angels We Have Heard on High," "O Come All Ye Faithful," "The First Noel," "O Holy Night," "I'll Be Home for Christmas" and "What Child is This."
Overall, the album serves as a great counterpart to Archuleta's pop CD, Crush, which came out last year. It is only October, but there is no doubt that these well known tunes will get anyone into the holiday spirit.
22 October
Jim Cantiello from MTV News and David Archuleta – It seems they like the same sweaters and enjoy caroling in October.  Of course they had to use props for the snow, was it really our own David who decided cottonballs would resemble snow?  It definitely won't melt as fast and it's not as cold!!

23 October
Examiner.com
 David Archuleta's Christmas from the Heart debuts on Billboard 200
With only one week on the charts, David Archuleta's Christmas from the Heart CD debuts at number 30 on Billboard's Top 200 Albums, (number two in Holiday Albums) which is quite respectable for his second CD offering and shows the same sales rank (30) on the world's largest online retailer, Amazon.com where he also garners an impressive 72, five-star reviews.
Twitters
DavidArchie & Friends
19 October
DavidArchie – Early rise today. Leaving Nashville this morning. I'm going to miss it here. Hope the weather keeps up like this.
DavidArchie – A beautiful day in New York! Going to spend the next week working here. Hope the weather keeps up like this.
DavidArchie – Sittin in the dock of the booth, wasting time Haha…
DavidArchie – Just had some good lunch! I have leftovers…Really weird since I usually finish everything. Back to some writing now. do do do do
BentonPaul – Woot! RT@Benton Paul I'm very pleased to announce that I will be touring with David Archuleta this holiday season!
DavidArchie – My family has another dog? Since when? What exactly is going on over there while I'm away? lol Pets running amuck!
DavidArchie – Well it's not summer anymore but I'm listening to Summer Breezes-Seals and Crofts haha. Good song! RT@abigael_d what's your #MusicMonday?
DavidArchie – Right now I'd have to say Aqui Estoy Yo – Louis Fons! RT@Miketisdale@David Archie What's your favorite song in Spanish
DavidArchie – Well it's getting late and I better head to bed! It was fun talking to all of you guys! Ought to do it again haha G"night!
TWITTER PARTY – David had a fun time this evening twittering to many of his fans answering questions at random. Too many to post as David became very talkative. Thanks David for answering so many questions and just hanging out with us. You're the Best!
20 October
DavidArchie – Eating fresh fruit. Good Stuff.
DavidArchie – Sheesh, not allowed to take the stairs? Where am I supposed to get my exercise. Oh well they said it's for safety reasons….
DavidArchie – Happy b-day dear Michael Johns, hapy b-day to youuu RT@relbrookewhite. I'd like to wish my pal @Mjohnsmusic a very happy birthday.
DavidArchie – My good friend @BentonPaul who'll be touring with me soon has a newEP out now called TROIS! Check it out-> http://tinyurl.com/yfzdm8q.
DavidArchie – Done with the session for today. Just looking for a quick bite to eat.
DavidArchie – Found a nice laid back place to eat! Got to eat in peace and away from all the craziness. Interviews tomorrow morning. G'night!
21 October
DavidArchie – Grabbing some quick breakfast, then off to interviews!
DavidArchie – Woah a guy's rollerblading down the street. Cool hah. I want to rollerblade now. Stuck in lovely New York traffic Haha.
DavidArchie – Just had an interview with Andrea on ABC News Radio! Thanks for letting me come by! On my way to MTV news now.
DavidArchie – Went Christmas caroling around the MTV offices with @Jambajim. Interesting doing that in October.. Haha. But it was fun!
DavidArchie – Another vlog update from the studio. http://bit.ly/84xwf
Love this vlog, look's like he is in the dressing/bathroom. Too cute!
And can't wait to show us the window. Haha!
DavidArchie – Wrapping up in the studio. Then time for food!
DavidArchie- @jennettemccurdy I love Thai Food!!!! soooo good!
DavidArchie – @SOCMusic Hey thanks for showing support to my Christmas work! Much appreciated! Even in the middle of October lol.
DavidArchie – That was a fun interview! He did a great job at capturing me in it lol rt @Joywilliams Someone just sent me this link: http://bit.ly/3R5ghK
DavidArchie – Had some Cuban food for dinner tonight! Thanks Tom for taking me and Nicole out to eat for some great food! Buenas noches
22 October
DavidArchie – Eating a banana for breakfast
DavidArchie – Have a meeting with the label that I need to head to right now, but the elevator is broken and I'm on the top floor lol.
DavidArchie – That was a good workout lol. Had to bring my stuff too since I'm checking out of the hotel today. Went for a run this morning too!
DavidArchie – As I'm checking out the elevators start working again lol. Oh well maybe it was a sign that I needed more exercise for the day.
DavidArchie – Had an amazing lunch at Fresco by Scotto! Went with my A&R guy, Jeff Fenster, and had a good meeting about making the new record!
DavidArchie – To WTMX Chicago, really sorry for the confusion w/this mornings interview. I wasn't aware of what was going on so I hope I can make it up!
DavidArchie – Back in Utah! Had a nice long flight! Haha. I actually like longer flights! Plus it means I'm going somewhere adventurous.
23 October
DavidArchie – And breeaathe, juust breeaathe
DavidArchie – Ah the natural high that comes from exercising feels great! Gives you a good start to the day.
DavidArchie – Hm, I have a bruise on my leg, Idk how it got there and I can't even remember the last time I had a bruise. It's been a while.
DavidArchie – Wow that was one useless piece of information what has twitter done to me? lol
DavidArchie – Doing some vocal exercises and warm-up with Dean. Good to loosen the voice up. Haven't met with him for a while.
DavidArchie – Raked some leaves! Haven't done that for a while haha.
DavidArchie – Listening to the new Michael Buble CD. It's pretty awesome.
DavidArchie – Decided to go on another run today! Going to do some singing practice now.
DavidArchie – Spending some quality time with my brother raking more leaves lol.
DavidArchie – Watching Esmee Denters perform. She has a show with The Honor Society here in Utah tonight.
Google Alerts
Holiday Album
18 October
We often don't get to see all the people involved in putting an album together. These credits should be seen as Christmas from the Heart was spectacular!
Album Credits
Performance Credits
David Archuleta Primary Artist, Background Vocals
Kurt Bestor Synthesizer, Piano, Conductor
Sam Cardon Synthesizer, Piano
Michael Dowdle Guitar
Jeff Bova Strings
Doug Petty Organ, Piano, Keyboards, fender rhodes
Rich Dixon Guitar
Todd Sorensen Percussion, Drums
Daron Bradford Woodwind, Soloist
Craig Poole Bass
Lysa Rytting Harp
Salt Lake Childrens Choir Choir, Chorus
Jimi Englund Percussion, Drums
Jeff Archuleta Vocals
Emanuel Kiriakou Acoustic Guitar, Bass, Percussion, Piano, Electric Guitar, Keyboards
Ralph Woodward Jr. Conductor
Dorian Crozier Drums
Scott Wiley Guitar
Rob Honey Bass
Jenny Frogley Background Vocals
John Lee Hancock Synthesizer, Guitar
David Osmond Background Vocals
Jim Hardy Cello, Soloist
Richard Parkinson Synthesizer, Piano
Technical Credits
Kurt Bestor Arranger, Programming, Producer
Sam Cardon Arranger, Programming, Producer
Jeff Bova String Arrangements
Doug Petty Arranger
Pat Thrall Vocal Engineer
Tom Coyne Mastering
Jeff Archuleta Arranger, Producer, Executive Producer, Vocal Producer, Management
Emanuel Kiriakou Arranger, Programming, Producer, Engineer
Michael Greene Engineer
Rob Honey Creative Consultant
Michal Pekárek Engineer
Jared Paul Management
John Lee Hancock Arranger, Programming, Producer, Engineer
Dean Kaelin Vocal Coach
Lenka Dudova Studio Coordinator, Orchestral Coordinator
Aaron Hubbard Engineer
Charice Pempengco Duet
Chad Helmonds Vocal Engineer
Richard Parkinson Arranger, Programming, Producer
Stana Vomachova translation
19 October
David Archuleta – Vietnam
A Picture of Young David in San Francisco –
This is a rare picture of David
20 October
Archuleta Fanscene
Christmas from the Heart to be Featured on Ireland Radio!
Longtime New York Radio personality-DJ Pat Marino, who now spins his unique blend of love songs on Heartbeat FM in Dublin Ireland, will spotlight David Archuleta's new CD Christmas from the Heart on his radio show this weekend!
Pat is a big fan of David's and personally bought a copy of the CD the day it was released on October 13th. Pat is most anxious to share songs from this beautiful new CD with his listening audience across Ireland and on the World Wide Web.
On Sunday October 25th Pat Marino will dedicate the first hour of his radio show "The Heartbeat Cafe" to playing his favorite cuts off of Christmas from the Heart. Pat is hoping that he will be one of the first DJ's to give radio airplay to some of David's new Christmas songs and is sure that his listening audience will love these songs as well!
"The Heartbeat Cafe with Pat Marino" airs twice on Sundays, both at 8am and 9pm (US EASTERN TIME) If fans cannot tune in during those broadcast times.
A podcast of the show is also available to download and listen to on demand at any time that's convenient for listeners.
For more info about the show just visit: http://www.heartbeatfm.biz/heartbeatcafe.htm
24 October
From FOD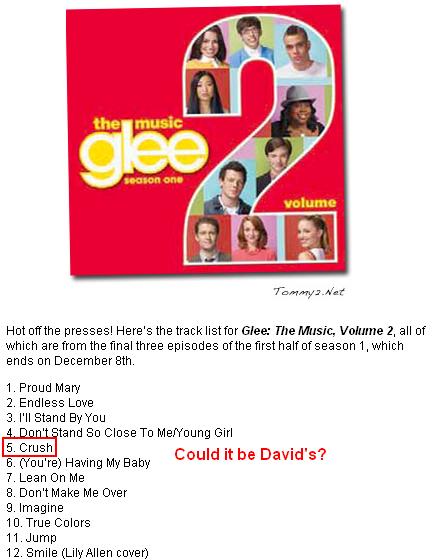 Let's hope it's David's Crush!
Fans
blogs, vids, VIPs
19 October
Fan Gave Cook David's Christmas from the Heart Album!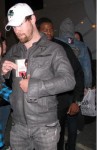 20 October
From FOD
Funnygirl Risks Getting Fired As She Chastises Her Boss about Illegal Downloads
I love that subheading.
Here's brave FG's story:
Hi there – just wanted to share a funny story from work.
So I went into work the evening shift on 10/13 (CFTH!) and my boss and her boss were there but leaving soon. I proudly showed them CFTH and bragged about its brilliance. So my boss' boss says "lemme borrow that for a few minutes so I can copy it onto my laptop". It always surprises me when people ask me these things…I mean really – have you not been paying attention!? So I reply "Um. no, you'll have to buy it. If you do not have the funds I can have it gifted to you." So she smiles and says "Oh! thanks I see – you are a hardcore fan!" to which I reply "Yes, no illegal downloading of David's music, no way!"
After this little exchange I start thinking to myself "whoa I was just kinda rude to my boss' boss! Accusing her of illegal activity! LOL" It is a good thing she likes me.
23 October
David Archuleta Celebrates An Early 'Archmas' with Carols at MTV News
by Jim Cantiello in Behind the Scenes, Music
They don't come sweeter than David Archuleta. I know Paula Abdul got a lot of flack for saying she wanted to decapitate the boy and dangle his head from her rear view mirror (as a compliment), but after spending time with him this week I know exactly where Paula is coming from. By the end of our hour together, I was looking all over MTV for a hacksaw.
David just released a (fantastic) new Christmas album, so I thought it would be fun to don a set of Holiday sweaters, load up a satchel with recycled promo CDs and go caroling around MTV with the "Idol" runner-up.
Who cares that it's only October?!
The mere fact that David and his team agreed to our silly idea shows what a cool guy he is. I can't think of many celebrities who would be willing to throw on an ugly, itchy sweater, walk into strangers' offices and belt out Christmas carols for fun. (Although I will admit that the wardrobe took a fair amount of cajoling on my part. I might have to leak the video of his reaction when I said the words "Christmas sweaters." Priceless.)
I took David around to Archie fans here at MTV. And, as I expected, they all turned to goo as soon as he appeared in their doorway, ready to serenade them with his angelic pipes. But his appeal spread over to innocent bystanders as well. Look at the faces of everyone he came in contact with at MTV: That's what pure, unadulterated joy looks like. (The only "Humbug!" was from James Montgomery, but he's always a grouch when it comes to anyone other than Stephen Malkmus.)
I could go on and on about how much fun I had with David, whether it was watching his face light up when we talked about our mutual love of Allison Iraheta (who he calls "spunky") or how endearing his non-sequiturs were (I tried my best to leave them fully in tact in the edit). And I almost passed out when he texted my dinner recommendation to none other than "Idol" contestant Carly Smithson!
Selfishly, it was a dream come true to get to harmonize with the "Idol" superstar. His voice, rich and nuanced, sounded just as brilliant in person as it did on TV. Normally, I would make fun of my old pal Jeffrey for being such a drama queen, but damned if I didn't also choke up when Archuleta fully immersed himself in a brilliant "O Holy Night," despite being surrounded by DigiBeta tapes in a drab office. (And a jerky MTV News correspondent in a sweater and Santa cap.)
In other words, I defy you to watch this video and not have a smile on your face. Like kittens, a fresh pair of socks and snagging a cab within five seconds of being outside, David Archuleta is an instant jolt of immense joy.
Human Interest
I Love All Access' Kristin
22 October
From FOD
Interview with Kristin of I Love All Access!
Kristin from I Love All Access has been an amazing friend to David and US! She's sweet and classy and loves David!
Now she's going to answer YOUR questions! Kristin as agreed to a print interview next weekend during the David/Demi make-up shows. This will NOT be a video or text chat, but a print interview for Fans of David and all of David's fans.
Huge thanks to Monica for working with Kristin and conducting the interview next week! It'll be a GREAT interview!
Time to send in your questions for Kristin! Send your questions to kristininterview@gmail.com !
23 October
Benton Paul is in high demand
By Nicole Sheahan
Friday, Oct. 23, 2009
Benton Paul is in high demand for "trois" (three) reasons: Un, he just got off tour with Brooke White and Michael Johns from American Idol. Deux, this holiday season he'll be joining David Archuleta on his Christmas tour. Trois, this week he released a brand new EP (extended play as opposed to a single), "Trois" on iTunes. His song "Run" is featured as this week's free Discovery Download on iTunes — not an easy spot to get.
Benton Paul from Highland, Utah.
Paul is a singer/songwriter from Highland, Utah. I've been a fan of his music for a few years. I was lucky to have him open for me at my CD Release concert back in 2007.
After seeing him open for David Archuleta and Brooke White, what stands out to me the most about Benton is that he continues to get better and better. His songwriting skills continue to expand, and his stage presence is stronger with each performance. Music is definitely inside of him and he loves to share it.
His favorite thing about being on tour?
"Playing shows every night! Correctly executing a live show is the greatest feeling in the world," Paul said.
pikepss' Pick of the Week
Part 1 and 2 – ABC News Radio Interview – Andrea Dresdale
These interviews have come to be my favorite to date.  David talking about Christmas Memories and what they mean to him and his family is truly an inside look to this young man. His writing experience in Nashville has added even more maturity and great depth to his character.  As he said he is trying to define himself and move forward which he is accomplishing with great skill.  Yet, to his fans' delight, David keeps his boyish charm! A part of him I hope he never looses! 
Please don't pass up watching these videos  they are 19 minutes of pure heaven!
Did you miss last week's Buzz Wrap?
DA Weekly Buzz about David Archuleta!
Copy this short URL to share this post anywhere: http://www.dabuzzing.org/?p=6776

Tags: ABC Radio · Buzz Wrap · Christmas · Heartbeat FM · I Love All Access · Ireland · Jim Cantiello · Master Class Lady · MTV News · Pat Marino · pikepss · Weekly Wrap
Filed in: career|David Archuleta|music|news|opinions|performances|photos|pikepss|reviews|voice
This Post has earned 2 Buzzes.