pikepss Weekly on David Archuleta
Good morning to everyone! Did we all have a spooky and sugar high Halloween?
Speaking of high, David Archuleta is riding high on life and performing better than ever, if that's possible! He succeeds where others don't. His charming and insightful appearance at the Women's Conference in Utah this week gave us a picture of a young man with great heart and depth of soul. His upcoming book (a memoir) out next year should be a beautiful portrayal of a young man with goals, determination and faith. A young man of many talents. Have already pre-ordered a couple of copies!
With his makeup concerts teasing fans for more, he will shortly start his holiday tour just before Thanksgiving. More than half the venues have already sold out VIP Meet & Greet tickets. His recent interviews tell us he is ready for this tour, except he hurt his back the other day on the treadmill but has assured us it's getting better. He has had a very busy schedule. Songwriting (6 songs in one week) Wow! A couple of interviews with Jim Cantiello at MTV and with 92 Pro-FM. Flying back and forth and finally ran into the friendliest airport screener he has ever met. Haha!
This past week we also have charities linked to David, great reviews for his Christmas from the Heart album, David's blog and a beautiful tribute to his Grandmother Claudia by his two aunts.
Have a beautiful first November week!
Media
Reviews and Interviews
25 October
Get your VIP ticket for the David Archuleta Holiday Tour? Hurry!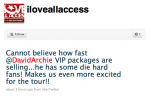 I Love All Access tweeted about the speed in which David is selling VIP packages!
28 October
Your weekly Idol Sales fix: The Album numbers.
I'm not divining much of a storyline in this week's Nielsen SoundScan data for American Idol-related releases, so let's go straight to the numbers:
Various, WOW Hits 2010 (14,000, -2 percent, 31,000 total)
Various, Now That's What I Call Music! 31 (12,000, -1 percent, 737,000)
Daughtry, Leave This Town (10,000, -10 percent, 707,000/1,000 digital, -16 percent, 128,000 digital total)
David Archuleta, Christmas From the Heart (7,000, -56 percent, 24,000/5,000 digital total)
Various, Now That's What I Call Country Vol. 2 (7,000, -5 percent, 133,000)
Kelly Clarkson, All I Ever Wanted (6,000, 0 percent, 734,000/157,000 digital total)
30 October
Manchester, New Hampshire – 10/29/09 – It was reported David was in fine form last night even with a bad back. His whistling in Your Eyes Don't Lie really got the crowd excited. Does it really take whistling?
Providence, RI – 10/30/09 – David was on fire tonight. David was extra unbelievably amazing! He was spot on! Jumping even with his bad back. Unreal! A true professional! He showed up on stage during Demi's soundcheck showing the ice pack on his back. When asked to dance, he said really he couldn't because of his back! Haha! David is too cute!
David Archuleta Interview at 92 PRO-FM Studios with Davey Morris – Part 1 and 2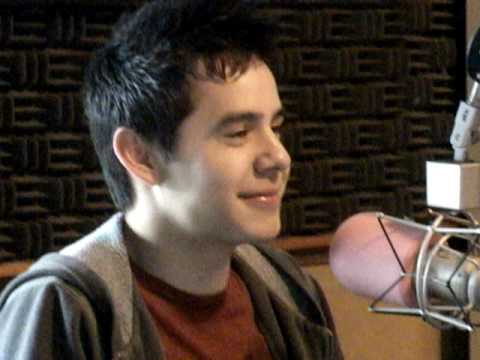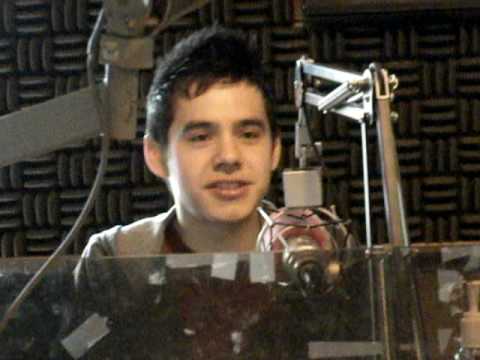 David seemed so relaxed during this interview and really expressed his feelings and desire to continue writing more songs. The fact that he has more time and not rushed on a time schedule to finish in a hurry will definitely be a benefit to him and to his fans. Looking forward to his next album as that one will be from the Heart as well!
31 October
Concert – Providence Rhode Island – Dunkin Donuts Center
by Rick Massimo – Journal Pop Music Writer
Opener David Archuleta's winsome voice worked well on his opening song, the piano-driven pop of "Touch My Hand," and the grand "Don't Let Go." In general, the American Idol runner-up fared better with the steady palette of romantic '80s-pop styles with modern R&B-influenced beats, rather than the stylistic ranges that "Idol" makes contestants cover.
Nice touches included the a cappella ending of "My Hands," with backing vocals from his band, as well as a vocal-and-piano-only cover of "Apologize," his trademark "Idol" song. It got a little slow before the dance thumper "Zero Gravity" came along. And of course, the closer was the arena ballad "Crush."
Twitters
DavidArchie & Friends
24 October
DavidArchie – Honor Society is on now.
DavidArchie – About to have a wheatgrass shot. I'm pretty excited.
26 October
DavidArchie – Good Morning! Speaking at a women's conference today that Senator Hatch invited me to. Not much of a speaker lol so wish me luck!
DavidArchie – Had a great time speaking! Thanks to all the women who came out haha. Laura Bush will be speaking at the afternoon session.
DavidArchie – Thai food for lunch.
DavidArchie – Signing CD's at the women's conference haha.
DavidArchie – Laura Bush is speaking now. She's showing us the Laura Bush bobblehead haha.
DavidArchie – I always smell like a pond or something after cleaning my fish's dwelling place. But I always enjoy it for some reason! HaHa
Oh David, you make me laugh…comes back from a Women's Conference after speaking very well to a thousand or so in audience and tells us about cleaning his fish tank. I hope you took off your suit first! HaHa! Too Cute!
DavidArchie – So 2 things about 2 swell friends of mine. 1st thing: @JasonCastro has his new music video out! Check it out! http//j.mp/3HjRP1
DavidArchie – 2nd thing: @TheRocketSummer's new EP You Gotta Believe was just released! You can check that out here!–>http://tinyurl.com/trsep
27 October
DavidArchie – Snowing this morning. Chilly
DavidArchie – Fare thee well Utah. Had a great few days back home.
DavidArchie – No One's Gonna Love You – Band of Horses is playing on the plane right now! Good Song!
DavidArchie – Landed in New Hampshire Safely!
DavidArchie – Just had a bison burger for my first time ever. It actually was pretty good. Crush just came on in the restaurant though Haha.
DavidArchie – What the heck? Is that whistling I hear in the room next door? At 12:30AM?? Haha. Oh well. Goodnight everyone.
DavidArchie – Just preordered Jason Mraz's Live On Earth Album on iTunes. Can't wait to listen to it! Gotta love live stuff.
28 October
DavidArchie – Try to get some exercise in, but it's hard to focus when there are 2 guys just sitting outside the door staring at me. lol
DavidArchie – Ahh exercising is a wonderful thing! Now time to get ready for rehearsal.
DavidArchie – Dang it…I did something to my back lol. Doesn't feel all that great. But on the stage rehearsing right now!
DavidArchie – Bah! My blog never went up today! Not cool. Oh well hopefully it will be up by tomorrow….But I need to sleep. G'night!
29 October
DavidArchie – new blog! read it here!
DavidArchie – Sad I can't use my workout close today. My back is feeling a lot better though!So I will use them as soon as I can haha.
DavidArchie – Dang it I'm sorry I meant clothes, not close. My bad haha.
DavidArchie – Meeting with the physical therapists right now. They said I have an S1 joint pathology. Tryingto take care of it now though!
DavidArchie – Getting ready to go on stage in Manchester, New Hampshire tonight!
DavidArchie – That was such a fun first show! I felt so good out there!! Thanks Manchester!
DavidArchie@BentonPaul Sheesh your're more on top of that thn I am! I'm reading your teets just so I know what's going on lol.
30 October
DavidArchie – In Rhode Island today!
DavidArchie – Dates (the fruit) are sweet. Very tasty.
DavidArchie – Just had soundcheck. It's cold in this venue! Meet and greet time.
DavidArchie – A big awesome crowd in Rhode Island tonight!! Demi's going on now.
DavidArchie – @thedavidcook I had the verified thing for a bit, but had to change some info, so I had to remove it. It's taking forever to get it back!
DavidArchie – Thanks everyone for your thought and for those who signed this! That's really nice of you guys haha http://www.groupcard.com/c/…
31 October
DavidArchie – Happy Halloween everyone! Don't get too sick trick or treating!
DavidArchie – Well I guess if it's cold outside you would get sick from trick-or-treating. But I meant don't eat too much candy haha.
DavidArchie – Wow, that was the happiest, friendliest airport screener I've ever met in my life! He was so nice to everyone haha.
DavidArchie – Just sittin' and handing out in the airplne on the tarmac.
DavidArchie – Hm, so still on the tarmac. They just announced another hour was added to the delay lol. Do do do do
DavidArchie – Wow, what an awkward date between this guy dressed as Batman and a girl as a bunny. They're entertaining though. Lol. Anyway..
DavidArchie – I got lost tonight and came upon White House Sub Shop for dinner. It was very good! Found out it's a pretty popular place around here haha.
Google alerts
MTV Offices
From Archuleta Fanscene
That's an Interesting Poster…
In case you've been wondering what "interesting poster" David was referring to when he stopped by Garth's MTV office to sing "Joy To The World" with Jim Cantiello, well, Garth posted a photo of it on his Twitter. Apparently, it was the window card poster from the Broadway Musical, "Passing Strange."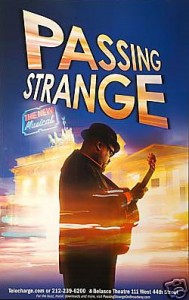 Passing Strange is a musical with lyrics and book by Stew and music and orchestrations by Stew and Heidi Rodewald. The musical was developed at the Sundance Institute Theatre Lab in 2004 and 2005, one of the few works ever to be invited back for a second round of development. It had productions in Berkeley, California and off-Broadway before opening on Broadway in 2008.
27 October
David Archuleta's Christmas Sweaters Took Some Convincing
Jim Cantiello in Behind The Scenes, Music
Last week, David Archuleta and I serenaded MTV staffers with Christmas carols in celebration of his new holiday album Christmas from the Heart. Needless to say, Archuleta's fans were happier than Ryan Seacrest at a tanning salon. Aside from the expected flailing we received from the Archie-Angels, we got a lot of questions about the Christmas sweaters he and I donned during the shoot. Where did they come from? Is he going to wear that on his upcoming Christmas tour? Did you have to twist his arm to play dress up?
So, by popular demand, here's the sweater song. (Cue Weezer.)
As I mentioned in my recent blog, the "American Idol" runner-up was a sweetheart, but convincing him to wear that silly Christmas sweater involved a little bit of begging.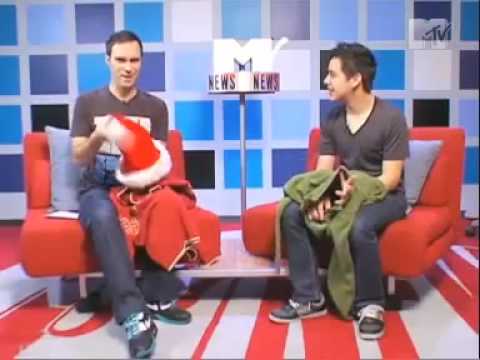 28 October
David Archuleta & AFAC Partner With LLF to Benefit Families in Honduras
Atlanta, GA – (October 27, 2009) David Archuleta and Angels For A Cause (AFAC) partner with the Lisa Lopes Foundation (LLF) to help raise $10,000 to launch the new medical center in Honduras.
The Lisa Lopes Foundation medical center will serve thousands of families and children living in impoverished areas of Honduras , with health conditions among the worst in the Western Hemisphere . Honduras is the second poorest country in Central America .
An estimated 1.5 million Hondurans were without access to health care in 2008. With the highest AIDS rate in Central America, the quality and access to health care are directly tied to income levels. Health care for the urban and rural poor is extremely limited.
The Lisa Lopes Foundation medical center will provide free health services, establish an ongoing rotation of dental and medical brigades that will provide on-site services, ensure that the center is prepared with the basics in dental and medical supplies and provide a comfortable working environment for Medical and Dental Brigades or anyone servicing the area and staying at the center.
All donations are tax deductible.
Donate today by visiting: http://lisalopesfoundation.org/afac.php.
David's Grandmother, Claudia Archuleta 
It has only been natural to think of our Mom throughout this entire journey with David. At Christmas time especially, it's impossible to not think of her because this was her very favorite time of year! Baking Danish Christmas cookies, Kleiner and Peppernodder, and decorating the whole house to the T was all part of our Christmas tradition, and we carry on these traditions today that were passed down from our *Danish Gram. Christmas music filled the house! These are some VERY happy and special memories! She would have truly loved Christmas from the Heart!!!
David's grandmother, Claudia Ann Diehl Archuleta was a very SPECIAL Lady…….She was born a natural singer, a genuine Star! She was a triple threat- a singer, a dancer, and an actress! She was a beautiful, tiny blonde with the most GORGEOUS Green Eyes! She was just beautiful inside and out!
David's Blogs
29 October
David Blogs From New Hampshire
Hola! I am in New Hampshire right now for the last 3 shows with Demi Lovato this week. We had rehearsals today, and they went pretty well. I haven't sung these songs for a while haha, but it'll be fun to do them for the shows. It's fun seeing all the crew people again! It'll be fun to perform for all you guys again! So let me know if you're coming to any of the shows that are coming up! I know the weather has been pretty gloomy, but apparently I left Utah right as we were getting some major snow in that area. I prefer the rain here in the east over the freezing snowstorms in the Rocky Mountains. I hope everyone back over there is safe though.
So last Monday I spoke at the morning session for the Utah Women's Conference. I was the speaker for the morning session, and Laura Bush was the speaker for the afternoon session. I was a little nervous to speak when I was trying to figure out what I should say, but the more I thought about it the more I surprisingly got excited to speak. I really had a great time getting to talk about what was on my mind and share it with all the ladies who came haha. I'm glad that Senator Orrin Hatch invited me to come, so thank you very much Senator! How many of you were able to make it to that conference, anyway? If any of you took notes I'd be really curious as to what was note-worthy I guess haha. My sister Claudia came and brought my friend Ashlee with her, and they took notes. It was really odd to think that my sister and friend were taking notes on what I was saying, but I thought that was really neat at the same time. So if there was anything you were able to learn from what I shared I'd love to hear what stood out to you!
Today I got a great workout in! But the bad thing is while I was running on the treadmill I did something to my back. It still doesn't feel very good lol. During the rehearsals I just sat on the stool, which was really weird during Zero Gravity! I'm hoping that I can move around better tomorrow haha. Imagine me singing "Nothing brings me dooown, when you're aroound" and I'm stuck on a stool. hahaha… It's funny as long as it doesn't actually happen lol. Well… it probably would be funny even if it did happen. But oh well. Anyway, I'm probably finished talking. Oh wait! Halloween is this weekend! If you guys have any cool costumes, you should share! bwahahaha. I really don't have anything in mind for myself costume-wise, but I guess we'll see if I'm in the mood when the day comes closer. But all right, I'll stop talking now and talk to you guys next week! Ciao.
Song for the day: Live Like We're Dying – Kris Allen
Fans
blogs, vids, VIPs
27 October
David Archuleta featured in Vietnam's most popular mag. for teens
David is featured in a full page of Hoa Hoc Tro- the most popular magazine for teens in Vietnam. He is called "Little Prince". Lovely!!

David running in the park—> So cute!!!
I love the look on David's face as he is running past the photographer. HaHa!  What must he be thinking?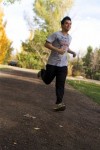 28 October
UPDATE – We found a picture!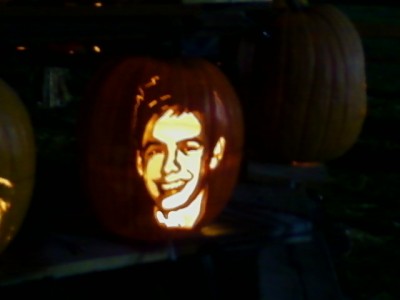 From FOD
Cornbelly's Strikes Again!
So this year David didn't get the ENTIRE corn maze in his likeness, but how about an artistic jack-o-lantern?  I guess it would be a David-o-lantern, in this case!! *rim shot…….crickets*
There aren't any pictures but this blogger saw it with her own eyes and LIKED it!  Anyone heading to Cornbelly's? Find the David pumpkin and win our undying love and admiration.
Thanks Elena!
My favorite thing at Cornbelly's was the Jack O'Lantern tree, a display of about 200 elaborately carved Jack O'Lanterns. Some of my favorite Jack O'Lantern designs were Napoleon Dynamite, David Archuleta, and Hello Kitty.
Human Interest
Keynote Speaker at Women's Conference
From FOD
David Mentioned on FOX News!
More than 1,000 at Women's Conference
SALT LAKE CITY
More than 1,000 women gathered in Salt Lake City at the Salt Palace on Monday for Senator Orrin Hatch's 25th Annual Women's Conference. Former First Lady Laura Bush, was the keynote speaker. The conference kicked off at 8:30 a.m. with a speech by American Idol artist David Archuleta. Archuleta spoke on overcoming his fears in order to be comfortable with performing for audience and even sang for a bit.
Women in attendance at the conference were allowed to choose from ten different offerings for workshops on topics such as health, business and family issues for two sessions. Pamela Atkinson, a presenter and local activist, talked about the importance of the Women's Conference.
"It's how to keep one's self healthy physically," said Atkinson. "It's how to keep one's health fiscally as well, how to get rid of fears and develop that confidence that makes you feel that you can really go at it and succeed."
From Deseret News
Archuleta wows with words and song
David Archuleta had the jitters Monday as he took the microphone at the 25th annual Utah Women's Conference — podium-clutching, leg-shaking, nervous-laugh-inducing jitters.
He would, he admitted several words into his first-ever keynote address, rather be singing.
"A David Archuleta speech for me is like an oxymoron," said the Murray High School graduate, who got his start as a finalist on Fox's "American Idol." "I've never been good at speaking."
Nonetheless, the 18-year-old pop star managed to enchant — however clumsily — the several hundred mostly middle-aged but still giddy-to-see-David-Archuleta-in-real-life conference-goers.
"I just think he's adorable," said LeAnn Hafen, 53, who drove from Santa Clara to attend the Abravanel Hall conference, which was sponsored by U.S. Sen. Orrin Hatch. "He's so sincere and he tries so hard."
Archuleta centered his remarks on doing one's best despite doubts, fears or setbacks.
"If you really have a desire to do something, you should do it," he said. "Even if it's a hard path to take, even if it has big hills and scary trees that might scratch you when you push them out of the way, you should do it. It's the hard things that make us learn in life."
Take, for example: David Archuleta.
As a child, first lured into the world of music by a Les Miserables concert DVD, he sang because he loved the sensation of making music. People told him, "you have such a good voice," but he didn't believe them.
"I could not stand the sound of my voice," he said. "As much as I loved singing, if someone would play a recording back for me, I would run out of the room. I hated it. I'd cover my ears and scream."
The first time Archuleta appeared in a talent competition, he said, "I was so afraid to go on stage I had a panic attack."
Now, with two albums, a tour and a No. 2 billboard single behind him, Archuleta doesn't get too nervous when people ask him to sing. He only blushed a little when Monday's crowd started chanting, "Sing! Sing! Sing!"
"I'm sorry," he said, laughing as people snapped pictures from the audience. "Cameras intimidate me."
After a little coaxing and a direct prod from Hatch, Archuleta belted out a silky rendition of "O Holy Night," which is included on his just-released "Christmas from the Heart" album.
Women scrambled, clapping and hollering, to their feet.
"It was beautiful," said Heidi Hansen, 46, who lives in Springville. "I just melted."
Richard Paul Evans – Born Oct. 11, 1962 in Salt Lake City, Utah – Women's Conference
 
Richard Paul Evans So I spoke to about a thousand women today then went to sign books. They put me at a table with David Archuletta (American Idol) . Big mistake. Never sit next to a bigger draw, eh? 🙂 . He asked me what we were supposed to be doing. "Just …sign, David. Just sign." Years ago I was at a duel signing with Charles Frazier (Cold Mountain) the night he won the National Book Award. I felt like chopped liver.
Richard Paul Evans #1 Bestseller – The Christmas Box – Just recently out new novel, The Christmas List.
David's popularity is even apparent to a well know novelist! As they say in Hollywood, Richard, "Don't work with animals or kids;they will upstage you every time," especially David Archuleta and he's not even aware of it. HaHa!
28 October
David has a book coming out in May 2010 – Amazon.com
Chords of Strength: A Memoir of Soul, Song and the Power of Perseverance (Hardcover)
~ David Archuleta (Author)
——————————————————————————–
List Price: $22.95
Price: $22.95 & eligible for FREE Super Saver Shipping on orders over $25. Details
Pre-order Price Guarantee. Learn more.
——————————————————————————–
This title will be released on May 4, 2010.
Pre-order now!
Ships from and sold by Amazon.com. Gift-wrap available.
pikepss' Pick of the Week
MTV Interview
This particular post by Jim Cantiello shows the side of David I love most. His boyish charm and exactly how Jim described it as 'ceaselessly curiosity'. The 'kid' side of David that is still with him. The cherry on the cake was the blushing when told how Allison Iraheta jumped out of her seat and wanted to meet David. It warms my heart a little as time is nearing and David will be 19 soon to know we still have him as a 'kid' for a little while longer!
David Archuleta Says Allison Iraheta Has 'Spunk'
Posted 10/27/09 5:09 pm ET by Jim Cantiello in Music
The David Archuleta outtake chronicles continue!
One of the fun things I learned about the "American Idol" star during our Christmas carol extravaganza is that he is ceaselessly curious. When he wasn't stopping to look at every single bulletin board or framed poster hanging on MTV's walls, he would turn the tables and casually interview me. "Know any good New York City restaurants? What music are you listening to these days? What kind of bird do you have?" (Long story.)
But this line of questioning was my favorite from the day, if only because it sparked us having a brief chat about recent "Idol" rocker, Allison Iraheta.
Source: MTV Video
If you remember, Simon Cowell went out of his way to knock Allison's personality during her "Idol" journey. Despite the fiery-haired rocker delivering some of the best vocals of the season — and displaying more authenticity than any other teenage "Idol" contestant — the cranky Brit would go on and on about how he didn't think she was appearing particularly likable. This insane, illogical and frustratingly recurring talking point led to several angry fist pumps from my living room couch.
Clearly, David Archuleta is on Team Allison with me. His face lit up when he talked about how much "personality and spunk" she has. And when I brought up how adorable it was when she jumped out of her "bottom three" chair to give him a hug when he showed up during an episode, Archuleta smiled and — dare I say it? — blushed.
Cue the "Awwwwwws!"
DA Weekly Buzz about David Archuleta!
Copy this short URL to share this post anywhere: http://www.dabuzzing.org/?p=7020

Tags: Christmas · Grandmother Claudia Archuleta · Lisa Lopes Foundation · MTV · Nielsen SoundScan · pikepss · Weekly Wrap
Filed in: career|David Archuleta|music|news|opinions|performances|photos|pikepss|reviews|voice
This Post has earned 4 Buzzes.