pikepss Weekly on David Archuleta
Good Morning all Honeybees and Fans!
As the sun sets tonight David Archuleta will be performing his last Holiday Concert for 2009 in Westbury, New York. My heart is heavy but full with joy and pride as well. David has accomplished what every young artist hopes for in their career: album sales, sold out concerts, media attention and a fan base that has no end.
Each performance was something special as he took us through a journey of spiritual Christmas carols to remind us what this time of year means to him and to all of us. Thank you David for your gift of love and song!
Waiting till spring or summer 2010 for David's next tour or new album will be an eternity, but as I expect well worth the wait. Songs expressing his feelings and personality will give us an inside look to his growth and maturity as he takes us with him through the next leg of his journey. I will miss the VIP meet and greets, his smile, his laughter, the cute way he checked out every food table before he started talking and the great hugs he gave to fans. But, tomorrow is another day!!!
This week of reviews, twitters, voice messages, performances and fans memories are in abundance and many future dates of scheduled appearances have already been announced and I am positive we will have much to look forward to in the coming months.
I would like to take this opportunity to thank so many of you for your wonderful comments and support for DA Weekly Wrapup and hope you had a Happy Hanukkah and wish you a very Merry Christmas!! Have a safe and Happy Holiday! Much love to you all!
Media
Reviews and Interviews
14 December
Neon Limelight
Interview Bits: Christmas And Other Random Tidbits From David Archuleta's Heart
David Archuleta – Jive Records
David Archuleta is in a giving mood this season. The uber-talented 18-year-old singer treated his fans to "Christmas From The Heart," a beautiful album of his renditions of yuletide classics, and even an original song sure to become a holiday staple. He didn't stop there, though. He's now out on the road promoting the new album with a nation-wide tour.
His generous spirit rubbed off on us at Neon Limelight. We decided to put our interview with Archie in the hands of the people who know him the most — the fans! But we didn't want to just talk about the album or the tour. We wanted to give you guys a chance to get the answers to some of the most random questions you could think to ask. You came through with the questions, we came through with the answers!
Ever found yourself wondering what his favorite Christmas cookie is, who's easiest to shop for in his family, what he'd study in college, or what product he'd love to endorse?
The answers to these questions and more can be found in Neon Limelight's totally random interview with David Archuleta!
Neon Limelight: Have you tried your "Christmas From The Heart" iPhone app, and if so, what was your score?
David Archuleta: I did try it! My version didn't score me. For some reason it was a different version, so it didn't score me afterward. [Laughs] But I have tried it. It's interesting to hear yourself and get scored on yourself even though I didn't get the score at the end.
NL: Having your mother duet with you on tour…how did that come about?
DA: She only did the first two shows. I was trying hard to get her to come to other shows, but she said, "Oh, I'm tired!" [Laughs] And she's taking care of all of the other kids, so I was like "OK!" But it was so much fun having her there. I used to sing with my mom when I was little. I always loved singing with my mom, but I haven't done it for years now. It was a good opportunity because the song's a duet on the album, so I was like who better than to have my mom. [Laughs]
NL: That's so awesome! The fans loved the videos from the shows.
DA: Awww!
NL: Was she nervous?
DA: Yeah, she was. She was practicing a lot when I asked her to do it. But once she gets on stage — it's weird. She's kinda like me. Once she's on stage, she just kinda gets into it. I think I get that from her. We both practice like crazy before, but once we're on stage we just kinda get comfortable up there.
NL: Who's the easiest person in your family to Christmas shop for, and who's the hardest?
DA: I guess my little sisters are the easiest — well, all of my sisters are, because they just tell me what they want. [Laughs] My brother and parents are hard just because they're just like "Oh, whatever!" They're kinda like me where they just don't really — it's like, they're happy with whatever. They're happy if they don't even get anything. Like, I've never been someone who dies to have something. So if like you get me a rock I'd appreciate it. [Laughs] For me, more than anything, it's the thought of getting a present and the intention behind it more than the present itself.
NL: What's your favorite type of Christmas cookie?
DA: Christmas cookie? Really, I've been trying to stay away from cookies. [Laughs] People give so many sweets and stuff on tour, but I'm just like, "Oh, I can't eat these! Thanks for the thought!" [Laughs] I get such a sugar high from sweets. I love them, though. I really do love chocolate chip cookies and stuff like that, but I really try to stay away from them. I've been trying to eat healthier and I've been doing P90X. I'm bad with keeping up with it, though.
NL: Have you ever had a food fight with your brother and sisters?
DA: A food fight?
NL: Yep! Told you! These questions are completely random!
DA: Woooow! [Laughs] I've never had a food fight with my siblings. That sounds kinda fun! I've had a shaving cream fight. That's fun! [Laughs]
NL: You tweet a lot about food, but what's your favorite thing to cook?
DA: I'm not really a cook myself, but I'm definitely someone who enjoys eating the food. [Laughs] I love Thai food. Thai food is so good. I really like Mediterranean food, too. Mediterranean food and Indian food. So good!
NL: If you were in college right now, what would your major be?
DA: Man! I don't know! Some of the things I've taken an interest in and what my friends talk to me about…I think philosophy classes are really cool. I think it would be so much fun to take one of those.
NL: This is a random small one, but we got this question a lot: how tall are you?
DA: I don't know. [Laughs] I haven't measured myself for like two years. I never bothered, and I've never cared to because…I don't know! [Laughs] I just haven't done it.
NL: We LOVED your ALMA Awards performance…
DA: Oh, thank you!
NL: Do you think you'll put out a full Spanish album?
DA: I think that would be awesome and I really want to. It's kind of like the Christmas album. As soon as I get the opportunity to do it, I'd love to. And we're working on it. We're really trying to get that to work out because, I mean, it's half of my blood! Half of me is Hispanic!
NL: That's awesome! We really loved the performance, and so many fans are still raving about it. So, please do it. We'll love it!
DA: Aww thanks! I'd love to!
NL: Who or what is the current wallpaper on your phone?
DA: I've never paid attention to that. Let me see… It's like a bunch of lines. It's blue and it has curvy lines on it. [Laughs] I really don't pay attention.
NL: What's the one question you wish people would stop asking you?
DA: I don't know. I mean, the questions that I'm sick of are the ones people need to — the reason why I'm sick of them is because so many people — it means so many people misunderstand it or like don't know the truth or something. So, it's good that they ask me so then I can clear it up. Like, "Oh, are you sad that you didn't win? Aren't you angry?" It's like, first of all, that's two years ago now almost. [Laughs] Or "I heard you were dating this person," that kind of stuff. So like it's good that you asked me, so now I can clear it up finally for you.
NL: If you could endorse any product, what would it be?
DA: Hmm. That's a good questions. Uh… Man! I've never… I wouldn't mind endorsing a water company. [Laughs] I love water. Water's good.
NL: David Archuleta for Deer Park!
DA: Or! Oooh! It's on the tip of my tongue! The like square — Triscuits! Yeeeah! Triscuits are goooood.
——
15 December
Singer David Archuleta wraps up a Christmas classic at age 18
David Archuleta may be only 18 years old, but his second disc, "Christmas From the Heart," has the earmarks of an old pro. Whereas the "American Idol" runner-up's first record was a thoroughly modern pop production, the holiday disc takes an old-school approach, with heavy orchestration and a classic approach to classic tunes such as "Joy to the World," "Silent Night" and "O Holy Night."
The smooth-voiced teenager says in a recent phone conversation that he didn't want to make a young, hip, pop-Christmas record: "I didn't want to make any excuses; I wanted to be straightforward with it .… The goal was to [keep] close to the meanings of the songs. I didn't want it to just be light."
He says that Christmastime has been the time of year he has done most of his singing, and that he's gotten especially close to the songs on this disc. "And they're about what I believe in life, so those songs, what they're about, is how I see things in life. So they're a big part of me and who I am."
There aren't a lot of surprises on the "Christmas From the Heart" song list, but ironically, the rarer numbers — the traditional "Pat-A-Pan" and the Spanish-language "Riu-Riu Chu" — have the most up-to-date productions. But for the most part, Archuleta makes a bid for the big-singing Christmas-music pantheon.
Archuleta includes an explicitly Christian dedication message in the liner notes to the disc, and while he says the message in the music is open to everyone, he takes the literal meanings very seriously, and that meant sticking to the straight and narrow when it came to recording.
"It doesn't matter what people believe; those songs still have something special about them. And so I felt like I was opening a door into my life and telling people 'Hey, these songs are important to me, and I'm going to show you why.' "
It's pretty rare to do a Christmas record for your second album, but Archuleta was glad for the chance and takes a long view of the ups and downs of the business that many performers twice his age can't muster.
"We didn't have any room to work on a pop album this year," he explains, and when a Christmas album was proposed "I thought, I don't know how long I'll have these kinds of opportunities, of getting to make a Christmas album the way I could do it right now. And so we just ran with it."
Of post-"Idol" fame, the singer says, "It's been an interesting year. Things have been a lot more exciting than they ever have before. It's been a lot of work, and really hard sometimes, but it's been really enjoyable."
One of the reasons it's been enjoyable, he says, is the influence of his family. His father, aunts and grandmother were all in the theater, he says, and his mother sings salsa. They not only influenced his taste and interests in music, but they continue to keep him grounded after a heady couple of years.
"They're the ones who keep me sane. So many people are treating you in ways that no one has ever treated you before, and you've never had this much attention. And so much is going on, and people are trying to take advantage of you sometimes, and fans are excited to see you, and [my family is] the ones who haven't changed. They don't treat me any different, and that's cool. The things they saw in me weren't about music.…
"And same with friends and stuff — I mean, some friends get a little weird, but most of my friends haven't changed in the way they see me. And that helps so much, because the attention isn't the most important thing you can have in your life. It's just being appreciated for what you're trying to do and what you're working hard for. That's not just music — it's anything you're working toward in your life."
David Archuleta sings Thursday night at the MGM Grand at Foxwoods, in Mashantucket, Conn., at 7 p.m. Tickets range from $20 to $40; go to www.mgmgrandatfoxwoods.com or call (846) 646-0609.
rmassimo@projo.com
16 December
David was interviewed on KOST 103.5 in LA this Wednesday morning and they played Pat-A-Pan! This is just a partial from the last half of the interview.
From Snarky Archies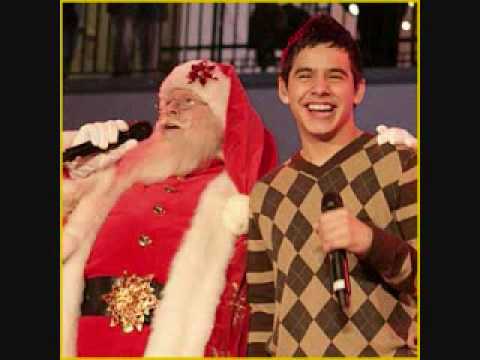 Twitter Contest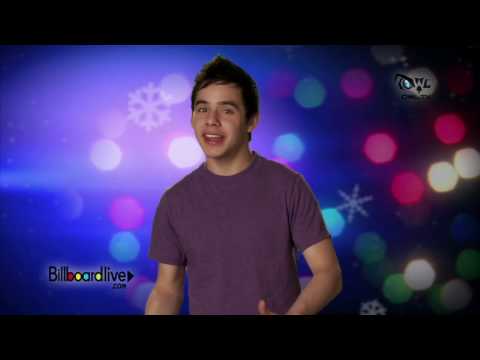 From Snarky Archies
Due to the overwhelming response to our "Are You a True Archie Fan?" video contest, we will be doing a new "Ask David" LIVE Twitter contest. Starting on Thursday, December 17 at 8 pm EST / 5 pm PST, at the start of David Archuleta's live concert broadcast on www.BillboardLive.com, fans can tweet us (@OurWorldLive) a question you'd like to ask David. We will be choosing questions at random and our BillboardLive.com host, McKenna will use them during our post-show Q&A session with David.
18 December
by Mjsbigblog – David Archuleta – Ave Maria – Univision
David Archuleta performed a pretty rendition of "Ave Maria" at a school in East Harlem, NYC last month, for the Spanish language cable channel, Univision.
David's performance ran tonight, part of the channel's Christmas special, Nuestra Navidad.
I watched the entire program, and sadly, the 4 years of Spanish I took in school were pretty much a waste. I couldn't understand a thing! Gloria Estefan interviewed President Obama in Spanish…
Watch the video: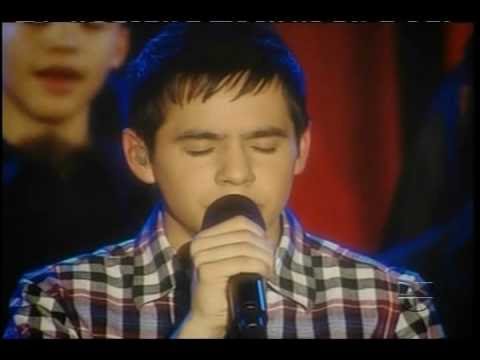 DAVID'S BLOGS
17 December
David's voice message Wishing everyone a Merry Christmas!
Twitters
DavidArchie & Friends
14 December
DavidArchie – Some more phone interviews to start off the day.
DavidArchie – One more day to download Joy to the World free as Single of the Week on iTunes!
DavidArchie – Stretching feels so gooood
DavidArchie – Man I crashed into bed early last night! Good morning haha.
DavidArchie – Some phoners here and there. Show tonight in Baltimore, Maryland! Any of you coming??
DavidArchie – Nothing's gonna change…waiting for yesterday. haha
DavidArchie – Hm…Interesting VIP today…. Lol
DavidArchie – Catering tonight is Thai food!
DavidArchie – It looks like my tie is missing. Time to find a quick alternative!
DavidArchie – Baltimore was a ablast! Awesome having my bud @Syesha at the show tonight! Catch her in the national tour company of Dreamgirls!
16 December
DavidArchie – In New York for the day off!
DavidArchie – Thanks to everyone who did a video for the @OurWorldLive contest! You can see some clips during the www.BillboardLive.com broadcast tomorrow
DavidArchie – Wow..Eating dinner. Pretty sure I'm sitting next to the definition of gossip girls just the next table over lol.
Does anyone else find this cute?
DavidArchie – Have a question u wanna ask me? Tweet @OurWorldLive during the BillboardLive.com show this Thursday & I'll answer a couple after the show.
DavidArchie – Tonight's concert in Connecticut will be streaming live in HD for free on www.BillboardLive.com at 8PM EST! Fans all over can watch!!
DavidArchie – After the billboardlive.com show you can catch my performance on Nuestra Navidad on Univision a 10 EST! Fun stuff lol. Excited for tonight!
DavidArchie – Wow!!! had soo much fun!! Thanks everyone for coming in CT! Great crowd! And thanks Billboard Live and those who watched online!
DavidArchie – Nuestra Navidad on Univision right now!
DavidArchie – Sorry Nuestra Navidad is the program I perform on, and Univision is the channel haha. Catch my bud@PeeWeeMusic on it too!
DavidArchie – Playing tonight in Stroudsburg, Pennsysylvania. Happy to be doing another Pennsylvania show!
SCHEDULED APPEARANCES
15 December
Jordan Sparks Super Bowl February 3-5 2010 – Miami Beach Florida
Tickets will be sold online and there are several opportunities for sponsorship and involvement.
"This will be an experience that no one will forget and the exposure and
promotion for our sponsors will be well worth the commitment to our cause," says
event director Christa Watson, "we will be on every local TV station, and blitzing this
entire Miami area with media before, during, and after the event, you don't want to miss out on this one!"
The time is just right to get involved in this "new and exciting" celebrity, charity event. The Experience will be hosted in conjunction with the 2010 Pro Bowl and Super Bowl XLIV, and will attract many celebrities and athletes. With your help as a valued sponsor and advertiser, we will provide a high-energy, upscale event and raise a considerable
amount of money for a great cause. Invited celebrity guests & athletes include: Larry Fitzgerald, Albert Haynesworth, Donovan McNabb, Phillippi Sparks, Tim Hightower, Beanie Wells, Teddy Ginn Jr., Chris Brown, Ne-Yo, Jesse McCartney, Jason DeRulo, Sean Kingston, JoJo, Josh Groban, Kelly Clarkson, Jennefier Hudson, Kellie Pickler, Jennifer Nettles, Reba McEntire, Chris Daughtry, Tamia, David Archuleta, Mario, Mya, Darren Woodson, Enrique Iglesias, Eduardo Verastegui, Mark Anthony, Dwyane Wade, LeBron James, Matt Leinart, Kurt Warner, Sam Moore, Michael W. Smith, Anquan Boldin, Fantasia, Taylor Swift, Alicia Keys, John Mayer, Michael Strahan, Leona Lewis, Gloriana, Adele, Amare Stoudemire, Kirk Franklin, Grant Hill, Li'l Mama, LaDanian Tomlinson, The Kardashians, Emmitt Smith, Jonas Brothers, Honor Society, Chris Richardson, Melinda Doolittle, Elliot Yamin, Kris Allen, and many more!
The following information in this Sponsor Packet will provide an insight into the event, Jordin Sparks, Sparks Charities, sponsorship opportunities, advertising, and how you can be a part of this "experience."
Sincerely,
Samantha Mae/Event Manager
sam@sparkssuperbowlexperience.com
888-868-6157 ext: 714
Nichet Smith/Sponsorships
17 December
Top 50 Talk Show Guests on TV (Dec. 17-23, 2009)
Posted by television on December 16, 2009M at 6:30 am Wednesday is when The Oklahoman posts a list of all the guests (and all the topics) coming up on TV talk shows.
Here are 50 (or more) of the best guests appearing on talk shows airing Thursday through Wednesday (Dec. 17-23, 2009). For a practically complete list, go to www.newsok.com/entertainment/tv and click on Talk Shows (located under Resources).
But just like everything else on TV, talk show lineups are subject to change.
BEST GUESTS
••Jennifer Aniston ("Love Happens"), Dec. 21 on "The Ellen DeGeneres Show"
••Christina Applegate ("Samantha Who?"), Dec. 21 on "The Tonight Show With Conan O'Brien"
••David Archuleta ("American Idol"), Dec. 21 on "Today"; Dec. 22 on "Live With Regis and Kelly"
POLLS
17 December
Idol Live has a new poll: Which 'Idol' Christmas album is your favorite?
http://www.idollive.net
Don't forget to vote for best music video!
http://musiqtone.com/music/thecount/index.php
18 December
From KathyH – Team Archie
Requesting is very important right now! If you've heard your station play one of David's songs, request that they play it again. You can also use Trudi's list at Idolforums to request online. Request in your area please:
http://idolforums.com/index.php?showtopic=633817
~ Request David's songs on Disney. Request Christmas songs (we think Have Yourself a Merry Little Christmas is being pushed as the single) by selecting "new song" on the right-hand side of the request page.
http://radio.disney.go.com/speak/request.html
~ Remember to return to ticketmaster.com to review your concerts after attending!
~ Let's keep writing reviews for the Christmas album whenever or wherever we buy them! I know this is one thing that has impact. I generally always read reviews, if they are available, before I buy anything. You don't even have to say much, really. Just say how you feel. Here are a few links:
Amazon: Review David's Christmas album
iTunes: (well, you'll have to open up your iTunes acct. and rate, but please do so!
Walmart: Review on the Walmart catalog
Target: Review David's Christmas album
~ Twitter: David has 286,525 (+451) followers. Follow him. http://twitter.com/DavidArchie
~ Search for (and share) news of David at www.msn.com, www.google.com and/or your favorite search engine.
~ Watch David's videos on YouTube. Much to love, there, and David has 88,000 (+40) subscribers at his official youtube site and he is #59 on the list of musicians with the most subscribers.
~ David's official site has 31,612 subscribers.
http://davidarchuletanetwork.ning.com/
~ David's Myspace has 230,942 (+54) ms friends. http://www.myspace.com/davidarchuleta
~ Request songs at Sirius:
http://www.sirius.com/siriushits1
~ Listen to David's songs on Last FM.: http://www.last.fm/music/David+Archuleta
Holiday Tour
Yuletide cheer
14 December
Message from Tour Manager Ray re: Westbury Gifts!
Ray wanted to get a message out to the fans about gifts for David at the FINAL show in WESTBURY, NY. Please take a minute to read and pass along this message. Know that there are alternatives to bringing a gift to the show if you want to do something for David. Ray offers suggestions below.
"Hi to you all, this is Ray Amico. In anticipation of the final show of the tour, ending in Westbury, NY; knowing that it is so close to Xmas and to David's birthday, we know that many fans would like to bring gifts to the ILAA VIP as well as to the show, for David..
David wants to thank everyone for all of their kindness and generosity but says it is definitely not necessary to bring him gifts – for xmas or his birthday. He would much rather that people make donations to his favorite causes & charities, or donate gifts to local children's hospitals, etc. That would make him extremely happy.
As with the last show of all previous tours we will not be able to accept any gifts at this show since we don't have anywhere to carry them after the show, and David will not have the time to go through any of them – remember that he is appearing the next morning extremely early on the Today Show and will need to leave immediately, just to get some rest before this early morning performance.
Thanks for understanding, cooperating and for your kind thoughts – and happy holidays to all of you."
Ray Amico
* * * * *
Chart Updates
14 December
Billboard Top 200 Albums of 2009! #59!!
WOW! Way to go David! "David Archuleta" is the #59 top selling album across ALL GENRES in 2009!!!
Billboard 200 #34 – Christmas From The Heart
52 – Last Week
8 – Weeks on Chart
30 – Peaked
16 December
Idol Chatter – Album Sales
David Archuleta, Christmas From the Heart (31,000, -8 percent, 153,000/5,000 digital, -9 percent, 21,000 digital total)
Google Alerts
Christmas albums
14 December
New Albums Bring Christmas Cheer
Barry Manilow sings Christmas tunes in his new album "In the Swing of Christmas."
/ Courtesy of SonyBMG
By Cathy Rose A. Garcia
Staff Reporter
Christmas is just around the corner, and if you haven't been feeling the holiday spirit, then maybe it's time to pick up a Christmas album.
Established artists like Bob Dylan and Barry Manilow, along with rising pop singer David Archuleta are giving a fresh take on Christmas carols. Classic Christmas albums by Nat King Cole, Placido Domingo and Leonard Bernstein are also being re-released in time for the holiday season.
Dylan caused a stir when he decided to release his first Christmas album in his 46 year career. The rock icon, more known for his cynical tunes than cheerful carols, will give the proceeds from the album to charity.
Meanwhile, Manilow offers an album of yuletide tunes: "In the Swing of Christmas." It was originally released in 2007 in the United States, but it is only now hitting stores in Korea.
"My favorite holiday memories are of the music ― all those great Christmas classics that filled our small apartment. For this CD, I chose songs that take me back to that good feeling," Manilow said, in the album's notes.
The American crooner succeeds in putting listeners in a jovial mood with upbeat versions of "Jingle Bells," "Joy to the World/It's the Most Wonderful Time of the Year" and "Count Your Blessings."
On the other hand, Archuleta, who finished as the runner-up on season 7 of "American Idol," releases his first holiday album "Christmas From the Heart." The album mainly features slow, soulful versions of "Joy to the World," "Silent Night," "O Come All Ye Faithful" and "O Holy Night."
With his squeaky clean image and clear voice, Archuleta is perfectly suited to these Christmas carols. Also included are two pop tracks, "Melodies of Christmas" and "Have Yourself a Merry Little Christmas," which he sings in a duet with rising Filipino singer Charice Pempengco.
Please go to site and read entire article – This is just an excerpt
16 December
Hartford Courant by Eric R. Danton
I love this interview! A must read!
Entertainment > Music David Archuleta, From The Heart: Christmas Album From 'American Idol' Runner-Up Harks Back To Childhood
David Archuleta
Dec. 15 at the Lyric Opera House
The "American Idol" singer performs a holiday concert.
David Archuleta By ERIC R. DANTON
It's not as if holiday albums are rare, so David Archuleta knew he was entering a crowded field with the release in October of his collection "Christmas from the Heart."
All the same, the runner-up on the seventh season of "American Idol" loves Christmas music so much that he wasn't concerned with how many other versions of "Silent Night" exist.
"Christmas music is honestly probably what I've performed more than anything else, ever since I was a little kid," Archuleta, 18, says by phone from St. Louis on a tour that stops Thursday at the MGM Grand at Foxwoods in Mashantucket. The show, he says, is split between pop songs and holiday songs.
"I remember caroling with my brothers and sisters and doing holiday shows at retirement homes," says Archuleta, who is one of four siblings. "So seeing how holiday music can affect people has been one of the biggest influences on my career. People enjoy Christmas music so much, including me."
Most of the songs on the record are traditional, such as "O Holy Night," "O Come All Ye Faithful" and "Angels We Have Heard on High," though Archuleta lands a credit, too, for co-writing "Melodies of Christmas."
It's not his first: He also wrote a pair of songs on his self-titled 2008 debut, along with two iTunes deluxe-edition bonus tracks. Archuleta hopes to contribute more of his ideas to his next pop album, which he started working on earlier this year before pausing to focus on the Christmas tour. He plans to resume work on his sophomore album early in 2010.
"Next month, after the holidays, I'll be working more on writing, and writing with other people and talking to the label and discussing the direction I want to go," he says. "There's some songs I'm happy with already, but you never know what's going to end up on the album."
Although he has no plans to follow in the footsteps of fellow "Idol" alumnus Kelly Clarkson, who had a hand in writing all the songs on her third record, Archuleta would like to give fans a fuller picture of himself on his next album.
"I'm hoping to show more of my personality and the ideas and thoughts that are in my head," he says. "I'm kind of a cheesy, quirky person sometimes, but hey, that's who I am, and I feel the most important thing to do in your music is be honest. I want people to be able to know who I am, or at least understand where I'm coming from."
It's hard to imagine his fans don't already have a pretty firm grasp of who he is. Archuleta is the subject of no small amount of adulation on at least nine distinct fan websites in the United States, and he has a dedicated following on Twitter. He's pleased that so many people have connected with his music, though the attention is occasionally intense.
"Sometimes it can get like a little, like, whoa," he says. "Sometimes I'm, like, what is it that people are so interested in? Because I just feel like I'm me. It's interesting when people take an interest in you and want to talk to you and be around you and get a hug from you and follow you to the shows. It makes me feel like there must be something more that's involved with this, because it can't just be me."
Rather, he says, it's about the music he sings and how fans relate to it.
"It's interesting how they're feeling the same thing I'm feeling. It makes you feel so good that it can do that for people. That, more than anything, is what made me want to be a singer and a performer," he says. "I've never been a big talker or anything, but I felt like I could say what I wanted to say in music. There's just such a power in music. I don't have much to say, but I wanted people to be aware what music can do."
It's not just music, either: Archuleta is also releasing a memoir. Although the book discusses the partial vocal-cord paralysis he suffered in 2004, it's about more than that, he says.
"It's like all the things I've gone through since I was little that have made me into who I am now," he says. "That was just one of the challenges that you face in life, and it's not like it's been the challenge I've faced. It was rough for a few years and stuff, but I feel like it's something that I've dealt with. It's neat for me to see how I moved from there when I thought I couldn't."
DAVID ARCHULETA performs tonight at MGM Grand at Foxwoods. Tickets for the 7 p.m. show are $40, $30 and $20. Information: 800-200-2882. Event Details
Fans
blogs, vids, VIPs
16 December
January -M Magazine has David in their issue and the picture poster is adorable.
From FOD – Fan Story
by Rene
I wanted to share something AWESOME that happened today! I decided to wear my ILAA I Heart David t-shirt today as I ran some errands around town. I wear it randomly to try to promote him and also just to see people's reactions LOL. I ended up meeting my parents for lunch. Once in the restaurant, I took off my coat and went to sit down when a guy at a different table said "Hey, I just got two free songs from him on Itunes! One was in a Holiday sampler and one was the free download of the week! Did you know he has a Christmas album out? I found out on itunes!" My mom said "Oh my, you have no idea! She is a major fan!" So I was in some sort of archubliss that this random guy was talking to me LOL so I whip out my VIP lanyard and he was like "whoa how did you meeeet him?" So I tell him about the concerts, about being on-line, etc. So he tells me he is a pastor and he has liked him since Idol but never followed up on him. He tells me he thinks that David seems so nice and genuine. So I tell him I'll be right back and I run to my car and grab a CFTH still unopened CD and come back with it. I hand it to him and say "This is for you. Merry Christmas!" He is in a state of shock. I tell him that David's fans are called Archie Angels and our mission is to spread Christmas cheer LOL so he starts to ROTFL! He thanked me several times and I have been smiling ever since! As much as my son likes to tease me about that shirt, it pays off. Fly your freak flag proudly my friends! Say it loud, say it proud – I am an Archie!
–Rene
17 December
Beautiful New David Archuleta Poster
from Juan
Human Interest
16 December
ALL SEW BIZ
From Sew What Inc:
Once again, both Sew What? and Rent What? were asked to provide soft goods to a single tour – David Archuleta's Christmas 2009 tour – and I think this one turned out particularly great, as both companies thought "outside the box" to create some unique pieces for the show based on a fabulous set design created by Butch Allen.
Rent What? provided the drapery – in this case it included Gold Lightweight Synthetic Velour Legs and Swags from their "Timeless and Traditional" Series, all wrapped up with giant red and gold bows for a perfect Christmas presentation.
 What I think takes the drapery to another level, though, is the incredible "twinkle-light" drape. We've made traditional LED Star Drops before, but this drape was different. For this drape, low resolution twinkle lights were inserted into a sheer white voile – the result is just gorgeous and reminds me of snow falling.
Sew What? also got in the act, making some gold satin skirts along with some fun three-dimensional Christmas Trees out of White Cambio stretch fabric. There were five trees, ranging in from 8′ to 16′ in height, and depending on how they were lit, they appear gold/white, blue/white, or green. Here's how they look in green:
All in all, the combination of the beautiful drapery provided by Rent What? and the fun Christmas Trees provided by Sew What? sets the stage for a fun and festive holiday show. Want to see more photos? Check out the Concerts and Curtains Photostream on Flickr.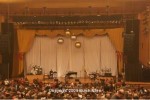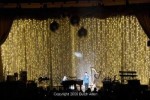 pikepss' Pick of the Week
David Singing the Riddle – Montclair, New Jersey
What do you say about a young man who tries to escape the spotlight? HaHa! Only that it's impossible if you are David Archuleta!
This particular video shows the fun/cute side of David only to flip over and give us his professional personna as well. When the piano fails only David can entertain us with quick wit and charm, and he does it every time. It may come naturally to him, but in every situation when there is a failing of equipment David finds a way to overcome it and finds the bright side. You will not want to miss this video!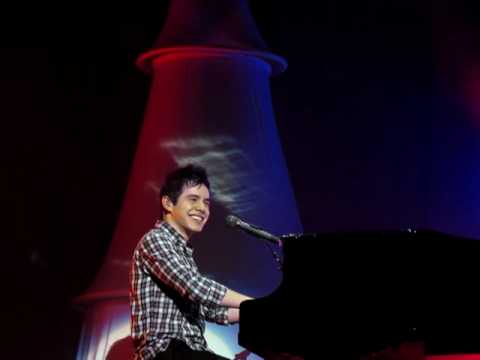 DA Weekly Buzz about David Archuleta!
Copy this short URL to share this post anywhere: http://www.dabuzzing.org/?p=8524

Tags: Buzz Wrap · pikepss · Weekly Wrap
Filed in: career|David Archuleta|music|news|opinions|performances|photos|pikepss|reviews|voice
This Post has no Buzz yet.