pikepss Weekly on David Archuleta
Good morning Honeybees and Fans!
Nashville has been the center of David Archuleta's world this week with many songs finished and put to music. We noticed in his vlog how happy he was to be there and his delight to be staying with Joy Williams and her husband, the "happy couple". Let's just say he has never been more expressive, especially when he told us about him and Brooke White going to see Syesha Mercado in Dreamgirls. Whoa and Whoo! Haha!
More buzz about David and Somos el Mundo with comments on the Univision Forum asking who the guy was at 2:30, 2:36, 4:11 and 6:13 etc. Who's the babe, who's the green-eye boy, has a great voice who is he? Love the fact that David has received much attention from so many songwriters, singers, critics and new fans.
"Chords of Strength" release date has been moved to the first week of June and is hot on the preorder list with Amazon.com. If you haven't ordered it yet please go and get your copy. The more sales the better as it will definitely determine if David goes on a book signing tour and we really want that to happen.
Popular Men's Hairstyles says a great hairstyle will make you look handsome like David Archuleta. They do know their business! Speaking about hair, did David ever get his haircut? Maybe David's next vlog will tell…unless he keeps his beenie on!
Have a safe and happy week!
Media
Reviews and Interviews
8 March
Hispanic Magazine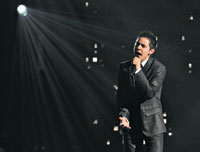 I•con [ay-kan] n.
One who is the object of great attention and devotion; an idol.
These Latino idols are courageous, committed and extraordinarily talented. And they are all age 30 and under. We look at who they are, what they do, and the qualities leading them to greatness.
David Archuleta, 19
American Idol
Now a mainstay of pop radio, Archuleta gained fame as the first runner-up on American Idol in 2008. One of the youngest contestants on the show, his boyish charm made him a favorite throughout the competition. During its final moments, he registered more than 97 million audience votes in his favor. Forbes named him a breakout star of 2008. His album has sold more than 900,000 copies globally.
8 March
Catching up with David Archuleta
Los Angeles Times – Idol Tracker – by Shirley Halperin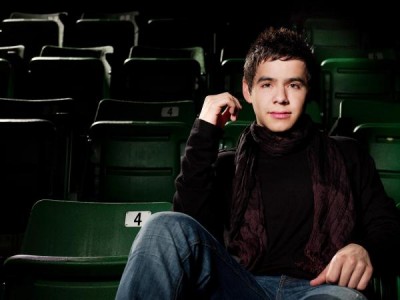 Season 7 runner-up David Archuleta has a new album in the works, a book about to hit the shelves, and a very busy few months staring him in the adorably dimpled face. But the 19-year-old native of Murray, Utah, still made time to talk to us between his travels to Nashville for songwriting sessions. The follow-up to David's gold-selling debut is slated for release later this year, but read on to learn about its progress, as well as David's experience with the Spanish-language "We Are the World" and his thoughts on the new season of "American Idol."
What do you think of Season 9 so far?
I just really feel for the contestants. I want to talk to them, to tell them: I went through this, and I know what it's like. While you're there, you're overwhelmed with so many different things. It's a lot of work but you're gonna learn so much from it, and there will be so many opportunities that you wouldn't even imagine coming to you. And all the people who work on "Idol" — so many of them made what I thought was an impossible dream come true. These are the people who can really change your life.
Talent-wise, do they measure up to previous contestants?
I think they're really talented. They show a lot of their own personalities, and I liked that about them. And there's some really good singers, too. Like Andrew Garcia, I like the character that he's shown. I feel like there's a lot of pressure for them because people are now expecting them to change up the songs, and they're not sure exactly what to be showing people. It's matter of balance — changing the song enough to show who you are but still preserving the song for what made it magical.

Is that the secret, David? You would know, having made it all the way to the finale.
It's difficult. You only have so much time in the day to think about that. Especially for the kids who are in school who study and are supposed to use their brain in another way for a lot of the day. Sometimes it's hard to focus on both things at once, especially when you have to sing in front of millions of people. But "Idol" is like boot camp — that's what I always say. It just makes you strong and gives you the knowledge and experience that you'll need in the future. I'm excited to continue watching.
Tell us about your new material, and how long you've been working on it.
I've been working on it since January, but I had my first writing sessions in the summer, and I went to Nashville to write in October. Then the Christmas album came out and sort of took over, but I go back to Nashville this week.
Why Nashville?
It's a really fun town, and I just love the people there. They're really focused, very humble people, and the writers want the songs to be meaningful. That means a lot to me. It's just a matter of finding that balance between radio hits and songs that really bring a message across to people. Plus, I love to tell a story, but I want to talk about my own stories, so I've been learning a lot about the writing process by working with people like Matt Squire. 
Is there something you're trying to accomplish with this record that you weren't able to do on the first one?
[Lyrically], I just want it to sound more like me. I want people to say, "This is David talking." Instead of just interpreting — and I'm sure there will be songs like that — I want to focus on showing people who I am, what my personality is like and hoping that I leave an impression on people. Even if it's a light, fun topic, I still want it to make people think. I don't want a typical everyday relationship song. If it's going to be about a relationship, I want to create an image in people's minds and let their imaginations go.
Have any current artists helped inspire you as the album has come together?
Jason Mraz, A Fine Frenzy, Owl City, Imogen Heap… those are some of my favorite artists. I love how Imogen gets you thinking and her music paints all these pictures in your mind. Owl City too, the weird abstractness makes all these colors and images come to life in your head. I love it when a song can do that. I don't wanna get too abstract about it, but I want people to have a good time with the music and for it to match my personality. That's kind of the goal right now, which is still kind of difficult because I'm still figuring out what exactly I want to do.
Please tell us we won't be hearing you all auto-tuned. …
I hate auto-tune! There's a certain emotion that you work on trying to get into your voice all these years, and I feel like auto-tune takes that away. Sometimes imperfections are supposed to be there! I have a hard time singing with it on because I pay so much attention to what is coming out of me, that when what I'm hearing in my headphones is not the same as what's actually coming out, it really throws me off. So, no, I'm not a fan of auto-tune. 
One of your songs, "She's Not You," was leaked recently. Is it a contender for this new album?
That was like the third song I ever recorded a year and a half ago. I don't know how it got leaked. I guess people are hacking into things a lot more, like Jason Mraz's Twitter [account] got hacked into.
I recorded over 30 songs for my first album, and this was one of them. It was written by E-Man [Emanuel Kiriakou], who wrote "Crush," and I really liked recording it, but it didn't make the record. And now, he worked hard to write that song, record it and produce it, but because it's not released or for sale on iTunes, he's not being provided for all the work he did. So I feel really bad for him.
Your book, "Chords of Strength," is coming out. How do you respond to those who say you're too young to write a memoir?
I agree with them. When the idea was brought to me, I was like, "Huh? I'm only 19, and I don't think my life has been that interesting." At first, I wasn't sure how I was going to do it. Except in my liner notes [laughs], I was never good at writing a lot. Even in school, I always stayed after class because I'd never finish my essay in time. So writing has been a challenge but something I've been working on. Also, a lot of people ask me questions about my life, and I thought this is a great way for me to finally explain how I managed to get to this point at a young age and why I'm still the way I am. That's the focus in the book: There were so many times when I thought, "I'm not good enough," or, "There's no way this is going to happen," and then it does happen. I like to share those things with people, which is what music's all about — having even a small influence by sharing my stories.
What was the process like?
It was very challenging, but I feel like it taught me a lot of things. It brought back memories that I completely forgot about because it got me thinking deeper and in more detail.
Last month you joined Emilio and Gloria Estefan, Ricky Martin, Shakira and a host of Latin luminaries to take part in "Somos El Mundo," the Spanish-Language version of "We Are the World." How was that experience for you?
It was just amazing to be around so many Latin artists. I was a little nervous because I don't have the greatest Spanish, but I was able to get by. And my mom idolizes Gloria Estefan, so I brought her with me, which was really special. Plus, I just love to be able to reach out, and I love when people come together for such a good cause. I feel such a love for people [in need] especially now, with all the things that have been happening, not just with Haiti.
Would you consider doing a Spanish album?
I really want to. I love those people. I love what they're all about, the culture they've given to me in my life with my mom's side of the family. … Latin people are so passionate about music and emotional and expressive that way.
Perez Hilton recently suggested that Gloria Estefan would be a good "Idol" judge. Would you agree?
I think she'd be a really good candidate. She has a lot of knowledge, she's a songwriter and a performer, she's been under those pressures and has accomplished a lot in her life. Plus, she's a very nice, down-to-earth person. I think she'd be a really good candidate. 
Any plans for you to appear on the show this year?
I'd love to. I really wanna go back, and I've been trying to watch this season as much as I can.
— Shirley Halperin
10 March
Billboard.com
American Idol Recap
"American Idol" is only an hour tonight? What am I going to do with my Tuesday night?! I have no idea! How am I going to write this recap during the commercial breaks when there's only one every five minutes instead of every three minutes? I have no idea!
1) Katie Stevens: "Breakaway" by Kelly Clarkson
Poor Katie Stevens. It was pitchy and you could tell she was just trying so hard to nail it. It's hard being set up as the golden child and then just not quite have the stuff to match up to it. And after listening to the judges' comments last week to go younger, you can tell she is floundering. She keeps thinking she's doing the right thing, but she's just not. I wish they would actually raise the age limit a bit to allow people to develop a little more — for every Jordin Sparks or David Archuleta, there's 1,000 Katie Stevens.
It's amazing how they always use David Archuleta as an example for setting the benchmark high! They are so right!
11 March
Season 7 – David Archuleta is a hard act to follow!
The Marquee Blog
Separating the men from the boys on "Idol"
9:39 p.m. – Oh Aaron Kelly. I know fans have high hopes for you to be the next David Archuleta, but honey, I don't think you are quite there yet.
His "Already There" started out so messed up that I would have changed the channel were it not for my blogging duties. He picked it up toward the end, but he definitely is no Arch at this point. Perhaps he'll grow a bit more? He's so earnest and sweet.
I'm glad that Simon cut Kara to the quick. You don't have to be a middle-aged dude to sing the song. It's telling a story, like Aaron said. Good for him wanting to be a narrator!
Real World – College Grad
I think performances like Kelly's just goes to show how spoiled American Idol fans were with David Archuleta.
TV Fodder – Chris Sardelli
Aaron Kelly- It's very hard to not like Aaron Kelly. He seems like a happy kid and with all those "ma'ams" and "Sirs," he's definitely the most polite contestant we've ever seen. But even though he's channeling his inner David Archuleta, I don't think his vocals are as good.
Entertainment Weekly – PopWatch
I'm not saying the new father delivered anything close to Mindy Doo's "My Little Valentine" or D'Archie's "Imagine";
The Wrap
The main problem is a lack of an early standout like Fantasia or David Archuleta to get people excited, says Phil Gallo, former Variety managing editor and chief music critic who covered the first seven seasons of the show.
Chikezie had a decent voice and knew how to rock the argyle, but it was clear from the beginning that this season belonged to the Davids.
11 March
Easy Popular Cute Hairstyles For Mens 2010
Popular hot men's haircuts. Best and easy male hair style. Full of men's haircuts ideas for you to use. Browse our pictures gallery of funky men's hair styles including men's short hairstyles, men's medium hairstyles, men's long hairstyles, formal hairstyles, celebrity hairstyles, young styles, classic cut, modern, and latest guy's styles. All is easy, cute, funky, cool, the best hairstyles for men.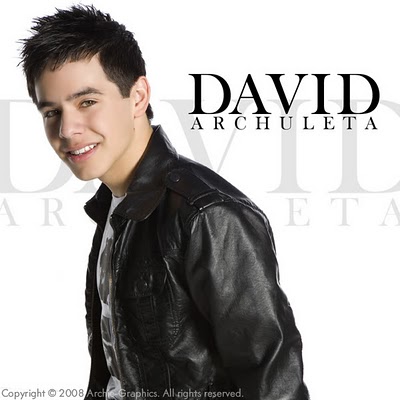 Really, a good hairstyle will make you look handsome like David Archuleta, it's quite important for you to take good care of your hair, and see that you make yourself appear chic and trendy all the time, with the help of the right hairstyle.
12 March
Univision Forums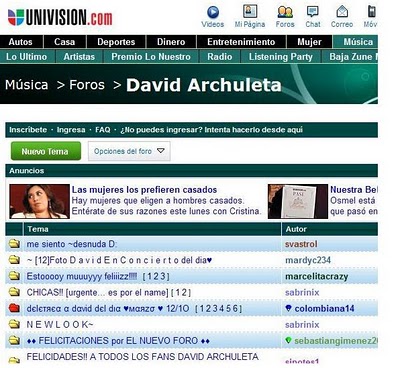 David's Vlogs & Blogs
8 March
David Loves Nashville! Look at his face! Back to write some more!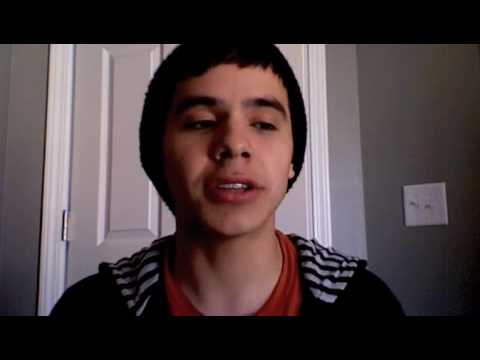 Chart Updates/Book Sales
8 March
New Release Date of June 1st, 2010!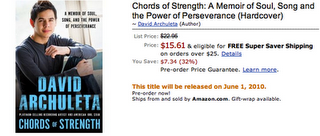 Pre-Order Update
Note all – if you preordered D's memoir at Amazon while the release date was May 4, then you need to find your order and approve the new delivery date and press Update. If you do not do that, they will eventually cancel your preorder. It happened to me with his first album.
Easy way to get to your order is go to the book page and click the link "You ordered this book on."
It will want you to sign in and take you to the order. Above your order it will have text about orders in red that you need to update. Just follow that, and when you get to the Approve page, leave Approve checked and press the Update button.
13 March
Amazon.com
"Chords of Strength"
#5 in Books > Biographies & Memoirs > Arts & Literature > Composers & Musicians > Pop
#18 in Books > Entertainment > Music > Musical Genres > Popular
#27 in Books > Entertainment > Pop Culture > Music
A great start with pre-orders with less than three months before its release in June. Be sure to pre-order a copy for you and you can always get one for a gift!
Pictures
10 March
David in the Studioooo!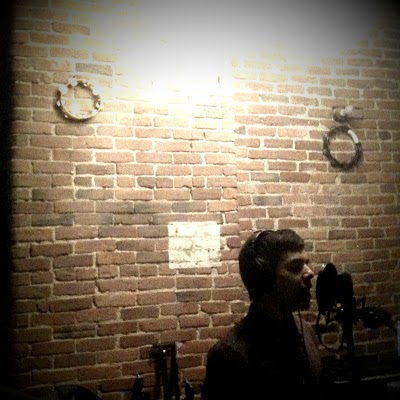 11 March
J14 Magazine
As promised David is in their April issue!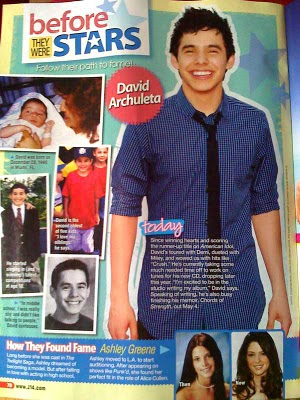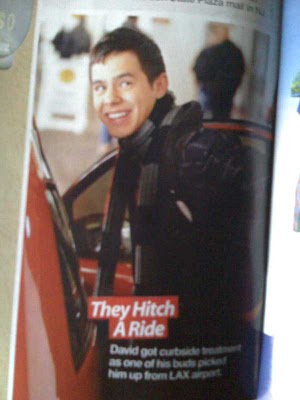 13 March
More pictures from the Mint in Los Angeles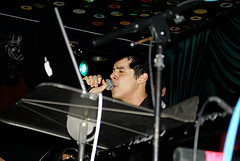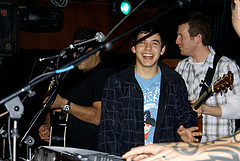 Twitters
DavidArchie & Friends
8 March
DavidArchie – "Think of a car driving through the night. The headlights only go 100 to 200 ft. forwrd, and you can make it all the day from…
DavidArchie – California to New York driving through the dark, because all you have to see is the next 200 feet. And that's how life tends to….
DavidArchie – Unfold before us. If we just trust that the next 200 ft. Will unfold after that, your like will keep unfolding, and eventually….
DavidArchie – Get you to the destination of whatever it is you truly want…"
DavidArchie – In Nashville!
DavidArchie – New Video blog up! You can view it here http//www.youtube.com/watch?v+E9vLsK20PVE
DavidArchie – At a Mexican restaurant, and they're playing Aqui Estoy Yo by Luis Fonsi. So cool!! I love this song.
DavidArchie – Just got back from Urban Outfitters. Fun fun.
DavidAArchie – @EmanuelKiriakou Oh haha you're welcome! I haven't read it because I always feel weird reading that kind of stuff when it's about yourself.
DavidArchie – Thanks for the nice article! It was great talking to you again RT @IdolTracker Catching up with David Archuleta http://bit.ly/9SvEfX
DavidArchie – Writing session:)
9 March
DavidArchie – Off to the next writing session soon. Had a good session with Jeremy Boze and Cindy Morgan last night
DavidArchie – Or they're also known as @stola which is the group they're both in haha.
DavidArchie – Taking a break. Already have a chorus so far! Working with Cary Barlowe, Jesse Frasure, and the lovely @JoyWilliams today.
DavidArchie – Already finished with the song today. Hooray
DavidArchie – Got to meet a bunch of really cool Nashville songwriters/artists tonight. Had a great time hanging with everyone.
10 March
DavidArchie – Had a great lunch meeting at Fido. Now off to the next writing session for the day!
DavidArchie – Finished writing another song with @JoyWilliams, Jen Schott, and Jamie Kennedy! Now time to record it!
Ahh, "It's a Tear Jerker" in Nashville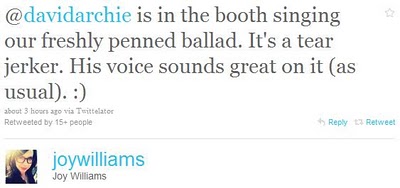 DavidArchie – Oh my heck, I just realized that the button says "tweet" now. haha. When did that happen?
DavidArchie::) RT @joywilliams Here is @davidarchie in studioooo:# http://twitpic.com/17tvOx#fb
DavidArchie – I heard Michael Lynche covered This Woman's Work tonight on Idol? I've been wondering when someone would do that song domeday!
DavidArchie – Finally finished recording for tonight. Can't wait for bed!
11 March
DavidArchie – Have yet another writing session today. Working with Danny Orton, and then also back with Jen Schott and Joy. Should be good.
DavidArchie – I think a really cool verse idea has just begun here. We have a chorus finished so far.
DavidArchie – Thanks to all involved in the Murray High music scholarship, I feel honored! So glad people are supporting a kid's future life in music!
DavidArchie – Here's a link to the project that some people started if you were wondering more http://www.thedavidarchuletamusicscholarship.org/about.html
DavidArchie – Oh man, are we finsihed writing this song already? That was fast! At least for my usual slow world of a mind I have lol.
DavidArchie – Wow, already have a song written and recorded today! I love how it came out!! Feel really good about it.
DavidArchie – Just finished watching the Idol results show. Bummed about some of the people leaving already, but congrats to the top 12!
DavidArchie – Had an interview this morning and now time for another writing session with Jamie Kenney, Hillary Lindsey, and @JoyWilliams
DavidArchie – Finished writing and putting down vocals for today's song! Now off to a meeting.
13 March
DavidArchie – "The way you get meaning into your life is to devote yourself to loving others, devote yourself to your community around…
DavidArchie – …..you, and devote yourself to creating something that gives you purpose and meaning."
DavidArchie – In recording this morning again with Jeremy Bose.
DavidArchie – RT @joywilliams: Recording voxw/@DavidArchie & @stlola this morning, then off to write another tune with @DavidArchie, @CaryBarlowe & @..
DavidArchie – Have a chorus finished so far. This one's a bit trickier, but have to make sure we get it right:)
DavidArchie – Sometimes songs just take longer to write than others. Slowly but surely thought! RT @gummybearfreakk AND WHY is it tricky my friend
DavidArchie – Finished writing the 6th and final song of this Nashville trip. Recorded a (really) rough vocal too lol. Time tgo rest the voice!
DavidArchie – No! I forgot that tomorrow is Daylight Savings Time. Bah that's ok, more sun! Haha
DavidArchie – There are earth friendly paper straws at this restaurant. Never seen that before.
Google Alerts
Google Alerts
10 March
Disney News: Hannah Montana "Miley Says Goodbye" DVD Review | Disney Dreaming
Walt Disney Studios Home Entertainment has released "Miley Says Goodbye?" on DVD today, March 9th. The DVD includes the 2-part season 3 finale of the Disney Channel Original Series Hannah Montana.
Fans of the show have only seen Part 1 of the season finale on the Disney Channel, as the second part doesn't air until March 14th – but if you buy the DVD you get to see it today!
The DVD includes the following David Archuleta episode:
Episode 69: Promma Mia
Oliver and Lilly are set to go to prom together, but Miley doesn't have a date yet!
Miley tells one of the guys in school, Aaron, that she will go to prom with him after he gets rejected by another girl he asks. But will she regret her decision and cancel on him?
Oh and did we mention, the episode guest stars DAVID ARCHULETA! So of course we love it!
Miley meets up with David to record a duet together, but then realizes she shouldn't have broken her promise to go to prom with Aaron to sing with David instead – so she leaves the recording studio to go keep her word.
'American Idol' Power List: Who's your favorite among the 16 remaining semifinalists?
by Michael Slezak
Round two of American Idol's season 9 semifinals was a definite improvement over the deeply troubling Top 24 week, so I'm optimistic that the remaining 16 contestants will perform well enough this week to inspire Ellen DeGeneres to dig up some synonyms for her favorite adjective "great." But before we whittle the field down to the 12 final finalists, I'm gonna rank 'em one last time — and ask you to help do the same through our handy Power List Poll. (For more Idol coverage, follow me on Twitter @EWMichaelSlezak!)
10. Aaron Kelly (Last week No. 9): His Week 2 cover of "My Girl" showed considerably more confidence than his initial outing on Rascal Flatts' "Here Comes Goodbye," but he has yet to display the raw vocal horsepower of a David Archuleta, or the musical inventiveness of a Kris Allen. Sure, he's performing well enough that a Top 12 slot should be within his grasp, but even the slightest step backward would make him vulnerable in an evenly matched men's field
Is Slezak mellowing? Describes David Archuleta with raw vocal horsepower!! I love it when people finally get David!
Fans
blogs, vids, VIPs
Rio Tinto Soccer Game – 6/5/09
This was a cute interview from David talking about his music!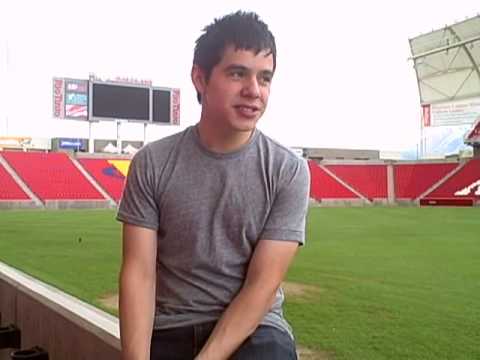 10 March
TEEN CHOICE AWARDS
I saw this at Snarky Archies!
From Cari Adams on IDF:
Hi guys! A few weeks ago, Teen Choice awards started asking folks to request celebrities who they thought should be nominated or who they want perform for them this year. At that time, there were a lot of requests for other artists, and very few for David.
TCA is gearing up to launch their 2010 voting site. They are looking for nominations, requests and suggestions right now. We need to keep supporting David and show the TCAs that we care. You can send email requests to Teen Choice Awards at staff@teenchoiceawards.com, or send a tweet to @TeenCAwards2010.
You can recommend that David perform a certain song on the show (which would be awesome promo!) or be a co-host. And you can nominate him for categories, or suggest your own. Examples from previous years:
Choice TV Male Reality/Variety Star, Choice Hook-Up, Choice Music: Male Artist, Choice Music: Love Song, Choice Music Album: Male Artist, Choice Male Hottie (Helllloo), Most Fanatic Fans (us!). Other ideas: Best Duet, Best TV Show Guest, Best Christmas album.
Please take just a minute to do this for David. Thanks.
Human Interest
Scholarship
12 March
From FOD
Scholarship Goal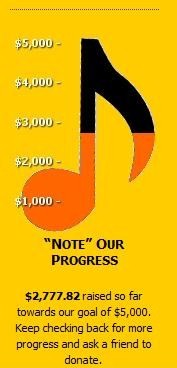 Link to donate to David Archuleta Scholarship
http://www.thedavidarchuletamusicscholarship.org/index.html
pikepss' Pick of the Week
Somos el Mundo
Somos el Mundo clip from Extra
It's great to see big stars such as Emilio Estefan recognizing David's participation!
Added Bonus Video! Haha! Love this one! Take notice of the throat spray and he puts it on the keyboard!
DA Weekly Buzz about David Archuleta!
Copy this short URL to share this post anywhere: http://www.dabuzzing.org/?p=13445

Tags: Amazon.com · American Idol · Buzz Wrap · Chords of Strength · Hispanic Magazine · Murray High School · Nashville · pikepss · Somos el Mundo · Teen Choice Awards · Weekly Wrap
Filed in: career|David Archuleta|music|news|opinions|performances|photos|pikepss|reviews|voice
This Post has earned 1 Buzz.