DA week that was in the life of David Archuleta
Follow links above to the relevant section.
Media Headlines
News, Reviews, and Interviews
David Archuleta Opens up about Fame
by Ryan Seacrest
13 April 2010
The day after David's guest appearance on American Idol on 7 April, he was interviewed on Ryan Seacrest's KIIS-FM radio show. We've heard the audio, but now Seacrest has uploaded the video. David talks seriously about his father and how he feels about home and family. It's a poignant conversation.
Well worth five minutes of your time!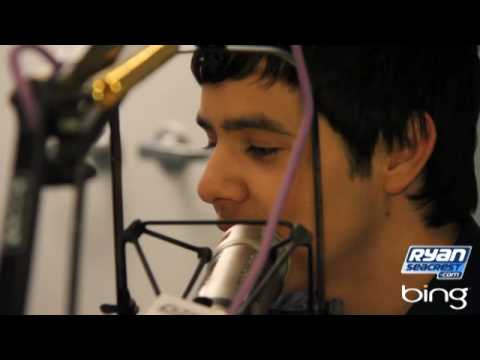 David's World
Blogs, Tweets, Appearances
Blogs and Vlogs
Join the Official David Archuleta Website and sign up to receive newsletter updates of his appearances, music, photos, blogs, and more.
Appearances – Recent & Future
We all know that David Archuleta has a big heart. Here are just two demonstrations of it.
R.I.P., Jozainne
On 11 April within an hour of hearing about the death of a fan, David Archuleta tweeted, "Sorry, Jozainne was a big fan who has passed away from I believe a heart attack? Keep her and her family in your prayers please." Jozainne, a Filipina fan, last tweeted about David on 8 April. Just days before, she had her 23rd birthday.
"Like a comet blazing 'cross the evening sky, Gone too soon" – Michael Jackson. May she rest in peace.
David Archuleta and Jonah at the Real Soccer Game
Last week on Utah television, David Archuleta met young Jonah Gomez from the Make A Wish Foundation. David gave Jonah tickets to the Blaze football game and then gave him a ride to the Real soccer game where they sang "Touch my Hand" together. Jonah, who suffers from both heart and blood disorders, wants to become either a soccer player or a rock star.
Photos courtesy of Real Salt Lake: David & Jonah at Real soccer game
Local ABC-TV News story about Jonah from RoxFox01
Triumphant Guest Appearance on American Idol to sing John Lennon's "Imagine" 7 April
This deserves to be repeated…repeated…repeated! Send the link to someone new!
CREDIT: iTunesHits
Scheduled appearances coming up:
15 April, songwriting and recording sessions in New York City.
21 April, 27th annual ASCAP (The American Society of Composers, Authors and Publishers) Pop Music Awards, Renaissance Hollywood Hotel, Los Angeles, CA
22 April, Guest Performer, BritWeek Gala Dinner honoring Sir Richard Branson, Beverly Wilshire Beverly Hills
Could the release of a new ***hit*** single be coming up soon??? Inquiring minds want to know.
Chords of Strength Book Signing Tour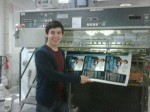 On 15 April David Archuleta was standing by at Coral Graphics, Long Island, NY, when the first print of his book cover came off the printing press. He was quick to share this photo of himself on Twitpix. Doesn't he look like a happy author?! Chords of Strength will be available online and in bookstores on 1 June 2010. You can pre-order your copy for $15.48 today on Amazon.com. If the price drops again by release date, you'll receive the lower price.



Book tour dates:
1 June – Bookends, Ridgewood, NJ
2 June – Borders, Manhattan, NY
3 June – Barnes & Noble, Smith Haven Mall, Lake Grove, NY
5 June – Barnes & Noble, Mall of America, Bloomington, MN
7 June – Deseret Books, Salt Lake City, UT
8 June – Deseret Books, Orem, UT
Twitter
12 April
DavidArchie – "Don't ever let yourself believe that the role you play in the lives of others is not an important one, especially in the lives…of the ones you love and who love you. No matter how big or small that role is, or may seem, it's… a very important one, and it is one that only you can play. Don't underestimate yourself. Someone out there may need you."
13 April
DavidArchie – All right, time to fly for the night. Good night everyone!…In New York this week.
DavidArchie – My bud @JasonCastro has his new album out today! Congrats Jason! Show your support to him and check his new music out!
DavidArchie – Writing session today with @Jremyofm , @Bonnybassofm , and @Cjai…Have a good song coming along. Finished for tonight. Back at it tomorrow.
14 April
DavidArchie – Had a nice start to the day a far. Off to a meeting now. If I can find my way there haha.
DavidArchie – Meeting's finished, now back in the studio to finish up the song we were working on yesterday with @Jremyofm and @Cjai
15 April
DavidArchie – Working on a new song now with @IglooTracks and @NateCampany . Liking how it's turning out so far!
DavidArchie – Going to Long Island to the book publisher's printer to watch my book get pressed and made! 🙂
DavidArchie – http://twitpic.com/1fsbh0 – Book cover fresh off the press!
DavidArchie – Had a great time with everyone at Coral Graphics! Fun to see how the covers on the books are made. Excited for Chords of Strength!
Writing on the roof with @SamiamHollander and Sluggo. Ducking the pigeons.
16 April
DavidArchie – Had a really nice meeting/visit. Pretty productive day. I'm hungry though haha. I'm still on west coast time it seems.
DavidArchie – Off for another day of writing with @SamiamHollander and Sluggo. Grabbing some Vietnamese food first though. I'm starving!
David Archie – Check out @OfficialCharice's new music video for her single Pyramid ft. Iyaz! http://www.youtube.com/watch?v=vGPG91x5eMY Woo hoo Charice!
DavidArchie – [reply to, "How does it feel to be a superstar?"] @Shell_eeeyyy Idk I guess we'll have to ask one lol.
DavidArchie – @GabrielPere1ra Is it my twitter anniversary? Wow time goes by!
DavidArchie – @Myheartsong I don't. I remember @Syesha is the one who got me onto twitter though.
DavidArchie – Finished working for today. Gonna walk around East Village. If you're in the neighborhood come say hi haha.
Is he trying to start a riot??!!!!
17 April
DavidArchie – My laptop won't turn on. I think it got wet yesterday in the rain while it was in my backpack. Sorry guys no blog today 🙁
DavidArchie – I'll try and figure something out though! Definitely a blog next week!
DavidArchie – Finishing up this last day of writing for this week in NYC with Sam and Sluggo
DavidArchie – Taking a break, at a street fair!
DavidArchie – Song is finished and done recording vocals!
DavidArchie – Hanging with my A&R guy, Jeff Fenster. Saying hi to his family! Haha
Follow David Archuleta on Twitter. He now has more than 355,000 followers, but who's counting? —I am!!!
Fandom
Blogs, Stories, Charities
Stories
Group Card for Jonah Gomez and Family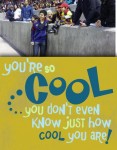 Jonah Gomez is only six years old and has already had many surgeries and blood transfusions for his heart and blood disorders. But Jonah has got a fighting spirit! And he knows all the words to David Archuleta's songs. This Group Card will be delivered to Jonah and his parents at 3pm ET on Saturday April 24. Tell Jonah how you feel.
Popstar's Fave Male Singer Award goes to…
Popstar.com—not affliated with Popstar! Magazine—is counting entries during the month of April. There are three ways to vote:
Mail in the ballot from the May 2010 issue
Send e-mail to Popstar@PopstarOnline.com
Write a blog comment
Lots of ways to vote for David Archuleta! Currently, David has 32% of the votes, with Nick Jonas coming up at 27% and Justin Bieber at 19%.
VOTE!! VOTE!! VOTE!! for David Archuleta
Charity
David Archuleta fans "Give Back"
American Idol's annual fundraising event, "Idol Gives Back," airs on Wednesday, April 21 at 8/7c. Many fans of Idol alumni have formed charitable groups to help raise money for various causes. "Archies Give Back" is the team for David Archuleta fans. Join and donate today. Funds raised will benefit the Children's Health Fund, Feeding America, Malaria No More, Save the Children, and the United Nations Foundation.
Did you miss last week's Weekly Wrap? If you've fallen far behind, you should seriously search the Archhives! It's not too late to reclaim your status as a David Archuleta fanatic fan!
DA Weekly Buzz about David Archuleta!
Copy this short URL to share this post anywhere: http://www.dabuzzing.org/?p=15419

Tags: Archies Give Back · Buzz Wrap · Jonah Gomez · Ryan Seacrest · weekly buzz
Filed in: career|David Archuleta|music|news|performances
This Post has no Buzz yet.