DA week that was in the life of David Archuleta
Follow links above to the relevant sections below.
Keeping up with the über-talented, awe-inspiring, world-travelling David Archuleta can be a full-time job. Even the most (D)avid fans among us don't always have time to follow David. Here are some of last week's top stories about the awesome David Archuleta.
Media Headlines
News, Reviews, and Interviews
Chart Watch Extra: American Idol's Million-Sellers
by Paul Grein
30 April 2010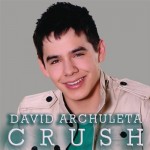 According to Yahoo Music's Chart Watch, only twenty-six songs by an American Idol contestant have sold one million or more digital copies. Kelly Clarkson, winner of the first season, has eight of those songs. David Archuleta has the distinction of being the youngest Idol contestant to top 1 million. He was just 17 in November 2008 when "Crush" hit the million mark in downloads. "Crush," number 8 on this Chart Watch list, has sold 1,918,000 to date. Dave Hodges, who co-wrote Clarkson's "Because Of You," also co-wrote this smash for David Archuleta. This was the first single from Archuleta's eponymous debut album. Hot 100 peak: #2.
SOURCE: Yahoo Music's Chart Watch Extra
David's World
Blogs, Tweets, Appearances
Blogs and Vlogs
1 May 2010
David Archuleta posted a vlog entitled "May Day" from a dark and mysterious place! He talks about May Day and shares his excitement about his upcoming album.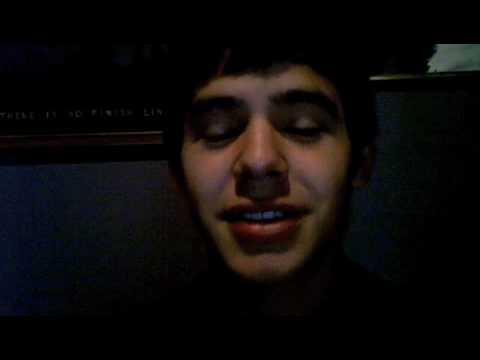 23 April 2010
Have you read David Archuleta's latest web log? The day after his BritWeek performance, he posted a blog.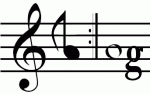 "I am checking in from LA today, and I've had some good writing sessions this week already. I worked with Guy Chambers, who wrote Angels with Robbie Williams, and Erika Nuri from The Writing Camp. I also had writing sessions last week with Sam Hollander and Sluggo, who my friend Travis from We The Kings actually told me about because he has worked a lot with them. I also worked with a bunch of other really great writers, who you've probably seen me talk about on Twitter. But I actually have another writing session today with the Nexus lol. And I'll let you guys know how that goes too!…"
Join the Official David Archuleta Website and sign up to receive newsletter updates of his appearances, music, photos, blogs, and more.
Appearances – Recent & Future
24 April, Attended the Japanese festival in Salt Lake with his family
26 April, Caught Carly Smithson's show in Salt Lake at the Saltair
27 April – Present, Working on songwriting and recording in Los Angeles
1 May, Visited the Marine Corps School of Infantry at Camp Pendleton. (Don't sign up, David! Your fans will be happy to Photoshop a uniform on you, but just for fun!)
No further publicly-announced appearances, except for Book Signing Events in June (See next item.)
Chords of Strength Book Signing Tour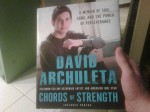 On 15 April David Archuleta was at the Long Island, NY, printers when his book cover came off the press. Fifteen days later on 30 April he has the first copy of Chords of Strength in his hands! He shared this photo on Twitpix. Isn't it exciting!? It's a beautiful book. Chords of Strength will be available online and in bookstores on 1 June 2010. You can pre-order your copy for $14.49 today on Amazon.com. The price has dropped; if it drops again by release date, you'll receive the lower price.



Book tour dates:
1 June – Bookends, Ridgewood, NJ
2 June – Borders, Manhattan, NY
3 June – Barnes & Noble, Smith Haven Mall, Lake Grove, NY
5 June – Barnes & Noble, Mall of America, Bloomington, MN
7 June – Deseret Books, Salt Lake City, UT
8 June – Deseret Books, Orem, UT
DavidArchie on Twitter
Starting off the week, David Archuleta had a mini-tweet party which DAHoneybees happened to catch. It was fun 'helping' David choose a new Twitter photo. He said it had been a year since he changed the picture. Here are the before and after pictures. Sorry, the 'old' one is fuzzy, my bad!


Monday, 26 April
> Why didn't I find Lebanese food sooner? It's so good.
> Had a good time with @CarlySmithson and the family yesterday! She has a show in Salt Lake tonight at the Saltair!
> Bah, idk Why my phone keeps saying my sim card is full and to delete texts when all the messages are gone! I can't get texts!
> TheRealJordin YES. RT @aliciakeys I learned tht negativity is poison tht tries its best 2 destroy. We have 2 make a choice not (cont) http://tl.gd/11ol6s
> So my phone has somehow managed to make my texting completely disappear. I can't receive texts and I can't send them. Oh well lol.
> Hm… I think it's time for me to change my picture. After all, It's been… a year lol. Now just to find a good picture!
> Man I have hardly any new pictures of myself! I haven't used my own camera for like a year lol. I'll try and find one that's recent though.
> DAHoneybees @DavidArchie haha! YOU don't have a photo of self. What abt the BritWeek pix? You looked smashing!
> DAHoneybees @DavidArchie I'm sure you know http://david-daily.com/gallery/ has tons of grt pix of you!
> DAHoneybees @DavidArchie hey! U put up the BritWeek! D'ya get my tweet? That grey vest w/black piping was gorgeous. You looked so 'British'!
> All right well that picture will have to do for now. Got to see @CarlySmithson tonight by the way! She's so great. Off to bed now. Night!
Tuesday, 27 April
> Ugh… Not feeling so good today. Haven't really been sick for a while until now. But off to LA to work on some more music 🙂
> Ah, I'm feeling a lot better after a nice flight and sat next to this adorable 1 year-old. And my texting decided to show back up!
> Had a good day working at @emanuelkiriakou's studio. Excited about the songs!
Wednesday, 28 April
> Taking a cab to the writing session today. Cab rides can get pretty expensive!
> Had a long cab drive, but had a nice cab driver. Have a session now with Mike Krompass and Shelly Peiken.
> Sad to see Siobhan go tonight, but excited to see what she'll do in the future. She's an awesome girl with a one-of-a-kind personality haha.
Thursday, 29 April
> "The time for family is now. Time goes by slowly, but before we realize it, it has passed us by. It's important to build a good…relationship and solid foundation with each member of our family…To be in their memories tomorrow, we need to be in their lives today."

DavidArchie has been quoting lately. Is he quoting from his own soon-to-be-released book??!!

> Finished up the song today that Alex James, @JimmyHarry and I worked on. Finished early today. It's weird having time open in the day lol.
> Taking the metro for my first time in LA. Fun stuff. A lot cheaper than a cab haha.
> Today was simply a great day. Ending it by watching the series "Life" on Discovery Channel. Hope the day went well for others.
Friday, 30 April
> Buenos Dias. Have a writing session later today, but until then the day is pretty open 🙂
> My 1st copy of "Chords of Strength" :)! http://twitpic.com/1jpt1n
> LA traffic, how abundant you are.
> Writing session with Mike K again and Robbie Nevil.
> Another song finished. Just recorded a rough vocal.
> So I finally measured how tall I am again. Looks like I'm done growing. Same height as I was 2 years ago.
> Unless Mike [Krompass] measured my height wrong. Let's hope that was the case.
> So we're sitting outside of a restaurant, and there's a couple next to us getting married and their 1st dance is To Be With You!
> What are the odds of that happening?? Haha. Congrats to them though and wish them the best!
Saturday, 1 May
> Making a video blog 🙂
> Sorry for the bad lighting, but here is the video blog! http://www.youtube.com/watch?v=yWvxAuJb6Ps
> At the Marine Corps School of Infantry at Camp Pendleton! My first time here. Reminds me of my cousin who's a marine.
Follow David Archuleta on Twitter. He now has more than 364,000 followers, but who's counting? —I am!!!
Fandom
Blogs, Stories, Charities
Stories
On Newsstands Now!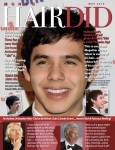 beebee at Planet Hunkerdown has gone and done it again. Another magazine cover you must not miss. If it were on the newsstands today, well, it wouldn't last long. They'd have to order more!
David Archuleta ABC Book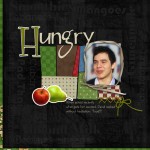 Awesome fan and talented scrapbooker Bianca has added an "H" to her David Archuleta ABC Book. Let me see: is it 'handsome,' 'hysterical,' 'holy'?? You can print a copy for free. Thanks, Bianca!
Popstar's Fave Male Singer Award goes to…
Popstar.com—not affliated with Popstar! Magazine—is counting entries during the month of April. There are three ways to vote:
Mail in the ballot from the May 2010 issue
Send e-mail to Popstar@PopstarOnline.com
Write a blog comment
Lots of ways to vote for David Archuleta! Currently, David has 32% of the votes, with Nick Jonas coming up at 27% and Justin Bieber at 19%.
VOTE!! VOTE!! VOTE!! for David Archuleta
Did you miss last week's Weekly Wrap? If you've fallen far behind, you should seriously search the Archhives! It's not too late to reclaim your status as a David Archuleta fanatic fan!
DA Weekly Buzz about David Archuleta!
Copy this short URL to share this post anywhere: http://www.dabuzzing.org/?p=15810

Tags: Buzz Wrap · Chords of Strength · Crush · Weekly Wrap
Filed in: career|David Archuleta|music|news|opinions|reviews
This Post has earned 1 Buzz.