DA week that was in the life of David Archuleta
Follow links above to the relevant sections below.
Keeping up with the über-talented, awe-inspiring, world-travelling David Archuleta can be a full-time job. Even the most (D)avid fans among us don't always have time to follow David. Here are some of last week's top stories about the awesome David Archuleta.
Media Headlines
News, Reviews, and Interviews
Brian Mansfield to give away two copies of Chords of Strength!
by Brian Mansfield
7 May 2010

Nashville's Brian Mansfield takes a break from helping his community recover from the historic flood to make an announcement about David Archuleta's new book, Chords of Strength. Mr. Mansfield says, "The publisher of David Archuleta's Chords of Strength memoir, which comes out in a few weeks, sent me a couple of autographed advance copies to give away. If you'd like to be interested in being considered for one of those copies, say so in the comments section."
SOURCE: Only two copies, so hurry up and comment at USA Today's Idol Chatter
David's World
Blogs, Tweets, Appearances
Blogs and Vlogs
4 May 2010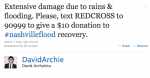 Nashville endured a rare and historic flood last week. Conservative damage estimates are already at $1.5 billion. David Archuleta was quick to respond with a plea for help. He sent out an "appeal tweet" urging people to contribute $10 to the Red Cross. Nashville is a city dear to David's heart. He has worked with many Music City songwriters for his upcoming album, and they consider David to be an 'honorary Nashvillian'. (See Joy Williams twitter.) You can also donate at the American Red Cross, volunteer to help, and / or give blood. Our hearts and prayers go out to the people of Nashville and all the many Southern towns adversely affected by flood.
1 May 2010
David's vlog entitled "May Day" from a dark and mysterious place! He talks about May Day and shares his excitement about his upcoming album.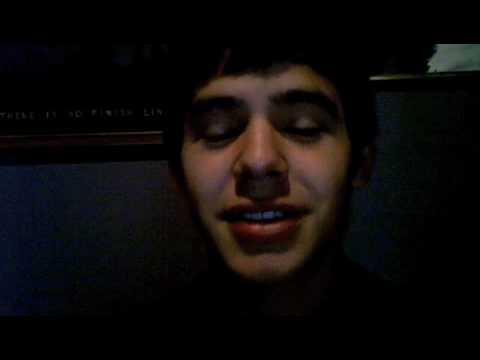 23 April 2010
Have you read David Archuleta's latest web log? The day after his BritWeek performance, he posted a blog.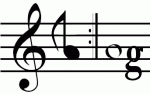 "I am checking in from LA today, and I've had some good writing sessions this week already. I worked with Guy Chambers, who wrote Angels with Robbie Williams, and Erika Nuri from The Writing Camp. I also had writing sessions last week with Sam Hollander and Sluggo, who my friend Travis from We The Kings actually told me about because he has worked a lot with them. I also worked with a bunch of other really great writers, who you've probably seen me talk about on Twitter. But I actually have another writing session today with the Nexus lol. And I'll let you guys know how that goes too!…"
Join the Official David Archuleta Website and sign up to receive newsletter updates of his appearances, music, photos, blogs, and more.
Appearances – Recent & Future
Working on next album in Los Angeles recording studio
No further publicly-announced appearances, except for Book Signing Events in June (See next item.)
Chords of Strength Book Signing Tour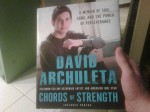 On 15 April David Archuleta was at the Long Island, NY, printers when his book cover came off the press. Fifteen days later on 30 April he has the first copy of Chords of Strength in his hands! He shared this photo on Twitpix. Isn't it exciting!? It's a beautiful book. Chords of Strength will be available online and in bookstores on 1 June 2010. You can pre-order your copy for $15.61 today on Amazon.com.
Book tour dates
David will perform one song!



1 June – Bookends, Ridgewood, NJ
2 June – Borders, Manhattan, NY
3 June – Barnes & Noble, Smith Haven Mall, Lake Grove, NY
5 June – Barnes & Noble, Mall of America, Bloomington, MN
7 June – Deseret Books, Salt Lake City, UT
8 June – Deseret Books, Orem, UT
17 June – Deseret Books, Rexburg, ID
DavidArchie on Twitter
Monday, 3 May
> "Instead of worrying about all that you don't have, think more about what you can give and then you will get what you need."
> Wow, I heard about the flooding in Tennessee. My prayers go out to them and hope things are all right.
> Another writing session today. Finally drove in LA for my first time! Was short but sweet.
> No way I love In The Heights! Such a GREAT show! Congrats Jordin!! RT @TheRealJordin JORDIN SPARKS MAKES BROADWAY DEBUT http://bit.ly/b4FVXU
> Writing a song with Mitch Allan and Shelly Peiken. Recording a scratch vocal, and then need to finish writing a bridge :)..
> Sorry, a scratch vocal is the same as a rough. You record a scratch or rough when you need an outline, then you record the real one later.
Tuesday, 4 May
> May the 4th be with you. Happy Star Wars Day.
> You know,you have a point there. @AnoopDoggDesai's album All Is Fair came out today. Check it out! RT @smushypotato no. its anoop desai day.
> Have another writing session. Running a little behind though… Bah.
> Extensive damage due to rains & flooding. Please, text REDCROSS to 90999 to give a $10 donation to #nashvilleflood recovery.
> Had a productive day, and still finishing up some music :), but I'll say good night now!
Wednesday, 5 May
> "There is not a more pleasing exercise of the mind than gratitude. It is accompanied with such an inward satisfaction that…
> …the duty is sufficiently rewarded by the performance."
> Happy Cinco de Mayo!
> Working a little on a song right now, but during breaks in between I'm watching my friend who was on MTV Made! haha crazy to see her! What
> an awesome girl. Go Hannah! —> http://www.mtv.com/videos/made-season-10-ep-13-rapper/1619616/playlist.jhtml
> @JonasArchieFans said "Please come to Mexico!" I want to really bad! I actually need to look for a relative on my mom's side who lives there somewhere lol.
> @Shell_eeeyyy Unfortunately I couldn't get it [Cinco de Mayo] off, but that's ok because it's good to keep busy! It means I'm not moping around haha
> Finishing up tonight with another session of making music, so I'll say good night now and hope everyone had a good Cinco de Mayo!
Thursday, 6 May
> Hellooo, finishing up some stuff with @Matt_Squire today.
> This bridge totally reminds me of @ladyvmusic. I miss her! lol
> @Nellie1983 It's the bridge to the song I'm recording right now that Matt, Lady V and I wrote 🙂
> @jenlalalovesdja The bridge is like the breakdown that's usually after you hear the chorus the 2nd time.
Friday, 7 May
> Trying to figure out plans for Mother's Day 🙂
> Wow, this trail mix is addicting. Cashews, almonds, cranberries, sesame sticks. Soo good!
> The sky never ceases to amaze me. So beautiful with all the colors while the sun sets.
Saturday, 8 May
> Can't wait to see my mom and sisters who are coming down! Have a writing session later today.
> Bah! I made a video blog, but it won't upload for some reason! Trying to figure this out.
> Sorry guys, but I can't seem to get the video blog up. If I can get it up later I'll try again!
> RT @SonyMusicGlobal: Will u b catching @therealjordin on tour this summer? For details go here: http://bit.ly/admsDJ
> Hooray for mi familia!!! 🙂 🙂
> Mmm estamos en una pupuseria. Me encanta la comida Salvadoreña :). Salvadorian food is so good.
Follow David Archuleta on Twitter. He now has nearly 368,000 followers, but who's counting? —I am!!!
Fandom
Blogs, Stories, Charities
Stories
David Archuleta fan Sarah shares David's vlogs
Snarky Archies
2 May 2010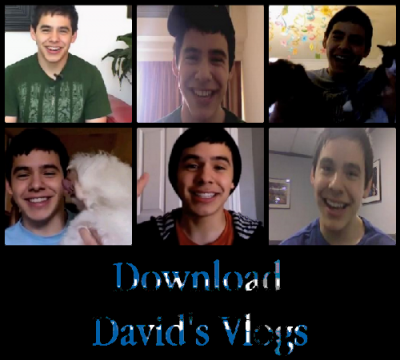 Sarah had the brilliant idea to upload her mp4s of each one of David's vlogs to Mediafire where YOU can download them to your computer and save on your iPod. She has compiled a complete and convenience list of David's vlogs, so you can easily download the one or ones—grab 'em all— you want! Thanks, Sarah!
David Archuleta's vlogs available for download in mp4 format
Learn to play David Archuleta's "Crush" on guitar
Script Stan
7 May 2010
SOURCE: Script Stan
Did you miss last week's Weekly Wrap? If you've fallen far behind, you should seriously search the Archhives! It's not too late to reclaim your status as a David Archuleta fanatic fan!
DA Weekly Buzz about David Archuleta!
Copy this short URL to share this post anywhere: http://www.dabuzzing.org/?p=15921

Tags: Buzz Wrap · Crush · Nashville · vlogs · weekly buzz
Filed in: career|David Archuleta|music|news|performances
This Post has no Buzz yet.