DA week that was in the life of David Archuleta
Follow links above to the relevant sections below.
Keeping up with the über-talented, awe-inspiring, world-travelling David Archuleta can be a full-time job. Even the most (D)avid fans among us don't always have time to follow David. Here are some of last week's top stories about the awesome David Archuleta.
Media Headlines
News, Reviews, and Interviews
Showbiz Shelly Interviews David Archuleta
by Showbiz Shelly
27 May 2010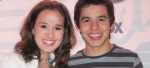 Remember Showbiz Shelly from Chicago 96.3 FM? She interviewed David (YouTube vid, 8:20 minutes) before his performance at the B96 Jingle Bash in December 2008. It was an awesome interview, one of the best! Well, Showbiz Shelly interviewed him again at the American Idol Season 9 Finale on 25 May. She and David sound like a couple of old friends. One question: when is David going to wear the Santa suit?
Listen: MP3 Embed; Length: 5:56
Click on the Play button (arrow on the right) to listen with your Flash player.
[audio:http://www.dabuzzing.org/wp-content/uploads/2010/05/david-archuleta.mp3|titles=Showbiz Shelly Interviews David Archuleta]
Source: B96 Radio
More from: Showbiz Shelly
David Archuleta sang for me.
by Sachi Fujimori, North Jersey Arts & Entertainment
27 May 2010
David Archuleta sang for me. Granted, it was just two lines. But somehow, I now understand the enormous charm of this baby-faced "American Idol" star, season 7's runner-up.
In a recent phone interview, I asked the 19-year-old which of his original songs best captures his personality. He immediately said: "Works for Me," a bonus track off his self-titled debut album. Then he launched into a sweet, drawn-out melody. "No, I won't make up my mind. I'm too good at wastin' time."
I was too disarmed to come back with a response….
Lots of great questions and answers! You MUST read the rest!
David Archuleta Voted Billboard's Best American Idol Ever
by Tina Molly Lang
27 May 2010
David Archuleta has been named Billboard's Best American Idol Ever, beating Carrie Underwood 92 to 8 percent.
Archuleta considers this a particular honor because Billboard is "not just some teen website." Archuleta checks Billboard regularly and reads the magazine. And given Underwood's success, he was surprised and flattered to have received more votes….
Read more: Associated Content
David Archuleta Talks to the LA Times
from The Los Angeles Times
26 May 2010
David Archuleta talks about his new book, the album he's releasing this fall, his favorite Simon moments, making an album in Spanish, and Lee & Crystal.
Hear all of David's answers—it's an edited clip, so you have to pretend you hear the questions–haha! LA Times Interview with David at Idol Finale
David Archuleta: Idol Finale with Jordin Sparks & Allison Iraheta!
by Just Jared
27 May 2010
David Archuleta takes over the red carpet at the American Idol Season 9 Finale held at the Nokia Theatre in Los Angeles on Wednesday afternoon, May 26….
Read more: Just Jared Jr.
Full Interview with David Archuleta
by David Burger, Salt Lake Tribune
28 May 2010
…Arguably, the most interesting chapters in the book are his accounts of the backstage moments through the crucible that was "American Idol," as well as lengthy discussion about his faith. Talking about his spirituality took the longest and was the hardest. "I wanted that to be the most true and most real," Archuleta said. "That's the most important thing."…
Read more: Burger with Relish blog
David's World
Blogs, Tweets, Appearances
Blogs and Vlogs
American Idol Season 9 Finale
Nokia Theatre, Los Angeles
25 and 26 May 2010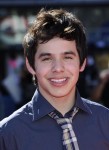 David Archuleta walked the Red Carpet—it was actually blue—at the season finale of American Idol and participated in a historic Idol performance to honor Simon Cowell who is leaving the show. Seven American Idol winners appeared on the Idol stage to perform a song entitled "Together We Are One." Written by Guy Chambers, Delta Goodrem and Brian McFadden, it was also a group song for the top five finalists in 2006. The Top Five were Taylor Hicks, Katharine McPhee, Elliott Yamin, Chris Daughtry, and Paris Bennett.
Watch here as Kelly Clarkson, Ruben Studdard, Fantasia Barrino, Carrie Underwood, Jordin Sparks, Taylor Hicks, and Kris Allen, and twenty former contestants of American Idol, perform "Together We Are One." David Archuleta leads the group on the left.
Photo from David-Daily—did you notice David's gorgeous hair!!?
DA Official Blog
21 May 2010
Have you read David's latest blog? Here's an excerpt, but you can read the rest on his official website and send a comment.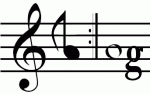 "Hey everyone! I thought I'd leave a note to let you guys know about what's been up with me lately. This last weekend was a really great one! I got to spend time with some friends, which included some who drove down from Utah, and we all went to the Santa Monica Pier and rode the ferris wheel haha. We also walked around 3rd Street Promenade in Santa Monica and had a great time walking around and seeing the street performers. It's really neat watching a bunch of those street performers…."
Join the Official David Archuleta Website and sign up to receive newsletter updates of his appearances, music, photos, blogs, and more.
Appearances – Recent & Future
21 May 2010: Apple Computers' annual Apple Idol for employees, Cupertino, CA
*24 May 2010: American Idol Finale VIP After-Party, Elevate Lounge, Los Angeles, where David sang four songs (more info below)
25 and 26 May 2010: American Idol finale, Nokia Theatre, Los Angeles; Tribute performance to Simon Cowell
2 June 2010: AOL TV's Something Pitchy
9 June 2010: will sing the National Anthem at the Washington Nationals game, Washinton D.C
Several Book Signing Events in June (See next item.)
* At the Finale VIP party, David sang these four songs. Watch on Youtube.
"You Gotta Be" by Desiree
"Hey Soul Sista" by Train
"Crush" by David Archuleta
When David realized he had inadvertently unplugged the mic, he adlibbed the lyrics, ""I'm a clutz…I'm sor-ry 'bout that…" to the tune of "cause I try and try to walk away." Clever fellow!
Newly-recorded, "If I Could Only Be" might be on David's sophomore album.
In recent interviews, David discussed his upcoming sophomore album. He foresees a single in July and the album release in the fall!!!!!
Chords of Strength Book Signing Tour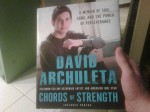 Penguin Books has posted a YouTube video (see below) of David Archuleta walking us through the four-color printing process. What fun to see David discussing CMYK—that's cyan, magenta, yellow, and black (key)! As he pulls the book cover from the printing press, at the 1:36 mark in the video, he sweetly murmurs, "I did it." Chords of Strength will be available online and in bookstores on 1 June 2010. You can pre-order your copy for $15.61 today on Amazon.com.
David Archuleta at the printing of his new book Chords of Strength.
Source: PenguinGroupUSA
Book tour dates
David will perform one song!


Book tour dates:
1 June – Bookends, Ridgewood, NJ
2 June – Borders, Manhattan, NY
3 June – Barnes & Noble, Smith Haven Mall, Lake Grove, NY
5 June – Barnes & Noble, Mall of America, Bloomington, MN
7 June – Deseret Books, Salt Lake City, UT
8 June – Deseret Books, Orem, UT
17 June – Deseret Books, Rexburg, ID
DavidArchie on Twitter
Monday, 24 May
> Hellooo. Pretty busy next few days. Off to do some interviews today.
> Had a really fun night! :). Got to see @RealBrookewhite and Kristy Lee Cook. Excited for the idol finale tomorrow!
Tuesday, 25 May
> Just finished doing a bunch of interviews at the Nokia Theater. Fun seeing the radio DJ's from all over.
> Tuesday idol finale show about to start! Exciting stuff!! Best of luck to Lee and Crystal!!
> Great show tonight! Being on that stage in the final 2 is an amazing feeling. Props to both Lee and Crystal.
Wednesday, 26 May
> Allergies…. They're no fun.
> Had an amazing time at the finale tonight! Congrats and much success to the winner!! Wish the best to all the contestants!
Thursday, 27 May
> Wow, still can't get over how great last night was. So neat having all the past idols together. A gloomy day today.
> Do I even have to say what I'm having for dinner? Lol. At a really good Thai restaurant!
> Wasn't able to use internet for a bit. It's kinda nice not having it for a few days. Like a breath of air.
> Wow…. The moon is huge!
Friday, 28 May
> "Chords of Strength" officially comes out in 4 days!! Look on the fan sites and Amazon for the photo winners to be announced soon!!
> Hey guys, here are some of the booksigning tour dates coming up that I'll be doing!: June 1st, Ridgewood, New Jersey at Bookends.
> June 2nd: Borders in Columbus Circle, NYC June 3rd: Barnes & Nobles on Long Island June 5th: Barnes & Nobles at Mall of America, MN
> June 7th: Deseret Book in SLC, Utah 🙂 and June 8th: Deseret Book in Orem, Utah. Are any of you going to come to these signings???
> @emilyy_jane I'm pretty sure there will be more! I'll keep everyone posted!
> @sangeyvang Cool cool! It'll be my first time there! I can't wait 🙂 (answer to Have you ever been to Mall of America in Minneapolis?)
> Oh! One more to confirm— June 17th: Rexburg, Idaho at Deseret Book.
> I have too much stuff now. Off to look for a bigger suitcase.
Saturday, 29 May
> I had one of the most amazing burritos of my life for dinner tonight. Why am I still up? Off to bed. Good night!
> Went and got some breakfast, and some little kids with their grandma were so funny. Got me in a good mood for the day haha.
> @hodgesmusic Haaave you heeaaaard, my moooona liiiisa. haha. I didn't know they've been around that long! (Reply to David Hodges, "Just heard the Alpha Rev song "New Morning". Man, that song is so good. It's been 10 years since I've heard them.")
> Wow I wasn't expecting it to be this sunny and hot today. I might need to change into something more relaxed later.
> At the Strawberry Festival fair in Garden Grove. Just rode on the gravity ride where you stick to the wall lol. Fun stuff.
> Concert featuring Carmen Rasmusen and David Osmond TONIGHT at 8PM at Highland High school in Salt Lake City. All proceeds benefit Eagle/Condor Foundation Humanitariun work which takes doctors and medical supplies to countries in need. It will be great!
> It's a $5 benefit, so if you're in the Salt Lake area it'd be great if you could go support! Thanks!
Follow David Archuleta on Twitter. He is fast approaching 381,000 followers, but who's counting? —I am!!! During the past seven weeks, David has averaged 3,640 new followers each week.
Fandom
Blogs, Stories, Charities
Stories
Look Who is a Fan Gurrrrl too!
by Larissa
29 April 2010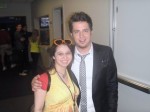 When her famous brother appeared on American Idol Results Show on April 7—he sang John Lennon's "Imagine" while playing the piano!—Claudia Archuleta was there too and had a chance to meet her Idol, Lee DeWyze. Claudia said, "I got to meet Lee backstage when my brother performed on idol a few weeks ago. He's a really nice guy <333 him and he's friendly with my bro now :)." Claudia must be very happy that DeWyze won this year! I wonder how many votes she cast for him.
Source: David Archuleta Singapore
David Archuleta and the Sisterhood of the Traveling Pant Tag or AFD Changes Her Name to Maria
by ArchieFanDoc
29 May 2010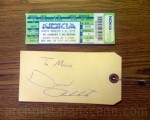 Maria, ArchieFanDoc's (AFD) office receptionist and big Archuleta fan, was lucky to get tickets to the AI Finale last Wednesday night. Then she was even luckier when she got to "fill a seat" behind David Archuleta himself! As AFD writes, "[Maria] had another surprise that night when someone dear to her was able to approach David and ask for an autograph "for Maria, his greatest fan". One problemo though: there was one David Archuleta, and one sharpie, and one anxious autograph seeker but no one had anything to write on. That is until David noticed on a pair of pants he was carrying (hmmm light blue pants) was a manila ID tag safety-pinned to it with his name on it. "How about this, he said?" as he removed the tag from his pants …."To Maria David Archuleta". And thus was born the saga of the Sisterhood of the Traveling Pant Tag."
SOURCE: ArchieFanDoc on Archuleta Fan Scene
Did you miss last week's Weekly Wrap? If you've fallen far behind, you should seriously search the Archhives! It's not too late to reclaim your status as a David Archuleta fanatic fan!
DA Weekly Buzz about David Archuleta!
Copy this short URL to share this post anywhere: http://www.dabuzzing.org/?p=16249

Tags: American Idol · Billboard · Buzz Wrap · Claudia Archuleta · David Burger · Lee DeWyze · Salt Lake Tribune · Showbiz Shelly · weekly buzz
Filed in: career|David Archuleta|music|news|performances|reviews
This Post has earned 4 Buzzes.