DA week that was in the life of David Archuleta
Follow links above to the relevant sections below.
Keeping up with the über-talented, awe-inspiring, world-travelling David Archuleta can be a full-time job. Even the most (D)avid fans among us don't always have time to follow David. Here are some of last week's top stories about the awesome David Archuleta.
Media Headlines
News, Reviews, and Interviews
Thousands of fans at Rexburg Book-signing
by Tony Potter, Rexburg Standard Journal, Rexburg, Idaho
18 June 2010
If you thought David Archuleta could only pack a concert hall, you should have been at Deseret Book Thursday evening. Fans swarmed to get their copies of Archuleta's book "Chords of Strength" signed, in what was the largest crowd the store has ever seen….
Read more: Rexburg Standard Journal
David Archuleta will sing The National Anthem on the Fourth of July!
A Capitol Fourth, PBS-TV, live telecast in Washington, D.C.
18 June 2010
David Archuleta will join singers Gladys Knight, Reba McEntire, and Darius Rucker on July 4th at the 30th anniversary of A Capitol Fourth, to be aired live on PBS July 4, 8/7c, from the West Lawn of the U.S. Capitol. This is America's 234th birthday!
More information: PBS Pressroom: A Capitol Fourth
David Archuleta debuts two new songs
Brigham Young University-Idaho Hart Auditorium, Rexburg, Idaho
19 June 2010
At David's first concert in six months, he sang 17 songs, including two new ones that might make the cut for his next pop album. Watch them on YouTube.
"Not A Very Good Liar" thanks to 8throwcenter.
"Parachutes and Airplanes" thanks to StarryNites01.
Why the Hype?
Tony Potter, Rexburg Standard Journal
21 June 2010
I'm a 28-year-old male. My musical tastes include Keane, U2, They Might Be Giants, Regina Spektor and Broadway soundtracks. I am not what I would have called a typical David Archuleta fan. And even though I have interviewed him twice, and met him twice more, I had never, until Saturday night, heard a single song sung by him….
What's the lesson learned here? I guess it's that hordes of young ladies and women falling over the pop icon with dreamy eyes and a magical voice can't always be counted on to be irrational and lacking in real musical inclinations. It turns out, every once in a while, the hype is dead on.
Read the entire story.
MJ Announces David's Single
MJ's Big Blog
25 June 2010
I'm hearing from a good source that the name of David Archuleta's new single is "Something 'Bout Love". The song will be available on DavidArchuleta.com on July 13th and will be made availble [sic] on iTunes July 20th!
"Something 'Bout Love" is from David's 3rd studio album, set to be released later this year.
Source: MJ blog
David's World
Blogs, Tweets, Appearances
Blogs and Vlogs
YOU Create David Archuleta's New Deluxe Edition Package!
DavidArchuleta.com
2 June 2010
…David is recording a brand new album as we speak. There is no set release date yet, BUT David is already cooking up ideas to create a special fan package! What better place to find ideas for a fan package than from his fans! So he wants to hear what YOU, the fans, want in this potential special fan package to be available only here on DavidArchuleta.com….
Choose your deluxe edition item: David Archuleta Deluxe Edition Package
David Announces New Single!
DA MySpace Blog
24 June 2010
David's new single from his upcoming album will be available exclusively on DavidArchuleta.com on July 13th! It will then be made available on iTunes on July 20th! Stay tuned for more David information!
SOURCE: David Archuleta's MySpace
Join the Official David Archuleta Website and sign up to receive newsletter updates of his appearances, music, photos, blogs, and more.
David Archuleta Vblogs about the Photo Shoot for his new Single.
YouTube
26 June 2010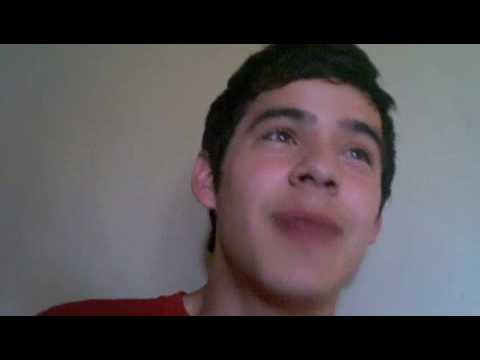 Appearances – Recent & Future
Working on next album in Los Angeles and Nashville recording studios
4 July, A Capitol Fourth, Washington, D.C.: David will sing the National Anthem
11 July, Tejano Awards Party, San Antonio, Texas: David will sing Selena's "Como La Flor"
13 July, first single from his next pop album will be available on his new Music Store.
More book-signing dates are coming up.
Chords of Strength Book Signing Tour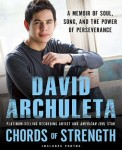 David Archuleta's memoir was released on 1 June and debuted at number 15 on the New York Times Bestseller list for hardcover nonfiction. What a great achievement for the young singer! The first week saw David crisscrossing the country on a book-signing tour. He has mentioned another book event in Nevada and more book events may be scheduled.
Buy Chords of Strength:
Amazon: $15.61 today
Penguin Books: Hardcover $22.95; eBook $10.99
Barnes & Noble: $16.52 online
Borders: Hardcover $22.95

Recent book tour dates:
✓ 1 June – Bookends, Ridgewood, NJ
✓ 2 June – Borders, Manhattan, NY
✓ 3 June – Barnes & Noble, Smith Haven Mall, Lake Grove, NY
✓ 5 June – Barnes & Noble, Mall of America, Bloomington, MN
✓ 7 June – Deseret Books, Salt Lake City, UT
✓ 8 June – Deseret Books, Orem, UT
✓17 June – Deseret Books, Rexburg, ID
DavidArchie on Twitter
Monday, 21 June
> At the dentist's office.
> I like how 'What Hurts The Most' came on the radio as I'm in the dentist chair getting worked on.
> So today was the longest day of the year? It was a nice day today.
Tuesday, 22 June
> Off to LA today.
> The Empire carpet commercial is so catchy
> The Way You Make Me Feel just came on the radio. This song makes you can't help but move! I love it.
Wednesday, 23 June
> "The ability to simplify means to eliminate the unnecessary so that the necessary may speak and then to listen."
> Just got into New York!
> I sat next to a guy named Harry who was going to meet his great-grandson. The first boy after all kids and grandkids being girls.
Thursday, 24 June
> Early morning today.
> Just saw the statue of Liberty! My first time ever seeing it. It was from a distance but still haha.
> Doing the album photo shoot today!! Pretty exciting stuff!
> Wow! Had a blast at the photoshoot! I never thought I'd have that much fun taking pictures haha. Can't wait for you guys to see.
> "You look like one of my friends, can I take a picture with you?" uh… ok lol.
> It's always awkward sitting in a restaurant and 'Crush' comes on lol.
Friday, 25 June
> Man the weather sure has been hot lately.
> It's funny when people come up to you and say they have no idea who you are, and then talk about your whole life story.
> Having some meetings at the record label offices!
> The people in the car next to me are blasting Michael Jackson songs. Amazing the impact he had on so many lives, and still does.
Saturday, 26 June
> Good morning! I made a blog this morning that I'll try and get up soon :). Sorry for looking scary in advanced haha.
> The mobile fan club? Something's actually coming up on that.. 😉 RT @makistrippy Fact: The only person I have on mobile is @DavidArchie :3
> @DArchuletaGirl Haha, well I'm tired and it's hot even inside here so I'm glad you don't mind!
> @beccakayy Well something is coming up soon for all of you on the mobile hotline! (Reply to: "@DavidArchie yeah you haven't called me in a while haha")
> @juliamusic Don't drive the people you're with too crazy haha. (Reply: "Highlights of my day include getting @DavidArchie's tweets to my phone and announcing them to whoever im with at that moment hah")
> @StateOMind Happy Birthday! Reply: "@DavidArchie I feel sooo crazy writing the same thing over and over…lol but could you say happy birthday to me! It would mean the world!!!"
> @joejonas Saw your tweet in the top tweets this morning about your trip to Africa. That is very cool sir! Appreciate what you're doing. (Reply: "Hello Hello Everyone, Sorry I have been out of touch for a while but here is what I have been up to over the (cont) http://tl.gd/24jh18")
> @sandritangel Hola Peru! And the other Latin America countries too!
> @archielover895 They were awesome! I didn't want people to see them yet though lol. (Reply: "@DavidArchie did you get to pick out the red pants?! loved all your outfits for the photoshoot!")
> Hm, I should've waited 'til I was more awake to make this lol, but it's long so here's the blog! http://bit.ly/9qCPYM
> Just watched Toy Story 3! AWESOME!! You have no idea how excited we were to see Totoro in there haha.
Follow David Archuleta on Twitter. He has more than 397,000 followers, but who's counting? —I am!!! During the past 11 weeks, David has averaged 3,840 new followers each week.
Fandom
Blogs, Stories, Charities
Stories
Fan's Idaho concert photos.
Rexburg, ID concert
19 June 2010
Janel Woodbury and her daughter Alyssa are big David Archuleta fans. She has some beautiful photos of David's recent Rexburg, Idaho, concert.
Charice on Glee!
from Idolator.com
21 June 2010
18-year old pop star Charice Pempengco, who hails from the Philippines, will be joining the cast of Glee as a guest star during the second season. Because the one thing a show with an already giant cast needs is yet another supporting player!
Source: Idolator
Which Idol's fans rock the vote the hardest?
Brian Mansfield, USA Today
25 June 2010
Whatever you think of online polls, this one takes the cake. Methinks Mr. Mansfield has his tongue firmly in cheek. Many David Archuleta fans were warned not to take the bait, but we still came in second. The winner was Clay Aiken fans! But the big question is and will remain: who was casting the votes?
Source: Rock the vote poll results.
Fireworks: red pants!
Coney Island, NY
25 June 2010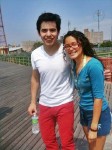 David was on Coney Island for the photo shoot for his upcoming single. Here he sports a pair of red pants and the cute fan girl wears just the right shade of blue too. A great kick-start to the Fourth of July celebration!
Did you miss last week's Weekly Wrap? If you've fallen far behind, you should seriously search the Archhives! It's not too late to reclaim your status as a David Archuleta fanatic fan!
DA Weekly Buzz about David Archuleta!
Copy this short URL to share this post anywhere: http://www.dabuzzing.org/?p=16687

Tags: A Capitol Fourth · BYU-Idaho · Chords of Strength · Tejano · Washington D.C. · weekly buzz
Filed in: career|David Archuleta|news|performances|photos
This Post has no Buzz yet.