DA week that was in the life of David Archuleta
Follow links above to the relevant sections below.
This week Minja, DA Buzzing's "Queen Bee," is setting up a new computer network for various computers. Therefore, Weekly Wrap is a little shorter than usual. We'll be back up to full operation next week if all goes well. Thank you for your patience.
Keeping up with the über-talented, awe-inspiring, world-travelling David Archuleta can be a full-time job. Even the most (D)avid fans among us don't always have time to follow David. Here are some of last week's top stories about the awesome David Archuleta.
Media Headlines
News, Reviews, and Interviews
Billboard reviews "Something 'bout Love"
by Monica Herrera, Billboard
24 July 2010
David Archuleta recently told Billboard that his next album would contain more "lively grooves" than his 2008 debut, and the lead single from the record, "Something 'Bout Love," delivers on the 19-year-old's promise. Blippy synths (surely inspired by Owl City and its forebears) set the stage for a surge in tempo, and Archuleta's sweetly naïve tenor is now awash in power-pop production and even some obvious vocal effects. The result is double-edged. Fans who followed his "American Idol" journey might miss his unadulterated tone that was best showcased by ballads, but there's no question that "Something" is a more radio-friendly vehicle for the 2008 runner-up to grow his base. The sophomore album is the true test of any "Idol" graduate's ability to fulfill his or her potential, and Archuleta's latest shows he's up to the task.
Read more: Billboard review
David Archuleta's 'Other Side of Down' due Sept. 14
by Brian Mansfield, Idol Chatter
16 July 2010
…Pre-orders for Other Side of Down will begin July 20 at David's website. People who pre-order the album will get "Something 'Bout Love" as an instant download, and a "very special fan edition" of the album will be available for pre-order, as well.
Declan Whitebloom has been tapped to direct the music video for "Something 'Bout Love," which was co-written by Archuleta, Sam Hollander, Dave Katz and Chris DeStefano and produced by S*M* & Sluggo. The single's radio impact date is slated for August 2nd.
SOURCE: Idol Chatter, USA Today
David Archuleta's new single wins "Who's on Top" Radio Contests!
from Archuleta FanScene
16 July 2010
David's "Something 'bout Love" won against New Boyz's "Break My Bank" on 95.9 KISS FM in Wisconsin. In Florida, David's "Something 'Bout Love" beat out "Gimme Dat" by Ciara on 105.3 KISS FM.
SOURCE: Archuleta FanScene
"Something 'bout Love" nominated on Hit Predictor
from Hit Predictor blog
16 July 2010
David Archuleta "Something 'Bout Love" is a new single from the highly-anticipated sophomore album of the former American Idol contestant, and has a distinctly different sound than his 2008 self-titled debut album, as it mixes his usual pop sound with a dance vibe….
SOURCE: Hit Predictor
David's World
Blogs, Tweets, Appearances
Blogs and Vlogs
"Something 'Bout Love" Video Shoot Photos
from DavidArchuleta.com
22 July 2010
Behind The Video Shoot For "Something 'Bout Love" PHOTOS!!!
SOURCE: David Archuleta's video shoot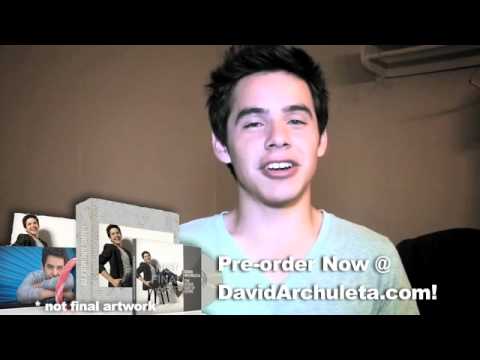 Announcing David Archuleta's New Album "Other Side Of Down" and Release Date!
from DavidArchuleta.com
15 July 2010
The good news just keeps on coming people. This morning we are proud to announce the official album title AND release date of David Archuleta's new album. The album will be called Other Side of Down and it will be available in stores and online on September 14th!
Join the Official David Archuleta Website and sign up to receive newsletter updates of his appearances, music, photos, blogs, and more.
Appearances – Recent & Future
Quick-glance Appearances Schedule:
16 July, production for the "Something 'bout Love" music video, Los Angeles.
20 July, album pre-release with single download.
22 July, sang National Anthem, EA Sports Madden NFL 11 Pigskin Pro-Am, Malibu, CA
27 July, appears on "The Balancing Act," a Lifetime TV show
Chords of Strength, David Archuleta's Best Selling Memoir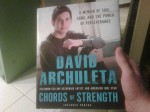 David has had several book-signing events in July. We'll let you know when more dates are scheduled. If you don't have a copy of Chords of Strength yet, buy today!
Amazon: $15.61 today
Penguin Books: Hardcover $22.95; eBook $10.99
Barnes & Noble: $16.52 online
Borders: Hardcover $22.95
DavidArchie on Twitter
Monday, 19 July
> Awkward when the person crossing the street when you're at a stoplight happens to have a giant camera and recognizes you lol.
> So "Something 'Bout Love" is officially available on iTunes and the website tomorrow!
> @northernangel1 Haha no kidding. What made it really awkward was the person stopped in front of my car on the crosswalk to take a picture.
Tuesday, 20 July
> "Our ultimate freedom is the right and power to decide how anybody or anything outside ourselves will affect us."
> "Something 'Bout Love" is officially out today! You can check it out on iTunes now!!
> Crazy that the first single for this album is out now! http://itunes.apple.com/us/album/something-bout-love/id381573826?i=381573836
> I really appreciate the excitement and all the support from you fans!!! It means a lot! Thanks so much you guys!! 😀
> At the James Taylor and Carole King concert!
> Ah nothing like good old timeless amazing music.
Wednesday, 21 July
> "Doing some interviews to start the morning!
> Just went and watched the Pageant of the Masters in Orange County. Really interesting to see.
Thursday, 22 July
> RT @VEVO @DavidArchie is in building today and is answering ur questions! What would u like to know?
> Just finished answering questions over at Vevo! Now time for some lunch.
> One thing that's fun about traffic is watching people sing their hearts out in their cars.
> Watched Inception tonight. Really cool movie!
Friday, 23 July
> We goin light it up like it's dynamite.
Saturday, 24 July
> If my face wasn't swollen again today I would make a video blog! bah that infection! haha
> In Utah the 24th of July is Pioneer Day, so happy Pioneer Day!
Follow David Archuleta on Twitter. He has nearly 411,500 followers, but who's counting? —I am!!! During the past fourteen weeks, David has averaged 4,570 new followers each week.
Fandom
Blogs, Stories, Charities
Stories
Voting on the Teen Choice Awards
from: Teen Choice Awards
12 July 2010
The final wave of nominees has been announced for TEEN CHOICE 2010 airing Monday, Aug. 9 (8:00-10:00 PM ET/PT) on FOX. After the final wave of TEEN CHOICE 2010 nominees, "The Twilight Saga: Eclipse" and "The Twilight Saga: New Moon" lead the pack overall with a combined 17 nominations, while GLEE and Miley Cyrus each earned 13 nods and Taylor Lautner garnered 11.
Vote for David Archuleta in the Choice American Idol Alum and the Most Fanatic Fans categories! David will make an appearance on the show.
Did you miss last week's Weekly Wrap? If you've fallen far behind, you should seriously search the Archhives! It's not too late to reclaim your status as a David Archuleta fanatic fan!
DA Weekly Buzz about David Archuleta!
Copy this short URL to share this post anywhere: http://www.dabuzzing.org/?p=17038

Tags: Other Side of Down · Something 'bout Love · Twitter · Weekly Wrap
Filed in: career|David Archuleta|music|news|opinions|performances|reviews
This Post has earned 2 Buzzes.