DA week that was in the life of David Archuleta
Follow links above to the relevant sections below.
Keeping up with the über-talented, awe-inspiring, world-travelling David Archuleta can be a full-time job. Even the most (D)avid fans among us don't always have time to follow David. Here are some of last week's top stories about the awesome David Archuleta.
Media Headlines
News, Reviews, and Interviews
David Archuleta 2010 Teen Choice Awards
by Disney Dreaming
9 August 2010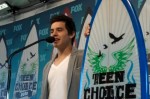 Wohoo! David Archuleta walked the red carpet at the 2010 Teen Choice Awards on August 8th. David didn't just walk the red carpet though, he also took home an award for Choice American Idol Alum!!…
Source: Disney Dreaming
American Idol Needs a Facelift
from OMG Music
11 August 2010
David Archuleta feels as though American Idol is in need of a change. The 19-year-old rose to fame on the seventh season of the hit singing contest and was asked what he thinks about the show now that producers are planning to bring in brand new judges….
Source: OMG Music
Archuleta collaborator selected for Sundance fellowship
by David Burger, Burger with Relish, Salt Lake Tribune
11 August 2010
Six composers have been selected as Fellows to the Sundance Institute Film Composers Lab taking place at the Sundance Resort in Utah from August 11-26, the institute announced Wednesday, including a composer who has worked with Utahns David Archuleta and Kurt Bestor….
Read more: Burger with Relish
Keck's Exclusives: David Archuleta Picks His Dream Idol Judging Panel
by William Keck, TV Guide
13 August 2010
American Idol Season 7 runner-up David Archuleta shares with me his dream team to step in as Idol's new judging panel….
Thanks to Honeybee Katheryn for this news at TV Guide! Go there to find out who David would choose to be AI judges, sign up, and leave a comment.
David's World
Blogs, Tweets, Appearances
Blogs and Vlogs
Congratulations David!
from DavidArchuleta.com
10 August 2010
Congratulations David! Thanks to all of his amazing fans, David took home a surfboard last night at the Teen Choice Awards! He won for Choice Idol Alum, and he couldn't have done it without you, so exchange your congratulations and pats on the back for a job well done right here in the comments!
David Archuleta TCA Backstage Video Interview
from DavidArchuleta.com
After winning a Teen Choice Award for "Choice Idol Alum" David stopped to talk to reporters to break down the recording of his new album, American Idol, and being "kind of a dork"!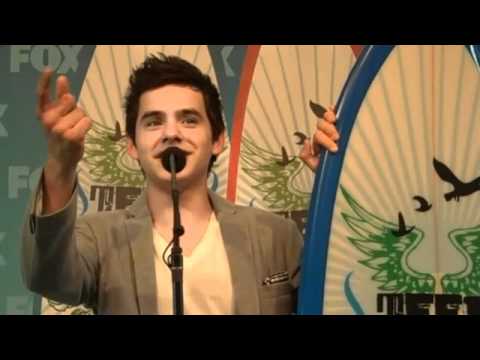 YouTube video credit: eksnead
Join the Official David Archuleta Website and sign up to receive newsletter updates of his appearances, music, photos, blogs, and more.
Appearances – Recent & Future
Quick-glance Appearances Schedule:
August
9 August, presenter on Teen Choice Awards, Los Angeles; nominated in two categories
21 August, Greenville, SC, WFBC Greenville "Zoo-a-palooza" Radio Show
22 August, Louisville, KY , WDJX Louisville Radio Show
27 August, Providence, RI , WPRO Providence Station Lounge
27 August, will perform at "Ticket to Ride" concert, Six Flags New England, Agawam, MA
28 August, will perform at Arthur Ashe Kids' Day, US Open: Arthur Ashe
September
Chords of Strength, David Archuleta's Best Selling Memoir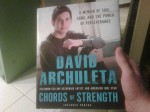 David has had several book-signing events in July. We'll let you know when more dates are scheduled. If you don't have a copy of Chords of Strength yet, buy today!
Amazon: $14.05 today
Penguin Books: Hardcover $22.95; eBook $10.99
Barnes & Noble: $16.52 online
Borders: Hardcover $22.95
DavidArchie on Twitter
Monday, 9 August
> Had a fun day yesterday at the Teen Choice Awards! Even though I made an idiot out of myself lol. It airs tonight on Fox!
> Man, I'm hungry!
> FSteven RT @Shell_eeeyyy: Something Bout Love video by @DavidArchie is available for purchase on iTunes NOW!!!! Wooooot!!!
Tuesday, 10 August
> > Just ran into Megan Joy my fellow Utahn idol contestant! What the random haha.
> Just saw that "Something 'Bout Love" is #5 in music videos on iTunes! Thanks you guys!! Glad you're liking the video!
> @AmandaArchie Oh wow that sounds really good. I'll have to try and make one sometime. [Reply to: i'm drinking a strawberry peach smoothie. WANT SOME? :)]
> @ILoveArchie123 Woo hoo!!! I ran into someone from Canada today who said I need to come do a show in Toronto soon haha. I really want to!
Wednesday, 11 August
> RT @jimmyosmond Excited for @davidosmond1 releasing his new CD 'Road Less Traveled'! Check it out http://tinyurl.com/2wsu3de
> Mmm coconut popsicle with real coconut.
Thursday, 12 August
> "What is done cannot be undone, but what is left to be done, should not be left undone."
> Eating lunch at a pupuseria today :). Gotta love Central American food!
> So excited I'll be performing at Arthur Ashe Kids' Day on the 28th in NYC! Follow @AAKidDay for updates! Info here: http://bit.ly/bpr2Yb
> @mavARCHIE No way that's awesome!!! [Reply to: DAVID! did you know SBL passed 2million views today!??????]
Friday, 13 August
> Got to watch a little bit of TV this morning. Some of Yo Gabba Gabba was on haha.
> Much ado, much ado!
> Had Korean BBQ for my first time earlier this evening! It was good. So exhausted though. Good night!
Saturday, 14 August
> Awesome! RT @jennettemccurdy "Just Jennette" night on Nickelodeon this evening! Episodes of iCarly, True Jackson, & my music video premiere!
> @Palrice8 I wanted to so badly! I'm overdue! But I think I'd have to wear a mask or something if I did lol. And I don't have a mask 🙁 [Reply to: You should make a video blog today!! :D]
> I love days where you can just look like a bum and not worry about looking too fancy.
Follow David Archuleta on Twitter. He has nearly 433,500 followers, but who's counting? —I am!!! During the past sixteen weeks, David has averaged an astounding 4,906 new followers each week.
Fandom
Blogs, Stories, Charities
Blogs
Chords of Strength: Chapter 10, "Staying True"
by goldstar, Archuleta Fanscene
31 July 2010
Chapter 10′s opening quotation is "Good character is more to be praised than outstanding talent. Most talents are, to some extent, a gift. Good character, by contrast, is not given to us. We have to build it, piece by piece." –H.J. Brown
David devotes a whole chapter to the concept of staying true to yourself and how important that is for your personal development and your life.
Stories
Teen Choice Awards Fashion Face-Off: David Archuleta vs. Greyson Chance
from The Hollywood Gossip (THG)
9 August 2010
Throughout the day, THG has posted a number of Fashion Face-Offs based on celebrity appearances at the 2010 Teen Choice Awards…But this is the first time we must give our readers a warning: do not attempt to reach into your computer screens and squeeze the cheeks of the following two competitors…We understand this urge when it comes to David Archuleta and Greyson Chance, but please try to resist. THG bears no responsibility if anyone gets injured attempting such an endeavor.
Who looked cuter at the Teen Choice Awards—David Archuleta or Greyson Chance?
How can a 19 year old be compared to a 14 year old? I supposed it's just in fun, but I hope young Mr. Greyson wasn't hurt that Archuleta's fans voted for him overwhelmingly. Greyson is certainly very cute and adorable, but I wouldn't 'squeeze his cheeks or Archuleta's'. Don't older people know that young people HATE that!?
Did you miss last week's Weekly Wrap? If you've fallen far behind, you should seriously search the Archhives! It's not too late to reclaim your status as a David Archuleta fanatic fan!
DA Weekly Buzz about David Archuleta!
Copy this short URL to share this post anywhere: http://www.dabuzzing.org/?p=17250

Tags: Arthur Ashe Kids' Day · Burger with Relish · Disney Dreaming · Sundance Institute · Teen Choice Awards · TV Guide · Twitter · U.S Open · Weekly Wrap
Filed in: career|David Archuleta|music|news|opinions|performances|Queen Bee|reviews
This Post has earned 4 Buzzes.