DA week that was in the life of David Archuleta
Follow links above to the relevant sections below.
Keeping up with the über-talented, awe-inspiring, world-travelling David Archuleta can be a full-time job. Even the most (D)avid fans among us don't always have time to follow David. Here are some of last week's top stories about the awesome David Archuleta.
Media Headlines
News, Reviews, and Interviews
Catch David Archuleta on Good Day New York
from Jive Records, http://www.jiverecords.com/news/david-archuleta-on-good-day-new-york
25 August 2010
David's record company, Jive, announces David's special appearance on television.
Be sure to catch David Archuleta on Good Day New York tomorrow morning at 9am EST for an interview and special performance!
David Performs at Arthur Ashe Kids Day
from MJ Blog, mjsbigblog
28 August 2010
David Archuleta performs at the Arthur Ashe Kids Day, today [August 28] in Flushing New York as part of the activities surrounding the US Open tennis tournament. David did a short interview this morning with Fox & Friends ahead of his performance this afternoon. He talks about his upcoming album, and reveals that he'll be singing "Crush" and his new single, "Something 'Bout Love."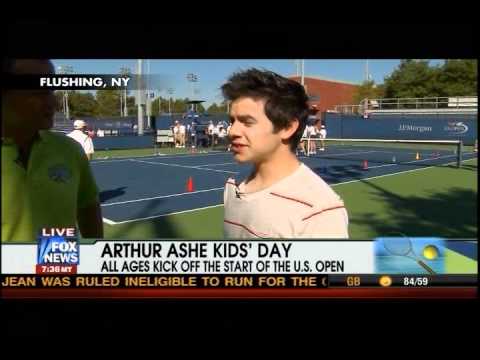 Subtitled "Boys will be boys."
Source: YouTube andreasc47
David's World
Blogs, Tweets, Appearances
Blogs and Vlogs
A Final and Official Promo Photo
from David Archuleta.com, Official Website
24 August 2010
Also, see photos from David's KC101 performance at Six Flags New England on 27 August!
Music Store opens in Asia
from David's MySpace
26 August 2010
"The Other Side Of Down" Available in Indonesia & Malaysia!
Attention all Indonesia & Malaysia fans! You can now pre-order "The Other Side Of Down" on DavidArchuleta.com! Thanks for your patience and start shopping now!
Message from David: Album Cover Contest
from David Archuleta.com, Official Website
27 August 2010
Check out David's brief message to fans about the album cover contest.
Join the Official David Archuleta Website and sign up to receive newsletter updates of his appearances, music, photos, blogs, and more.
Appearances – Recent & Future
Quick-glance Appearances Schedule:
August
21 August, Greenville, SC, WFBC Greenville "Zoo-a-palooza" Radio Show
22 August, Louisville, KY , WDJX Louisville Radio Show
27 August, KC 101.3 FM, Live Video Chat with David
27 August, Providence, RI , WPRO Providence Station Lounge
27 August, "Ticket to Ride" concert, Six Flags New England, Agawam, MA
28 August, Arthur Ashe Kids' Day, US Open: Arthur Ashe
September
12 September, Delta Fair & Music Festival, 7:45 PM, Memphis, TN
24 September, WLAN FM97 Birthday Barndance, with Shontelle Layne
26 September, New Albany Classic Invitational Grand Prix & Family Day, New Albany, Ohio.
October
8 October, Mentors International 2010 Annual Gala, Salt Lake City, Utah.
10 October, Skate for the Heart, to be aired in January.
11 October, WDJQ (Q92) Stripped Down Concert Series
Source for some of the appearances info: ArchuletaFanScene.com
Chords of Strength, David Archuleta's Best Selling Memoir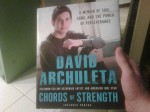 David has had several book-signing events in July. We'll let you know when more dates are scheduled. If you don't have a copy of Chords of Strength yet, buy today!
Amazon: $14.05 today
Penguin Books: Hardcover $22.95; eBook $10.99
Barnes & Noble: $16.52 online
Borders: Hardcover $22.95
DavidArchie on Twitter
Monday, 23 August
> Had a great time in Louisville at the DJX Birthday Bash! I've never gone to bed as early as I did last night either felt so good!
> Just visited WCDA in Lexington, KY! Crazy all the places fans come from to come to these radio visits!
> Had a good time swinging by Q102 in Cincinnati! Now off to splurge a little on some Graeter's ice cream.
> Hey Guys, you can come see me at @kc1013's #TicketToRide on the 27th! I'll be a doing a live online chat there too! http://bit.ly/b9l1oi
> Check this kid Jawan out he's got some pipes! old school vibe. http://www.youtube.com/watch?v=l8qYdca9MUs&p=64893D5F7C80F36C&index=1
> In Columbus, Ohio for the night. Time to get some more grub. I feel like all I ever do anymore is eat lol.
> If you want some amazing Italian food in Columbus, go to Basi Italia. Sooo good!
Tuesday, 24 August
> Just went in and had a radio visit at 97.9 WNCI in Columbus, OH. Thanks for having me!
> @ Landed in Philadelphia.
> @ Good hanging with @MaxwellsHouse and @NicoleBL4 at Q102 in Philly!
> @JoeIsMyBirthday Feliz cumpleaños Mariana [Reply to: Hey David can you say to me "happy birthday Mariana" or "Feliz Cumpleaños Mariana" Porfavor !! Please!!!]
> Made it safely to NYC.
Wednesday, 25 August
> Over visiting the label! Initialing a whole lot of pictures right now haha.
> Just had an interview with @Seventeenmag :). Good times!
Thursday, 26 August
> Good morning. Getting ready for Good Day New York! Go on in about an hour.
> Haha. It's nice to have such nice and friendly fans here in New York :). You guys are great!
> Don't forget to watch @AAKidsDay on CBS Sunday at 12PM ET to see me @Ddlovato @JonasBrothers @Shontelle_Layne & @AllstarWeekend!
> Had rehearsals for @AAKidsDay today. Should be a fun time!
Friday, 27 August
> @TimUrbansHands I don't think I have seen anyone's screen name as random as yours…. lol.
> In Rhode Island this morning. On our way to a PRO FM event! Excited to see everyone there.
> Had good times and good food at Ladder 133 with @92PROFM and @RalphieAversa. Hope everyone who came enjoyed it!
> Hey guys! About to do a live chat! You can go to KC101.com to join. About to start in just a few minutes.
> Chat is starting now! Come tune in KC101.com!
> Had fun performing at Six Flags New England for KC101! Bruno Mars is going on soon.
> I love riding roller coasters! It was a fun show to watch tonight. Now back to NYC.
Saturday, 28 August
> Doing a quick interview on Fox and Friends this morning.
> Performing at Arthur Ashe Kids' Day in just a bit!
> Awesome crowd at Arthur Ashe Kids' Day! Great seeing @Shontelle_Layne and @ddlovato again!!
> No way, She Blinded Me With Science by Thomas Dolby just came on. Science!
> RT @AllStarWeekend Tune in to CBS tomorrow from 12:00 – 1:30 pm (ET) for the Arthur Ashe Kids' Day broadcast! – Good hangin' with you guys!
> @awwwrchuleta Oh no way cool! [Reply to: I just heard Something 'Bout Love here in a Peruvian radio :') I'm so exciteeeeed]
> @Shell_eeeyyy I throw my hands up in the air sometimes saying eeeh oh [Reply to: Do you put your hands up on roller coasters, or hang on for the ride of your life??? Lol]
> @chaneliscool I didn't get to really see them this time other than group photos before we all got pulled different directions haha. [Reply to: David!!! How about the Jonas Brothers? A lot of people will be so happy]
> @batoull There is! And it's one that makes me happy ha [Reply to: Daaaavvvid i didnt know there's A song in the album called the other side of down !!! i have a feeling it will be the BEST !!!]
> @SaleishaArchie Woo hoo for the album being available in Asia!! Tell her I promise I did my best and worked really hard on it! [How Can I Convince My Mom To Let Me Buy Your Album? I Want It So Badly!]
Follow David Archuleta on Twitter. He has more than 449,000 followers, but who's counting? —I am!!! During the past eighteen weeks, David has averaged an astounding 5,222 new followers each week.
Fandom
Blogs, Stories, Charities
Media
David Archuleta's "Gift" to Three Girls
from Comedy Central Comedian Daniel Tosh, Tosh
aired 25 August 2010,; Episode 21, Season 2
David Archuleta appeared on the television show Tosh.0 where host of the show, Daniel Tosh, promised three girls that they would get the chance to meet David. When he wasn't on the show's American Idol-like set, they all went looking for him! They weren't prepared for what they found!
Checkitoutcheckitoutcheckitoutcheckitout!
Source: jr4djma
8:08 minutes
News
Stand Up to Cancer
from pecanpie, Crush Kids' Cancer
24 August 2010
Our own Honeybee, Pecan Pie, reminds us to contribute to Crush Kids Cancer for SU2C's 2010 campaign. The show is due to air on September 10th, so we don't have much time left to go. The deadline for the fundraising challenge is Sept 1st at 11:59 pm PST.
Did you miss last week's Weekly Wrap? If you've fallen far behind, you should seriously search the Archhives! It's not too late to reclaim your status as a David Archuleta fanatic fan!
DA Weekly Buzz about David Archuleta!
Copy this short URL to share this post anywhere: http://www.dabuzzing.org/?p=17562

Tags: Comedy Central · Crush Kids' Cancer · Daniel Tosh · Good Day New York · Twitter · weekly buzz
Filed in: career|David Archuleta|music|news|opinions|performances|Queen Bee
This Post has earned 4 Buzzes.