DA week that was in the life of David Archuleta
Follow links above to the relevant sections below.
Keeping up with the über-talented, awe-inspiring, world-travelling David Archuleta can be a full-time job. Even the most (D)avid fans among us don't always have time to follow David. Here are some of last week's top stories about the awesome David Archuleta.
Media Headlines
News, Reviews, and Interviews
David Archuleta's "Elevator" on AOL Radio
from Jive Records
14 September 2010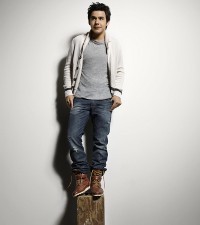 Jive Records announced that "Elevator" will be the second single from David Archuleta's sophomore album The Other Side Of Down. The album release is less than a month away (October 5). The latest official photo from the album's photo shoot shows David in those famous boots balancing himself on a wooden beam. Is he practicing for the Olympics? Too bad I couldn't find a larger version.
The Other Side of Down tracklist is:
1. The Other Side Of Down
2. Something 'Bout Love
3. Elevator
4. Stomping The Roses
5. Who I Am
6. Falling Stars
7. Parachutes & Airplanes
8. Look Around
9. Good Place
10. Complain
11. Things Are Gonna Get Better
12. My Kind Of Perfect
Right now are you imagining the music video for "Elevator"?
AOL Review of "Elevator"
by Sara D. Anderson, AOL Radio Blog
14 September 2010
American Idol runner-up David Archuleta, graces us with 'Elevator,' yet another hot single from his upcoming album, 'The Other Side of Down,' out Oct. 5. Driven by an acoustic-laden guitar melody and catchy percussion, Archuleta sings of pursuing one's dreams and accepting the journey — not always knowing the outcome: "It's an endless ride / Sometimes it takes you up / Sometimes it tears you down inside / But it's the butterflies / That keep you feeling so alive, so alive."
The uptempo track was co-penned by Shelly Peiken, Archuleta, and his guitarist Mike Krompass. To hear 'Elevator,' which follows Archuleta's lead-off single, 'Something 'Bout Love,' head over to AOL Radio's New Pop First station.
Singer/Songwriter Priscilla Renea Talks About Working With "Sweetest, Nicest" David Archuleta
from Neon Limelight
16 September 2010
Singer/songwriter Priscilla Renea has worked with a long list of musical artists, but when she began working with American Idol alum and Neon Limelight fav David Archuleta on his sophomore album, The Other Side Of Down, she noticed something special about the 19-year-old. "He's one of the ones that kind of was like, even though he's been through the whole American Idol thing and he had all this fame when he was 16 years old, he's still the sweetest, nicest person," she told NeonLimelight.com in a telephone interview.
David Archuleta: I'm A Dork
from Pop Dirt.com
16 September 2010
David Archuleta spoke with Popstar! magazine at the premiere of 'Fred: The Movie'. The 'American Idol' season eight runner-up talked about being a fan of Fred, who is played by Lucas Cruikshank and having his new song 'Elevator' released to radio the prior day. "It's a goofy, dorky song, but I'm just really happy to get to do music that's more fun and I don't want to be anything I'm not," Archuleta explained. "I don't want to pretend I'm this cool hunk or anything, I'm a dork. I just want to introduce people to David Archuleta, let them know it's okay if they're not the cool, cookie-cutter model of someone. You can be who you are and you don't have to be the coolest person to be successful."
You can try to listen to this PopStar Magazine vid on YouTube, but there is a lot of background chatter. 🙁
David's World
Blogs, Tweets, Appearances
Blogs and Vlogs
See David LIVE in Ohio!
from DavidArchuleta.com
15 September 2010
Midwesterners! Want to see David perform live in Ohio? Well, he will be performing at the taping of Skate For the Heart at The Covelli Centre in Youngstown, Ohio on October 10th at 5 pm. For tickets, you can hit up ticketmaster.com or visit the Covelli Centre box office.
David Archuleta Previews New Album, Central Park
from DavidArchuleta.com
15 September 2010
Moving right along! In this week's video, David previews two more tracks from "The Other Side of Down" while on a tour of Central Park in New York CIty. Check out the video right here, and get ready for October 5th! If you haven't yet, make sure to pre-order "The Other Side of Down" from David's Official Online Store now.
David talks about "Something 'Bout Love" and "Stomping the Roses."
David responds to his phone messages—Part 2
from DavidArchuleta.com
16 September 2010
As promised, here is part 2 of David Checking His Messages. We hope you loved part 1, and if you'd like to leave David a message, make sure to call his mobile hotline at 801-386-8196. Now, check out the video to see if he responded to your messages!
Join the Official David Archuleta Website and sign up to receive newsletter updates of his appearances, music, photos, blogs, and more.
Appearances – Recent & Future
Quick-glance Appearances Schedule:
September
1 September, in Nashville to tape the Christmas special, "Orla Fallon Celtic Christmas," which will air on PBS in December.
5 September, singing a new song, "Things Are Gonna Get Better," in the 10 PM PST hour of the Jerry Lewis Muscular Dystrophy Telethon, Las Vegas
12 September, Delta Fair & Music Festival, 7:45 PM, Memphis, TN
24 September, WLAN FM97 Birthday Barndance, with Shontelle Layne
26 September, New Albany Classic Invitational Grand Prix & Family Day, New Albany, Ohio.
30 September, Up Close & Personal concert with Shontelle, Taubman Museum of Art, Roanoke, Virginia. Get tickets while you still can! Net proceeds from the event will benefit Greater Roanoke Susan G. Komen for the Cure.
October
2 October, joins Natasha Bedingfield at the ArtPrize Concert Series, Rosa Parks Circle, Grand Rapids, MI
8 October, Mentors International 2010 Annual Gala, Salt Lake City, Utah.
10 October, Skate for the Heart, to be aired in January.
11 October, WDJQ (Q92) Stripped Down Concert Series
Source for some of the appearances info: ArchuletaFanScene.com
Chords of Strength, David Archuleta's Best Selling Memoir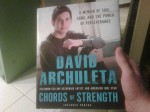 David has had several book-signing events in July. We'll let you know when more dates are scheduled. If you don't have a copy of Chords of Strength yet, buy today!
Amazon: $14.05 today
Penguin Books: Hardcover $22.95; eBook $10.99
Barnes & Noble: $16.52 online
Borders: Hardcover $22.95
DavidArchie on Twitter
Monday, 13 September
> Been in Memphis! Performed at the Delta Fair and got to ride some rides. Now going to Q107.5 for an interview.
> K92radio Join the fight against breast cancer! Tix for @DavidArchie and @Shontelle_Layne on sale Thursday at 7am. Net proceeds go to Susan G. Komen.
> @scpancake No way! That is so cool! [Reply to: Hey David.. SBL has been #1 in 19 Indonesian radio stations for a couple of weeks now. Go have a party!]
> I think I might watch a movie tonight.
Tuesday, 14 September
> > Help me support @CMNHospitals. RT this msg to give to kids in your community, then confirm your tweet RT2Give $5 http://rt2give.com/t/851
Wednesday, 15 September
> Thanks everybody for retweeting to donate to Children's Miracle Network! Don't forget to confirm your donation at http://rt2give.com/r/31!
> Everyone should go on at least one 30 min. run, jog or walk this week. It's amazing how much it can freshen up your mind and body.
> So my new song "Elevator" is out on radio!! Really excited! You can also check out The Other Side of Down previews on Davidarchuleta.com
Thursday, 16 September
> Another day of shooting photos for a quick photoshoot.
Friday, 17 September
> Part 2 of my answers to your Mobile Fan Club messages are now up on DavidArchuleta.com if you want to check it out!
Saturday, 18 September
> Catching a little bit of Bruno Mars' free show at the Grove in LA with some buds.
> I found a Filipino restaurant.
Follow David Archuleta on Twitter. He has nearly 471,000 followers, but who's counting? —I am!!! During the past 21 weeks, David has averaged 5523 new followers each week. At this rate, David will have more than 542,000 followers by Christmastime.
Fandom
Blogs, Stories, Charities
Stories
The Lowe Family Orchestra with David Archuleta for his Christmas 2009 concert
The Family Lowe—Kendra (keys, violin, vocal), Korinne, Kami, Kara, Kayli (violin/penny whistle), Doug (conductor)—and some of Korinne's violin students formed the string section for the Kansas City show.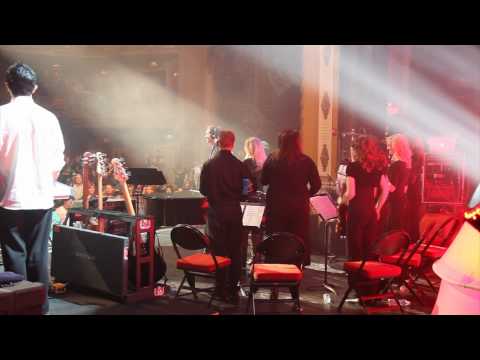 Thanks to The Lowe Family
Length: 2.24 minutes
Radio Disney "Pick it or Kick it"
from Radio Disney
Radio Disney ran a "Pick It or Kick It" poll for "Elevator," David's newest single, and "Pick it" was chosen 94%.
Blogs
Vote for David Archuleta as J-14's Iconic Tweeter
from: J-14 Magazine
10 September 2010
from DavidArchuleta.com: "J-14 magazine just announced their nominees for their first ever Teen Icon Awards and David is a nominee! He's up to win "Iconic Tweeter" and "Iconic Fan Favorite" and he needs your help to win, so head over to the J-14 voting site and cast your vote now."
from FanBlast: "David has been nominated as a J-14 iconic tweeter! You can vote at j14.com, and have one week to vote. Voting ends September 21st at 12 noon. Winners will be announced in the December issue of J-14 Magazine, which goes on sale November 1st."
Did you miss last week's Weekly Wrap? If you've fallen far behind, you should seriously search the Archhives! It's not too late to reclaim your status as a David Archuleta fanatic fan!
DA Weekly Buzz about David Archuleta!
Copy this short URL to share this post anywhere: http://www.dabuzzing.org/?p=17895

Tags: "Elevator" · Central Park · J-14 Magazine · Jive Records · PopStar Magazine · Twitter · Weekly Wrap
Filed in: career|David Archuleta|music|news|opinions|performances|Queen Bee
This Post has earned 4 Buzzes.