DA week that was in the life of David Archuleta
Follow links above to the relevant sections below.
Keeping up with the über-talented, awe-inspiring, world-travelling David Archuleta can be a full-time job. Even the most (D)avid fans among us don't always have time to follow David. Here are some of last week's top stories about the awesome David Archuleta.
Media Headlines
News, Reviews, and Interviews
David Archuleta Tops MYX Daily Top 10
from Starmometer.com
20 September 2010
David Archuleta's latest music video, "Something 'Bout Love," beats Taylor Swift's "Mine" to capture lead on MYX Daily Top 10.
However, SBL is no longer listed.
David Archuleta on 'The Other Side of Down' and Friday's show in York
by Mark Franklin, for The York Dispatch
23 September 2010
…Meanwhile, David, still just 19, took time out of his busy schedule Tuesday to talk to Idol Chatter about his new album…
Idol Chatter: I interviewed you last December and, at that time, you said you wanted to put more of yourself in the second album. Do you feel like you accomplished that, and why?

David: I do, actually. I am actually really happy about that. The lyrics are just a lot more in tune with who I am as a person. I think (they will allow) a lot of people to connect with the more thoughtful and the lighter, goofier side of me….
And don't miss these great photos from David's performance in York!
The three chevron shapes on his cool t-shirt: do they stand for Voice Voice Voice!?
David Archuleta Signs with Wright Entertainment Group!
from MJs Big Blog
25 September 2010
David Archuleta officially has new management. The Wright Entertainment Group tweeted today,"It's official we have a new client! Welcome @DavidArchie to the @WEGMusic family!!" The WEG lists a slew of successful and youth-oriented clients on their website, such as Britney Spears, Justin Timberlake, The Jonas Brothers, Ciara and more. David has settled in with new management at the right time–he's about to drop his sophomore record, The Other Side of Down, due out on October 5. David has also mentioned in interviews he'll be embarking on a tour soon after the new record drops.
David's World
Blogs, Tweets, Appearances
Blogs and Vlogs
New David Bio!
from DavidArchuleta.com
21 September 2010
With budding maturity, David Archuleta captures two years' worth of introspection and reflection, dozens of songwriting sessions, long days spent in the studio and nights in the air, all leading to The Other Side of Down, his highly anticipated second album. Not only the follow up to David's 2008 self-titled debut, it's a reintroduction to the American Idol runner-up with the angelic voice who 30 million television viewers fell in love with during season 7—now older, wiser, with faith still on his side and an eternally optimistic wide-eyed outlook. Hence, the album's title. "For me, it's about moving forward and making progress," David explains. "I'm heading towards 'the other side of down,' which is 'up….'"
Read the rest at David Archuleta's About Page.
David Archuleta Previews New Album, Central Park, Part 3
from DavidArchuleta.com
21 September 2010
Hey David fans, this new video puts us halfway through the album previews, what do you think of the album so far? Favorite songs? Favorite lyrics? Discuss amongst yourselves in the comments and enjoy part 3!
David talks about "Who I Am" and "Falling Stars."
Join the Official David Archuleta Website and sign up to receive newsletter updates of his appearances, music, photos, blogs, and more.
Appearances – Recent & Future
B98.7 Salt Lake City Performance
by Erin That Went Well
22 September 2010
David Archuleta sings "Something 'Bout Love" live on Todd & Erin Radio Show.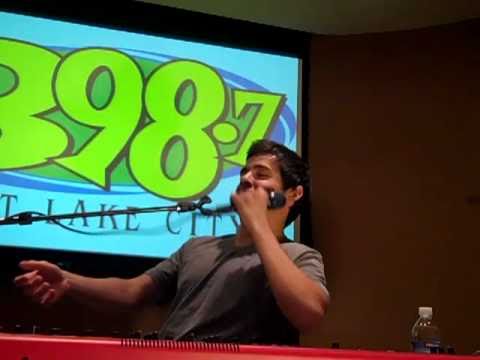 Video: tiptcow11
Length: 8:40 minutes
David Performs at a Benefit for the Susan G. Komen Foundation.
from AI NOW
24 September 2010
David Archuleta was one of several singers, including Natasha Bedingfield, Bruno Mars and Cody Simpson, who performed at Channel 96.3's 4th Annual Pink Ribbon Performance to benefit the Susan G. Komen Foundation tonight (Friday, September 24).
David premiered a beautiful new song, "Falling Stars," for the breast cancer benefit.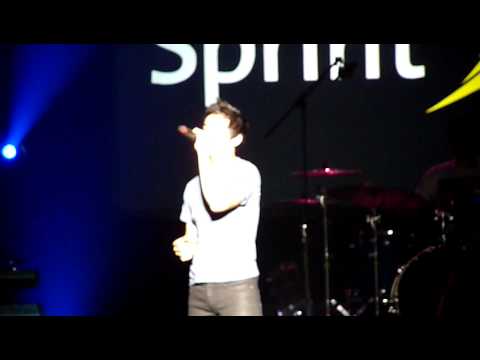 Video: youcancallmetina
Length: 3:37 minutes
This one's gonna be a personal fav!
Quick-glance Appearances Schedule:
September
1 September, in Nashville to tape the Christmas special, "Orla Fallon Celtic Christmas," which will air on PBS in December.
5 September, singing a new song, "Things Are Gonna Get Better," in the 10 PM PST hour of the Jerry Lewis Muscular Dystrophy Telethon, Las Vegas
12 September, Delta Fair & Music Festival, 7:45 PM, Memphis, TN
24 September, WLAN FM97 Birthday Barndance, with Shontelle Layne
26 September, New Albany Classic Invitational Grand Prix & Family Day, New Albany, Ohio.
30 September, Up Close & Personal concert with Shontelle, Taubman Museum of Art, Roanoke, Virginia. Get tickets while you still can! Net proceeds from the event will benefit Greater Roanoke Susan G. Komen for the Cure.
October
2 October, joins Natasha Bedingfield at the ArtPrize Concert Series, Rosa Parks Circle, Grand Rapids, MI
6 October, appears on Regis and Kelly, ABC-TV.
8 October, Mentors International 2010 Annual Gala, Salt Lake City, Utah.
10 October, Skate for the Heart, to be aired in January.
11 October, WDJQ (Q92) Stripped Down Concert Series
Source for some of the appearances info: ArchuletaFanScene.com
Chords of Strength, David Archuleta's Best Selling Memoir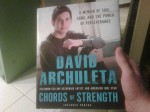 David has had several book-signing events in July. We'll let you know when more dates are scheduled. If you don't have a copy of Chords of Strength yet, buy today!
Amazon: $15.61 today
Penguin Books: Hardcover $22.95; eBook $10.99
Barnes & Noble: $16.52 online
Borders: Hardcover $22.95
DavidArchie on Twitter
Monday, 20 September
> Back in Utah to do some radio promo here! Woot woot for hometown radio stations!
> At Megaplex theaters at Jordan Commons hangin' with @Mix1079online!
> Now time to meet more Utah fans at Noah's with @971ZHT and @TJ971ZHT 🙂
Tuesday, 21 September
> Buenos dias. Time to do phone interviews, and then off to visit more hometown radio stations!
Wednesday, 22 September
> A cute little old white-haired lady comes up and pokes me. "I just needed to touch you so I could tell my granddaughters." haha
> In Wichita, Kansas
Thursday, 23 September
> Looking forward to the Pink Ribbon performance at the Hartman Arena tomorrow here in Kansas!
> Pink Ribbon performance tonight at the Hartman Arena! A cool lineup of artists!
> Had a good time on stage! Good crowd. The Ready Set's about to go on now.
Friday, 24 September
> Bruno Mars just had a great set. Congrats to him on having the #1 song in the US! Natasha Bedingfield on next.
> Heading to York, Pennsylvania to play FM 97's show at the Pullo Center.
Saturday, 25 September
> Had another fun show in York, PA! Good seeing @HotChelleRae, @Shontelle_Layne, @RunnerRunner, and The Ready Set again.
> There are so many little kids traveling this time of year. They're so funny haha
> Hello Columbus, Ohio.
Follow David Archuleta on Twitter. He has almost 477,000 followers, but who's counting? —I am!!! During the past 22 weeks, David has averaged 5545 new followers each week.
Fandom
Blogs, Stories, Charities
Stories
David Archuleta on Holding Hands
from Disney Dreaming
24 September 2010
OMG, just when you think David Archuleta can't get ANY cuter he does! In this recent interview you can hear David talk to the audience about how he thinks it's gross to hold hands and he doesn't understand why people do it. He says he just got over thinking it was weird to hold his little sister's hands, but that maybe in the future when he finds the right girl he'll be up for it. SO adorable! Check it out:
Q&A from his appearance on B98.7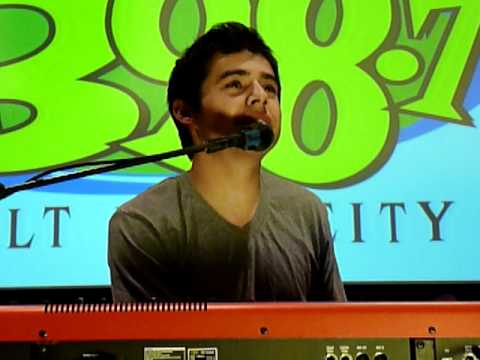 Length: 2:11 minutes
Mix1051 Radio's "Play it or Don't Play it"
from Mix 1051 Radio
Vote "Play it – Don't Play it" for David's new song, "Elevator." Currently, it's overwhelmingly "Play it."
Musiqtone's Video of the Week
from Musiqtone The Count
This week David Archuleta's music video for "Something 'Bout Love" is at number 2, just behind Taylor Swift's, "Mine." In third place is Justin Bieber's "Somebody to Love."
Vote for David Archuleta's "Something 'bout Love"
Blogs
Did you miss last week's Weekly Wrap? If you've fallen far behind, you should seriously search the Archhives! It's not too late to reclaim your status as a David Archuleta fanatic fan!
DA Weekly Buzz about David Archuleta!
Copy this short URL to share this post anywhere: http://www.dabuzzing.org/?p=17958

Tags: B98.7 Radio · Susan G. Komen Foundation · Twitter · Weekly Wrap · Wright Entertainment Group
Filed in: career|music|news|performances|Queen Bee
This Post has earned 2 Buzzes.