DA week that was in the life of David Archuleta
Follow links above to the relevant sections below.
Keeping up with the über-talented, awe-inspiring, world-travelling David Archuleta can be a full-time job. Even the most (D)avid fans among us don't always have time to follow David. Here are some of last week's top stories about the awesome David Archuleta.
Media Headlines
News, Reviews, and Interviews
David Archuleta to Record New Album en Español?
by Michael Lopez, Blogamole
29 September 2010
We love hearing about music artists getting in touch with their Latin roots. So what if they're not native Spanish speakers, the fact that they are interested in reciprocating the love to their Latino fans is good enough for us. And now pop star David Archuleta's talking about belting out his next batch of hits en Español!
In a phone interview with HitFix.com, David mentioned, "I really wanna do a Spanish album. I have that Latin culture background. It's a part of me. I'm not the best Spanish speaker, but I have a longing to connect with that. I just think how supportive the Latin community has been, even during 'Idol.' I'd like to give back with something like that." Pretty awesome news! Although it may take a little while until we hear his big Spanish debut. Right now David's got his hands full with the release of his second big record, titled The Other Side Of Down.
David Archuleta LIVE Q&A on Billboard!
from Billboard.com
2 October 2010
We knew David Archuleta had legions of fans, but we didn't fully find out how vocal and enthusiastic they were until our recent "21 Under 21: Music's Hottest Minors" feature didn't include the "American Idol" season seven runner-up. Well, Archuleta fans, this is your moment. The 19-year-old singer will be at Billboard's HQ answering your questions live on Tuesday, Oct. 5 at 6pm ET, the very day his new album "The Other Side Of Down" is released. Start sending in your questions for David now by tweeting to @billboarddotcom using hashtag #bblivechat. Bookmark this page; the stream of the live video chat will appear right here. (get link above)
David Archuleta Signs with Wright Entertainment Group!
from MJs Big Blog
25 September 2010
David Archuleta officially has new management. The Wright Entertainment Group tweeted today,"It's official we have a new client! Welcome @DavidArchie to the @WEGMusic family!!" The WEG lists a slew of successful and youth-oriented clients on their website, such as Britney Spears, Justin Timberlake, The Jonas Brothers, Ciara and more. David has settled in with new management at the right time–he's about to drop his sophomore record, The Other Side of Down, due out on October 5. David has also mentioned in interviews he'll be embarking on a tour soon after the new record drops.
David's World
Blogs, Tweets, Appearances
Blogs and Vlogs
David Archuleta's Album Preview on AOL
on AOL Listening Party
27 September 2010
All twelve tracks are available to hear on AOL!
David Previews "The Other Side of Down" – Part 5
from DavidArchuleta.com
30 September 2010
Since it's the week before release—who's ready for the 5th! There's still time to pre-order the album if you haven't yet—we thought we'd roll out not ONE, but TWO Preview videos this week. Part 5 is right here, check it out and stay tuned, we'll have something else for you tomorrow!
The David Archuleta Karaoke Contest on MySpace!
from DavidArchuleta.com
1 October 2010
Myspace just launched a great David Archuleta Karaoke contest that you should all check out. To enter, all you have to do is record your own version of one of a few selected David songs (new and old) and submit it to Myspace.
There will be a first, second, and third place winner. First place gets 2 backstage passes and travel to a David show! Click the link below for more details and good luck!
Find out more about the MySpace David Archuleta Karaoke Contest.
David Talks Memories For "The Other Side of Down" Fan Edition
from DavidArchuleta.com
1 October 2010
Hey guys, as you may know, the exclusive fan edition of "The Other Side of Down" contains a special, limited edition memory box to hold all of your memories. What memories would David put in the box, you ask? Well you'll have to watch this video to find out!
There is still time to pre-order the Deluxe Fan Edition of The Other Side of Down.
Join the Official David Archuleta Website and sign up to receive newsletter updates of his appearances, music, photos, blogs, and more.
Appearances – Recent & Future
David Archuleta and Alison Sudol Meet-up
from Idolator.com
30 September 2010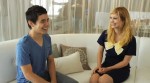 Pop singers tend to be busy people. But that's no reason for them to lose out on the chance to meet new friends who share common interests — even if those friends are also busy pop singers. Which is why we recently took it upon ourselves to introduce two amazing artists who didn't know each other, but should. We arranged a visit between the velvety smooth singer David Archuleta and the sprightly songbird Alison Sudol, who performs as A Fine Frenzy. (We genuinely had no idea at the time, but she inspired the title track on his new album, The Other Side Of Down)….
NOTE: Go see both videos of the meet-up at Idolator.com!
Quick-glance Appearances Schedule:
October
2 October, joins Natasha Bedingfield at the ArtPrize Concert Series, Rosa Parks Circle, Grand Rapids, MI
6 October, appears on Regis and Kelly, ABC-TV.
8 October, Mentors International 2010 Annual Gala, Salt Lake City, Utah.
10 October, Skate for the Heart, to be aired in January.
11 October, WDJQ (Q92) Stripped Down Concert Series
Source for some of the appearances info: ArchuletaFanScene.com
Chords of Strength, David Archuleta's Best Selling Memoir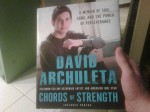 David has had several book-signing events in July. We'll let you know when more dates are scheduled. If you don't have a copy of Chords of Strength yet, buy today!
Amazon: $15.61 today
Penguin Books: Hardcover $22.95; eBook $10.99
Barnes & Noble: $16.52 online
Borders: Hardcover $22.95
DavidArchie on Twitter
Monday, 27 September
> "start where you are, make the best of whatever."
> I forgot how much I love Super Smash Bros.
Tuesday, 28 September
> A week from today my album The Other Side of Down comes out!! I can't believe it's just around the corner!!
Wednesday, 29 September
> "One half of knowing what you want is knowing what you must give up before you get it. We are made wise not just by the……recollection of our past, but also by the responsibility for our future."
> I recently got to meet one of my own music heroes, and wanted to share it. You can go to idolator.com and check it out tomorrow!
Thursday, 30 September
> The rain is pouring down today in Roanoke, Virginia. Off to visit K92 this morning.
> You can get a preview of the new CD and go to @AOL to hear! Including international fans 🙂 http://music.aol.com/new-releases-full-cds/#/1
> @WordsUnspoken22 Thank you! I'd love to go to Argentina I have friends who are there right now. [Reply to: Hey David me and my guitar teacher are so impressed by your voice and talent. I love playing 'something 'bout love' come to Arg]
> @onedavidnet Thank you very much! I've heard Malaysia has already been showing a lot of support for Elevator and so has Singapore! [Reply to: we know!! Have been streaming from Malaysia:) Awesome and solid album – congrats!!]
> @ArchieBrazil hahaha [Reply to: RT @DavidArchie I know that you arent perfect, superman, or something like that, but for us, Archangels, you are our Kind Of Perfect hihi]
> @GideonGreg I'm not sure! I better check on that! [Reply to: Why isn't the album available in India man? o.O]
> @kricket_rc234 Woo hoo! [Reply to: SBL video is gonna hit #1 on our music channel's weekly countdown. Can I get a woohoo?]
> All right everyone, I'm going to respond to 5 more questions before I break for a late lunch. Thanks for your comments so far!
> @LaraMCruz Hello Brazil!! Thanks for all the support you guys show!
> @GoyaMcFLY I'm not sure when I'll be coming to the UK next! I guess when I get enough requests from fans there lol. I'd love to go!
> @frogcooke It kind of was actually in a way haha.
> @s4su Haha! That would definitely be cool! I'm not sure where I'll go next but it's always so neat to hear from all the international fans!
> @VampDiaries096 An empty chocolate milk carton that my friend gave to me in high school. Idk why I still have it but I do haha.
> Thanks for the questions you guys! I'll try and respond to you guys more often so hopefully again tomorrow. & thanks international fans!!
> Rocking out to @Shontelle_Layne at K92's event benefiting Susan G. Komen for the Cure in Roanoke. About to go on next!
> Be sure to check my profile on idolator.com http://bit.ly/av0xdC had a really great experience!
Friday, 1 October
> My sister turns 21 in 2 days. That's so bizarre! But cool haha.
> In Greensboro, North Carolina visiting 1075 KZL. Having a little gathering with some folks here and hanging with @
mydeetales
> I'll be having 2 live chats this Tuesday, Oct 5. One will be on Billboard.com at 6 PM EST and then also on Z100.com at 4 PM EST!
> RT @AFineFrenzy @DavidArchie and i had such a lovely meeting. he's the sweetest! watch here: http://bit.ly/av0xdC thank you, @idolator!
> @AFineFrenzy It was really great getting to chat with you! Thanks so much again for your time!
> All right guys, just landed in Grand Rapids for the ArtPrize show tomorrow evening. I'll answer 7 tweets before getting some food! 🙂
> @XtianHawk It was really awesome getting to meet Alison! She is such a genuine person and wise beyond her years. It was a great experience! [Reply to: How was the meeting with Alison?! You seemed starstruck . lol]
> @gummybearfreakk I have and I love it! It's a good album! I like your picture by the way haha. [Reply to: have you listened to sara barielles's new album?!]
> @MonicaTerryEM It really depended on the song haha. Usually the melody and lyrics took a really loooong day. Elevator was really fast though [Reply to: About how long did it take you to write each song for the album?]
> @itslaurenblack I sure am! [Reply to: are you planning on going on tour after this album?]
> @CiaoArchie Thank you very much! I love that song so I'm glad people enjoy it 🙂 [Reply to: My Kind of Perfect has such a sweet tone to everyone who's ever wished for that special person. Thank you for that.]
> @archiesfanatic I do see you! haha. And I still haven't gone to Indonesia! We need to change this! Soooon [Reply to: David, do you see me? Lol, INDONESIA NEEDS YOU!]
> @iAdreez Hey! I hope your family likes the album and thanks! I'm not sure when I'll go there next but we'll see what happens! Cook town ha my whole family loves ur music n cant wait 2 get ur album, they want u 2 come to Kansas City, when r u coming again? plz answer]
> All right time to get something to eat! Thanks again you guys for sending in the comments and tweets 🙂
Saturday, 2 October
> "In family relationships, love is really spelt T-I-M-E. Taking time for each other is the key for harmony at home."
> "often it is in simple acts that confirm divine love and awareness."
>
Follow David Archuleta on Twitter. He has more than 483,000 followers, but who's counting? —I am!!! During the past 23 weeks, David has averaged 5580 new followers each week.
Fandom
Blogs, Stories, Charities
Stories
Mix1051 Radio's "Play it or Don't Play it"
from Mix 1051 Radio
Vote "Play it – Don't Play it" for David's new song, "Elevator." Currently, it's overwhelmingly "Play it."
Musiqtone's Video of the Week
from Musiqtone The Count
This week David Archuleta's music video for "Something 'Bout Love" is at number 2, just behind Taylor Swift's, "Mine." In third place is Justin Bieber's "Somebody to Love."
Vote for David Archuleta's "Something 'bout Love"
David on the Cover of Portrait Magazine
from Disney Dreaming
2 October 2010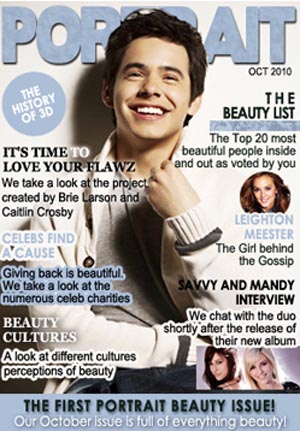 David Archuleta made it onto the cover of Portrait Magazine, the online magazine dedicated to writing reviews, articles and celeb interviews, by young adults for young adults.
Blogs
Watch David Archuleta on TV's "Ariel & Zoey"!
from ArchuletaFanScene.com
29 September 2010
David's episode of "Ariel & Zoey (Eli, too)" will run nationwide the week of October 4th. We have updated our website – www.arielandzoey.com – with channel listings and times. Choose your location from the "Where to Watch" drop-down menu under "AZE2 TV". David's episode will run four times in year one! We'll get you those dates when we complete the line-up. The NBC stations carrying the show run episodes one week later. So David's episode will run the week of Oct 11 on the NBC channels… If this changes, we will let you know!
Did you miss last week's Weekly Wrap? If you've fallen far behind, you should seriously search the Archhives! It's not too late to reclaim your status as a David Archuleta fanatic fan!
DA Weekly Buzz about David Archuleta!
Copy this short URL to share this post anywhere: http://www.dabuzzing.org/?p=18014

Tags: A Fine Frenzy · Alison Sudol · AOL · Ariel & Zoey · NBC TV · Portrait Magazine · The Other Side of Down · Twitter · weekly buzz
Filed in: career|David Archuleta|music|news|performances|Queen Bee|reviews
This Post has earned 3 Buzzes.