DA week that was in the life of David Archuleta
Follow links above to the relevant sections below.
Keeping up with the über-talented, awe-inspiring, world-travelling David Archuleta can be a full-time job. Even the most (D)avid fans among us don't always have time to follow David. Here are some of last week's top stories about the awesome David Archuleta.
Media Headlines
News, Reviews, and Interviews
A nice collection of TOSOD Reviews
from David Daily
13 October 2010
David Daily has a collection of reviews of The Other Side of Down that are worth a read. Here are a few captions, so head over there to read in full.
Pop Music Designed To Make You Smile
David Archuleta Matures In Song Styling
Solid Effort From David Archuleta
Grammy Submissions for "Something 'Bout Love"
from MJs Big Blog
16 October 2010
Record of the Year: David Archuleta – SBL
Song of the Year: David Archuleta, SBL
Best Male Pop Vocal Performance: David Archuleta, SBL
David's World
Blogs, Tweets, Appearances
Blogs and Vlogs
AOL Listening Party
on Music AOL
27 September 2010
All twelve tracks are available to hear on AOL!
"The Other Side of David" Fan Fiction Contest
from DavidArchuleta.com
7 October 2010
Hey David fans, just wanted to let you know that we've just launched a new contest called "The Other Side of David" Fan Fiction contest, where you, the David Archuleta fans of the world, can submit a 250-word essay or a voicemail (call 801.386.8196) telling a story about David, why you love his music, or any other creative ideas you have.
There will be 6 finalists (3 voicemails and 3 written entries), and David will pick a winner to get a customized David Archuleta iPad, so be as creative as possible! For more info and to submit your entry, visit "The Other Side of David" Official Contest Page.
Join the Official David Archuleta Website and sign up to receive newsletter updates of his appearances, music, photos, blogs, and more.
Appearances – Recent & Future
David sings "Dream Sky High"
from Pattirae on YouTube
9 October 2010
David performed at the Mentors International 2010 Annual Gala in Salt Lake City, Utah, on 8 October. Thanks to pattirae on YouTube, we have a video of him singing a song he wrote and recorded in childhood. I was thrilled to hear him sing this lovely and powerful song again.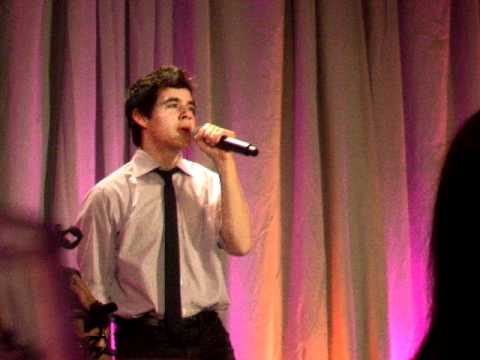 Video source: pattirae
Length: 4:20 minutes
David on MTV today
16 October 2010
Did you watch David today on "10 on Top"? It aired at 11:30 AM ET/PT on MTV.
Quick-glance Appearances Schedule:
October
2 October, joins Natasha Bedingfield at the ArtPrize Concert Series, Rosa Parks Circle, Grand Rapids, MI
6 October, appears on Regis and Kelly, ABC-TV.
8 October, Mentors International 2010 Annual Gala, Salt Lake City, Utah.
10 October, Skate for the Heart, to be aired in January.
11 October, WDJQ (Q92) Stripped Down Concert Series
19 October, Q92.9 FM Fall Q-Ball, Pittsburgh, PA
23 October, Eunice Kennedy Shrive Challenge for Special Olympics, Washington DC.
December
David Archuleta will be the youngest guest performer at the Choir's Christmas concerts. The free tickets will be available only by random selection. Register online at lds.org/events through October 18 or by phone at 801-570-0080 or 1-866-LDS-TIKS, Monday through Friday, 10 a.m. to 5 p.m.
Source for some of the appearances info: ArchuletaFanScene.com
Chords of Strength, David Archuleta's Best Selling Memoir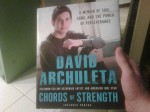 David has had several book-signing events in July. We'll let you know when more dates are scheduled. If you don't have a copy of Chords of Strength yet, buy today!
Amazon: $15.61 today
Penguin Books: Hardcover $22.95; eBook $10.99
Barnes & Noble: $16.52 online
Borders: Hardcover $22.95
DavidArchie on Twitter
Monday, 11 October
> My younger sister's birthday was yesterday on 10-10-10. Fun day to have a birthday haha. Hope she had a good one.
> Had a really great time yesterday at Skate for the Heart! It'll air Jan 16 on NBC. Happy Columbus Day by the way 🙂
> In Canton, Ohio visiting Q92 radio.
> Fun event with Q92 at Pete's Grill. The chef there makes amazing soup so if you're ever there you need to get some!
> In Cuyahoga Falls, Ohio for a lounge performance with WKDD Akron this evening.
> Had a really great time at the lounge performance with WKDD in Cuyahoga Falls, Ohio! Thanks for having me and to those who came!
> It was a good day today in Ohio! Good night everyone and hope those in Canada had a good Thanksgiving Day!
Tuesday, 12 October
> "If we do not do what we are suppose to do then we should not be surprised when the end result is a disappointment- and we…have no one to blame but ourselves."
> In Pittsburgh oct 19 I'll be performing for @ThinkPink to Benefit Susan G. Komen 4 the Cure. Come support! More details q929fm.com
> @JoannieRochette It was great meeting you and getting to perform with you! Thanks! [Reply to: Nice meeting you @DavidArchie ! 🙂 photo of David & Joannie Rochette]
> It's been a week since the new album The Other Side of Down has come out! Any of you get a chance to listen to it? What songs do you like?
> jenlalalovesdja Oh wow you're right! [Reply to: cfth came out a year ago tomorrow!!!!!!]
> @erinchapin34Oh wow! I'm glad it helped you get through that drive! [Reply to: Who I Am is absolutely amazing. I listen to it whenever I feel overwhelmed. The album got me through a 12 hour bus ride today!]
>@Houstonrufus Haha thanks! [Reply to: You silly goose. Listen to it? I bought it!! Love it!! Love the title track and MKOP, all of them really. Congrats!!]
> @xoxo_catherinee I love those 2 too! The 2 balladish ones. [Reply to: I listen to it every night before I go to sleep! Falling stars and my kind of perfect are my two favorites!]
> @Den_Ice Thank you! [Reply to: I bought our album on the release date, my favorites are good place, other side of down, who I am and parachutes and airplanes.]
> Well my laptop's about to die, but it seems like a lot of you like the song My Kind of Perfect! Thanks for letting me know you guys! 🙂
> Wow, so crazy about the Chile miners. Glad they're finally getting out of there!
Wednesday, 13 October
> I love lounge clothes.
I love this tweet. Hope David spent all day Wednesday in lounge clothes!
Thursday, 14 October
> I'm going going, back back, to Cali Cali. It's been a while since I've seen you LA traffic.
> "when people show you who they are, believe them."
Friday, 15 October
> At Disneyland! Stuck on one of the rides lol. But been having a great time with the fam!
> Had such a blast at Disneyland! Ended the day watching the water show World of Color at California Adventure and then Thai food!
Saturday, 16 October
> Just tried a Japanese red bean obanyaki. It's like a pancake.
> So just found out for the Pittsburgh Q92.9 radio show that they opened it to all ages!! See you on the 19th!
Very soon David Archuleta will have 500,000 Twitter followers! Will you be lucky number 500,000? Follow DavidArchie on Twitter. Today he has nearly 498,000 followers. During the past 25 weeks, David has averaged 5711 new followers each week.
Fandom
Blogs, Stories, Charities
Stories
21 Questions with David Archuleta.
by Alison Nadaud, from Alloy TV
You may think you know everything about David Archuleta. On Alloy TV he answers 21 questions. Listen to his giggle when he sees a complex math problem. haha!
Music Video Tribute to Chilean Miners
by MOM887
14 October 2010
What a perfect way to celebrate the rescue of the 33 Chilean miners! Song, "The Other Side of Down," by none other than David Archuleta.
Musiqtone's Video of the Week
from Musiqtone The Count
Last week David Archuleta's "Something 'Bout Love" music video was at number 1 on Musiqtone. The new voting cycle ends 20 October 2010 at 10 am ET. According to the confusing Top 12 Leaderboard, David Archuleta, who looks exactly like Carrie Underwood, is leading with *her* song, "Mama's Song," and David's song, "Something 'bout Love," is sung by Taylor Swift. Let's vote for David Archuleta's "Something 'bout Love," and help Musiqtone out of this state of confusion.
Blogs
Punk Rock Lovin' Mama Reviews TOSOD
by Osarko ArchuletaFanScene.com
13 October 2010
Over on Archuleta Fan Scene, Osarko cracked me up with her rave review of TOSOD. She goes so far as to quote her own 2008 blog comments about David when he was a contestant on Idol. To prove that she loves David's new album, she is giving away three copies of the CD. The giveaway promo ends on Thursday, October 21, at midnight PST.
Osarko says the winners will be randomly chosen, but you might have a better chance if your comment sounds punk-rockish.
Did you miss last week's Weekly Wrap? If you've fallen far behind, you should seriously search the Archhives! It's not too late to reclaim your status as a David Archuleta fanatic fan!
DA Weekly Buzz about David Archuleta!
Copy this short URL to share this post anywhere: http://www.dabuzzing.org/?p=18173

Tags: Alloy TV · Chilean miners · MTV · Musiqtone · Twitter · Weekly Wrap
Filed in: career|David Archuleta|music|news|performances|Queen Bee|reviews
This Post has earned 4 Buzzes.