DA week that was in the life of David Archuleta
Follow links above to the relevant sections below.
Keeping up with the über-talented, awe-inspiring, world-travelling David Archuleta can be a full-time job. Even the most (D)avid fans among us don't always have time to follow David. Here are some of last week's top stories about the awesome David Archuleta.
Media Headlines
News, Reviews, and Interviews
Music Review: David Archuleta – The Other Side of Down
by Tyrone S Reid, Blogcritics.org
25 October 2010
Though not as exceptional as his 2008 self-titled debut, David Archuleta's sophomore album, The Other Side of Down (Jive Records), is a consistently rewarding collection that moves swiftly through 12 tracks, kicking things off with the catchy, spirited opener (the title track) to the eternally optimistic album closer, "My Kind of Perfect," which serves to wrap up the disc on a heartwarming note….
Tyrone S Reid is a Jamaican writer and cultural critic who is passionate about the arts and providing cultural information for people who need it.
Read the great comments about this review!
'Idol' albums fail to make the top 40
from USA Today
27 October 2010
This week no Idols make the Top 40. Fantasia's Back to Me ranks the highest among American Idol albums, according to Nielsen SoundScan, its 9,000 sales enough to put it at No. 46 on The Billboard 200. Carrie Underwood's Play On and Daughtry's Leave This Town also rank in the top 100, while the latest albums from David Archuleta and Adam Lambert make the chart's bottom half….
Soul ticklers aplenty
by Pauline Limbu, República
27 October 2010
KATHMANDU – This week's top spin is studded with soul-tickling creations from Orianthi, David Archuleta, Sheryl Crow, Akon, Ne-Yo, and Kelly Rowland. The best of the last few weeks' releases, "Courage" by Orianthi, is one of the most entertaining secular yet genuine prayers ever; David Archuleta's "Elevator" brings in a melodious dimension to elevator ride…. "Elevator" by David Archuleta is another song that arrives with a bang. In terms of music, vocals and lyrics, "Elevator" is subtle and strong. The song isn't pushy, and allows the audience to go with the flow. Lyrically, I find its strength in the positive energy it keeps rolling just as Orianthi's "Courage…" I would have the song as one of the best new releases with high prospects for commercial success….
They're talking about David Archuleta in Kathmandu, Nepal!
David's World
Blogs, Tweets, Appearances
Blogs and Vlogs
Announcing the Fan Fiction Finalists!
on David Archuleta .com
26 October 2010
Thanks to everyone who entered The Other Side of David Fan Fiction Contest! As usual, it was hard to narrow down your amazing submis­sions, but we were able to come up with 6 finalists. There are 3 written submissions…and 3 audio submissions….
1. Things Get Better
2. Stuck in an Elevator
3. David Archuleta and Chocolate
4. Hotline audio finalist 1
5. Hotline audio finalist 2
6. Hotline audio finalist 3
Go to David Archuleta.com to listen to the three audio finalists and to read the three written ones. Then you can vote on your choice. The Grand Prize winner gets a customized David Archuleta iPad™!
David Archuleta Vblogs from Home
by David Archuleta
29 October 2010
We're so glad that David has some down time at home! And when he found his laptop charger, he lost no time making a vblog for us! The guy's a gem.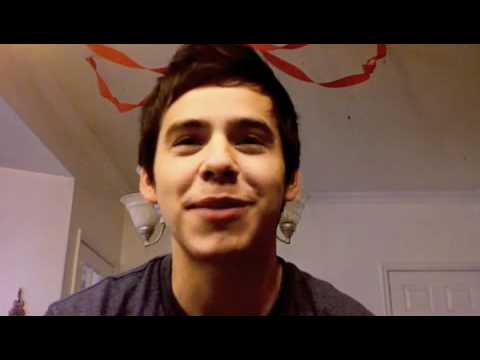 Video source: David Archuleta on YouTube
Length: 6:08 minutes
Join the Official David Archuleta Website and sign up to receive newsletter updates of his appearances, music, photos, blogs, and more.
Appearances – Recent & Future
Quick-glance Appearances Schedule:
October
2 October, joins Natasha Bedingfield at the ArtPrize Concert Series, Rosa Parks Circle, Grand Rapids, MI
6 October, appears on Regis and Kelly, ABC-TV
8 October, Mentors International 2010 Annual Gala, Salt Lake City, Utah
10 October, Skate for the Heart, to be aired in January
11 October, WDJQ (Q92) Stripped Down Concert Series
19 October, Q92.9 FM Fall Q-Ball, Pittsburgh, PA
23 October, Eunice Kennedy Shrive Challenge for Special Olympics, Washington D.C.
November
3 November, performs acoustic set for Y101 Unplugged at Sierra Vista Mall, Clovis, California
14 November, showcase performance in Singapore! More info
David's manager Melinda Bell tweets that David will also appear in Jakarta, Indonesia, and Kuala Lumpur, Malaysia. I'm thrilled for the Asian fans, but I hope he gets home for Thanksgiving this year!
December
David Archuleta will be the youngest guest performer at the Choir's Christmas concerts. The free tickets will be available only by random selection. Register online at lds.org/events through October 18 or by phone at 801-570-0080 or 1-866-LDS-TIKS, Monday through Friday, 10 a.m. to 5 p.m.
Source for some of the appearances info: ArchuletaFanScene.com
DavidArchie on Twitter
Monday, 25 October
> There was white on the ground this morning. I'm not ready for winter yet.
Tuesday, 26 October
> A gloomy and cold evening, but these are the perfect times to bum around in comfy clothes and sit by a heater.
Wednesday, 27 October
> Idk why I always eat 5 times more this time of year. Maybe it's like hibernating bears. Outside is all white and cold.
> "It is almost impossible to be lifted up in pride when our hearts are filled with charity."
Thursday, 28 October
> Went to an elementary school Halloween parade! How awesome are those?? I remember being a power ranger in kindergarten haha.
Friday, 29 October
> Yes! I finally found my laptop charger after a week of it being lost!
> FINALLY got another video blog up! Sorry for the length and noise in the background —> http://www.youtube.com/watch?v=6dqo-uTTjzU
> "Is it real or just another crush" I know sometimes the lyrics say "really just" but I actually say "real or just." but anyway lol
Saturday, 30 October
> Hahaha just saw that #tosod is trending! Thanks you guys!! Hope you are enjoying the new album The Other Side of Down!
David Archuleta has nearly 508,000 Twitter followers!! Reaching for a cool mil! Follow DavidArchie on Twitter. During the past 27 weeks, David has averaged 5,666 new followers each week.
Fandom
Blogs, Stories, Charities
Stories
David Archuleta, Wikipedia's Most-Edited Music Star, and Either a Tenor or Baritone
by Daniel D'Addario, URLesque.com
6 October 2010
David Archuleta, American Idol runner-up in 2008, has become in 2010 the subject of a Wikipedia free-for-all, where the facts of his personal history and his career are up for grabs. On the "most edited pages" list for Wikipedia articles, his article sits at number 91 – very high for an artist who's been on the scene for two years, especially as Michael Jackson is number 115….
Blogs
Random David Archuleta Quote
from Disney Dreaming
27 October 2010
Leave it to David Archuleta to brighten up any day! Here's his most recently fun Twitter post:
Idk why I always eat 5 times more this time of year. Maybe it's like hibernating bears. Outside is all white and cold.
Charities
David Archuleta fans unite to raise money for the Children's Miracle Network
from Angels for a Cause
24 October 2010
"It's in the Bag" Fundraiser!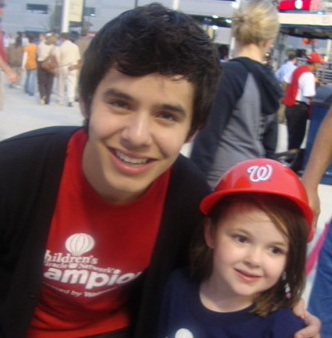 Children's Miracle Network has grown dramatically since its founding in 1983 from a televised fundraiser in a small studio to one of North America's leading children's charities. Founded by Marie Osmond and her family, John Schneider, Mick Shannon, and Joe Lake, CMN has raised more than $3.4 billion since 2008—most of it donated a dollar or two at a time. Children's Miracle Network is guided by two simple goals:
1. Help as many children as possible by raising funds for children's hospitals.
2. Keep funds in the community in which they were raised to help local children.
Attention David Archuleta fans: your donation will help raise money for this worthy cause and you might win a cool David Archuleta-styled denim handbag. Visit Angels for a Cause to see all the artistic bags. With a donation of at least $10.00, your name will be placed in the drawing. The It's in the Bag contest ends November 23.
Good luck!
Did you miss last week's Weekly Wrap? If you've fallen far behind, you should seriously search the Archhives! It's not too late to reclaim your status as a David Archuleta fanatic fan!
DA Weekly Buzz about David Archuleta!
Copy this short URL to share this post anywhere: http://www.dabuzzing.org/?p=18353

Tags: Blogcritics · Children's Miracle Network · Nepal · Republica · TOSOD · Twitter · USA Today · Weekly Wrap
Filed in: career|David Archuleta|music|news|performances|Queen Bee
This Post has earned 1 Buzz.