DA week that was in the life of David Archuleta
Follow links above to the relevant sections below.
Keeping up with the über-talented, awe-inspiring, world-travelling David Archuleta can be a full-time job. Even the most (D)avid fans among us don't always have time to follow David. Here are some of last week's top stories about the awesome David Archuleta.
Media Headlines
News, Reviews, and Interviews
'Idol' track sales: "Something 'bout Love" at No. 3
by Brian Mansfield, Idol Chatter
28 July 2010
David Archuleta's new single, "Something 'Bout Love," makes its debut on Nielsen SoundScan's list of top-selling digital tracks this week with 21,000 downloads. The only two Idol tracks that had better weeks were Carrie Underwood's Undo It and Adam Lambert's If I Had You.
Carrie Underwood, Undo It (39,000, -6%, 629,000)
Adam Lambert, If I Had You (29,000, +10, 152,000)
David Archuleta, Something 'Bout Love (21,000, debut, 21,000)
Read more: Idol Chatter
DJ Michael Maze interviews David Archuleta on KC 101.3 FM
from KC 101.3 FM in Connecticut
28 July 2010
David revealed that he'll be performing at the "Ticket to Ride" concert at Six Flags New England on 27 August.
Sounds like Maze is an Archuleta fan too. Listen to the podcast (4:49 minutes):
[audio:http://www.dabuzzing.org/wp-content/uploads/2010/07/D-Archuleta-w-MAZE.mp3|titles=D Archuleta w MAZE]
David's World
Blogs, Tweets, Appearances
Blogs and Vlogs
Get "Something 'Bout Love" As Your Ringtone Now!
from DavidArchuleta.com
27 July 2010
Ready for a new ringtone? Well now you can get "Something 'Bout Love" as a ringtone and hear it every time your phone rings. Buy the "Something 'Bout Love" ringtone and then tell all of your friends to call you over and over again so you can hear the song as much as possible!
Date change for album release
from DavidArchuleta.com
29 July 2010
We'd like you all to be the first to know that the release date for The Other Side of Down has changed. It will now be coming on October 5th. Like the last time we dealt with a date change, this one is definitely for the best. David would like to make sure he's delivering the best possible album and he needs just a little more time to do it. So please get ready for the 5th, and if you pre-ordered the album, your order will stay in our system, it will just ship on October 5th. If you haven't yet, make sure to pre-order The Other Side of Down in David's official store.
Video blog from David, the "Ramblin' Man"
from David's YouTube
29 July 2010
"I was born a ramblin' man….I talk too much, but just wanted to give an update on things and say thanks to you guys."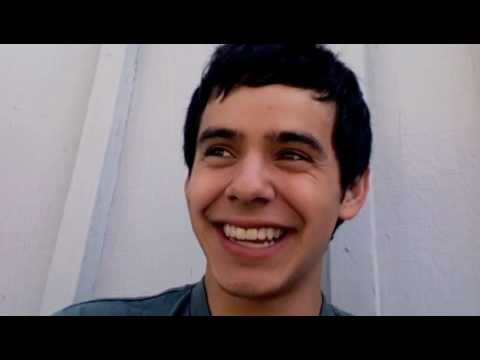 Join the Official David Archuleta Website and sign up to receive newsletter updates of his appearances, music, photos, blogs, and more.
Appearances – Recent & Future
Quick-glance Appearances Schedule:
22 July, sang National Anthem, EA Sports Madden NFL 11 Pigskin Pro-Am, Malibu, CA
27 July, appears on "The Balancing Act," a Lifetime TV show
9 August, presenter on Teen Choice Awards, Los Angeles; nominated in two categories
27 August, will perform at "Ticket to Ride" concert, Six Flags New England, Agawam, MA
Chords of Strength, David Archuleta's Best Selling Memoir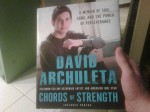 David has had several book-signing events in July. We'll let you know when more dates are scheduled. If you don't have a copy of Chords of Strength yet, buy today!
Amazon: $14.05 today
Penguin Books: Hardcover $22.95; eBook $10.99
Barnes & Noble: $16.52 online
Borders: Hardcover $22.95
DavidArchie on Twitter
Monday, 26 July
> Today beginning on some of the last writing sessions for this album cycle!
Tuesday, 27 July
> > Working today with @Tobygad and Steve Diamond!
> Right now it feels perfect outside. So nice.
> All right, finished writing for the day.
Wednesday, 28 July
> @EmmmmieArchie Ok! I'll try and get one up later today or tomorrow! If not Friday.. lol (reply to: dude. we miss you man. video blog soon ok? K.)
> @CanadianArchie I'm sorry lol. I will definitely try and get a video blog up soon. I miss talking to everyone too! (reply to: life must have gotten real busy for you @DavidArchie, we hardly hear from you anymore, but CONGRATS and have a great day!!!)
> Going to do one more writing session today. Time to face the LA traffic… haha. At least it gives you no choice but to sit back and think.
> Hey guys! The Fan edition package for The Other Side of Down is up for pre-order right now! Fan edition
> Just watched the final edit for the video for "Something 'Bout Love" :)! Can't wait for you guys to see it!!!
Thursday, 29 July
> "If all you know is what you see, then you don't know very much."
> Here's the (long) video blog for this week! lol. Sorry for the rambling. —-> Video Blog
Friday, 30 July
> Really happy with how this song has turned out! Final vocals done on this one 🙂
> Venus is really bright in the sky tonight.
Saturday, 31 July
> "We should give as we would receive- cheerfully, quickly, and without hesitation; …for there is no grace in a benefit that sticks to the fingers."
David quoting Seneca, Spanish-born Roman statesman, Stoic philosopher, 4 B.C.-65 A.D.
Follow David Archuleta on Twitter. He has more than 415,400 followers, but who's counting? —I am!!! During the past fourteen weeks, David has averaged 4,314 new followers each week.
Fandom
Blogs, Stories, Charities
Blogs
Venus: love, beauty and David Archuleta
by ArchieFanDoc, Archuleta Fanscene
31 July 2010
Wow! Just a few hours after David tweeted about seeing Venus in the sky, archiefandoc published an interesting post on Archuleta Fanscene about Venus. Thanks for all the great info and beautiful pictures, AFD!
The planet Venus is named after the Roman goddess of love and beauty. As lovers of David Archuleta music, I think many DA fans are also Venusians at heart. haha!
Stories
Voting on the Teen Choice Awards
from: Teen Choice Awards
12 July 2010
TEEN CHOICE 2010 airs Monday, Aug. 9 (8:00-10:00 PM ET/PT) on FOX. You have a few more days to vote for David Archuleta in the Choice American Idol Alum and the Most Fanatic Fans categories! David will make an appearance on the show.
"Something 'bout Love" chords by David Archuleta
by Emil Ionescu, Metal-head.org
27 July 2010
Emil Ionescu of Buzau, Romania, has provided guitar chords for "Something 'bout Love" by David Archuleta. Get the chords and start strummin'!
Other Side of Down cover art by R4D
from Huong, David Archuleta Vietnam
28 July 2010
Filipino graphic artist R4D has done it again: beautiful cover art for David's upcoming album. Get R4D wallpaper artwork for your computer.
Did you miss last week's Weekly Wrap? If you've fallen far behind, you should seriously search the Archhives! It's not too late to reclaim your status as a David Archuleta fanatic fan!
DA Weekly Buzz about David Archuleta!
Copy this short URL to share this post anywhere: http://www.dabuzzing.org/?p=17062

Tags: Idol Chatter · Other Side of Down · Seneca · Something 'bout Love · Ticket to Ride · Twitter · Weekly Wrap
Filed in: career|David Archuleta|music|news|opinions|performances|Queen Bee|reviews
This Post has no Buzz yet.