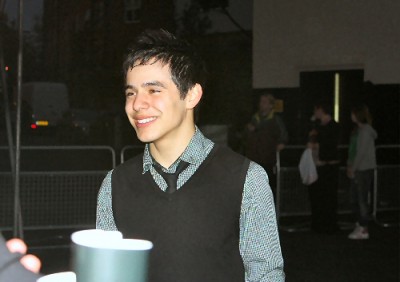 Several heated discussions are the buzz this weekend debating the pros and cons of David Archuleta's tour with Demi Lovato.  Good or bad?  Helping or hurting ?  Is Jive promoting the right way? Why aren't his sales better?  Is he too tired?  Is he becoming too Disney?  – ANSWERS:  Probably good,  Acquiring new fans,  Time will tell,  Are they bad?,  Sometimes,  No.
Many fans are short–termed focused and can't see beyond the gratification of instant fame for David.  Experience and exposure will give him the credibility necessary for sustained popularity. 
Moving past the Disney machine may take more than just great talent.  As Chaucer wrote, "Money is the root of all evil." Money talks, especially in the entertainment fields and marketing an individual has no resemblance to talent.  It's all about what can sell.  You saturate young people with large loud glitzy productions with costume changes and great hair and makeup and magically you have a sought after idol doll.  The music quality doesn't matter as long as it's  entertaining.  Ever wonder why so many artists play instruments, dance and sing? – The audience gets bored easily – most artists today don't have enough talent just to sing.  They disguise their lack of vocal ability with keeping the audience occupied and distracted with stage presence and gimmicks. 
Reflecting back to the AI Tour of Season 7, I recall the difference in noise level and lighting when Cook came out after David's set.  Grant you, he was the season winner but the intention was to get our attention and distract the audience with glitz instead of vocal genius.  David doesn't need that to keep us interested.  Once you hear him live you can't resist another look.
In this high speed techno internet, video saturated, fast food, wanting everything yesterday world, we have become less interested in quality and more in quantity.  David is quality and well worth waiting for in whatever form you see him.  Be patient and the rewards will definitely outweigh anytime spent.  Have faith in David – I do – He will not disappoint us.  Give him love and support and the room for expressing his music his way and show him how proud we are by continuing to promote his albums.
Copy this short URL to share this post anywhere: http://www.dabuzzing.org/?p=2349

Tags: career · music business
Filed in: career|music
This Post has earned 5 Buzzes.