David Archuleta and the rest of the gang from Season 7 should have a group CD out, not this one!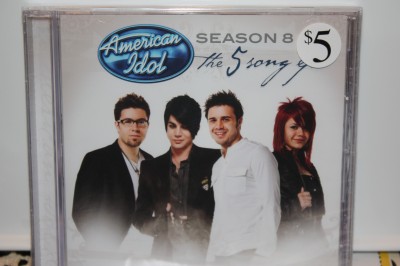 What the heck is this CD??  I have been waiting for something to come out for Season 7 for ages and this is what they give us!!  Oh no, American Idol has lost it!  Only $5.00 (although it is only 5 songs – 5 too many for me).  If they had put something out for Season 7 they could have charged a great deal more!  Now if I have missed something please let me know.  Didn't Season 7 sellout more of their tour than any other season? So why this one? Ok, I will try to calm down and find my way back to Walmart to return this one, haha I only wanted it so I could take a picture!
Song titles, Renegade, Whole Lotta Love, Aint No Sunshine, What Hurts the Most and Slow Ride.  
It will be a fast ride for me back to Walmart and it won't hurt a bit!!!!!
Copy this short URL to share this post anywhere: http://www.dabuzzing.org/?p=10080

Tags: American Idol · CDs · David Archuleta · music · Season 7 · Season 8
Filed in: David Archuleta
This Post has earned 1 Buzz.