Two great performances from David Archuleta singing "Imagine," one on American Idol and the other on a local show in Utah when he was 13!
Brian Mansfield poses the question, Was singing "Imagine" risky?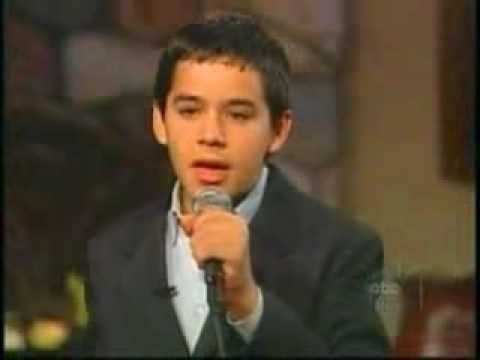 From Idol Chatter – Brian Mansfield
David Archuleta performs "Imagine" on AMERICAN IDOL Tuesday, Feb. 26, 2008.
I've always thought David Archuleta's Imagine was one of the riskiest choices a contestant has made on American Idol.
There were so many ways that February 2008 performance could have backfired on David. Simon Cowell acknowledged as much afterward, telling David it was "very, very risky to do a John Lennon song — particularly that one."
After all, Imagine is an iconic song with a simple melody and a message considered both sacred and profane by different groups of people. Beatles fans could have turned on him for having the audacity to change the melody so much — or simply for being 17 and singing it. The judges might have thought it was too old — or too weighty — for him.
If David had sung the first verse about imagining there's no Heaven, he probably never would have won back large segments of the show's conservative, religious viewers. But starting the song on the third verse could have caused problems, too. It might have sent the message that he wasn't willing to sing that first verse — even though he had time constraints as an excuse.
There were so many reasons that performance might not have worked — and the fact that David sang and smiled his way right past every last one of them made him one of that season's instant favorites.
It turns out, though, that Imagine wasn't David's first choice that week.
"I actually picked another song before I picked Imagine," David says, though he declines to name the other number. "But I knew I needed to do Imagine.
"It was scary, because everyone else was doing uptempo stuff. It was '70s Week. It was, like, feel-good week. I didn't even know that no one else picked slow songs until rehearsals, and I was scared."
David even went so far as working up the arrangement of the first song, only later telling producers that he wanted to change his performance number.
"They were not happy that I wanted to change," he recalls. First of all, switching songs made an already tight schedule even tighter. Secondly, they wanted David to sing the song's first verse.
But David stuck to his guns.
"There are more important things about the song than the first verse," he says. "I leave it to what matters — what matters in life and what matters in music. That song captures those things perfectly, and it captured what I wanted to do with music. It captured why I felt like I needed to be there and what I needed to say.
"Some people were, like, 'Why didn't he sing the first verse?' You know what? The third verse is my favorite one. Not everybody focuses on what the song's about — they just focus on those first words and obsess about 'how bad it is.' I'm a religious person. I felt like this song meant more than that, and I wasn't going to let that distraction get in the way.
"People were upset that I wouldn't do the first verse — 'That's the verse everyone knows!' You know what? People need to listen to the song. I didn't want people to think they already knew the song. I wanted people to listen, because there's more meaning, and it captures a substance in music that is so meaningful to me."
David says he also understood that, with switching verses, he ran the risk of being considered "cheesy," but "it didn't matter, because I said what I needed to say.
"Same with this next album. Maybe it's cheesy, but there's a point where you have to be brave to be cheesy, because you know it's what you're supposed to do. Maybe I'm a cheesy person, but that's who I am. I'm not going to pretend to be somebody else just to humor society."
Copy this short URL to share this post anywhere: http://www.dabuzzing.org/?p=13778

Tags: American Idol · Brian Mansfield · Idol Chatter · Imagine · John Lennon
Filed in: career|David Archuleta|music|voice
This Post has no Buzz yet.