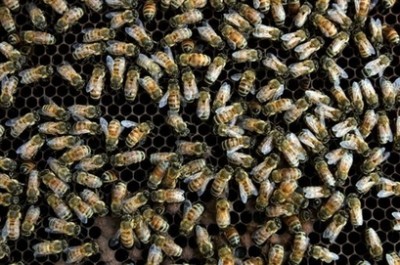 The news report below says these honeybees may have been too tired to fly, so they hopped on the wings of an airplane. Maybe these honeybees thought David Archuleta was on that plane!
DANVERS, Mass. – Maybe these bees were too tired to fly for themselves. A gang of honeybees landed on the wing of a plane used for flight school training at Beverly Airport. At first, the 10,000 or so bees swarmed over the left side of the aircraft, then landed on top of the left wing. The owner of the flight center called police, who said to call local bee removal expert Al Wilkins.

Wilkins used a specially designed vacuum to suck the bees off the plane, and then relocated them to hives where they will produce honey.
SOURCE UPDATE 26 March 2010: page moved on Yahoo News; link removed.
Copy this short URL to share this post anywhere: http://www.dabuzzing.org/?p=1714

Tags: flying · Honeybees
Filed in: news
This Post has earned 1 Buzz.