Today AOL Radio Blog announced its Top 10 American Idol songs from the past eight seasons of the Fox show. The Top 10 were successful on the airwaves and rated by AOL Radio listeners.
Number 1 is "Crush" by David Archuleta. Congratulations, David!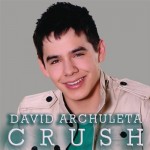 Writes Boonsri Dikinson, "The seventh season runner-up finished strong, receiving 44 percent of the 97 million votes. But it's not surprising 'Crush' was such a hit (and our No.1 'American Idol' song) — Jackson said Archuleta could "sing the phone book" and it would still sound great. Growing up in the 'American Idol' generation, he became one of the youngest contestants to participate in the show. To keep better tabs on him, check out his frequent tweets."
When "Crush" was released in 2008, Chuck Taylor at Billboard had this to say on August 20: "It's not a stretch to suggest that Sony chief (and former Jive prez) Barry Weiss saved the "American Idol" franchise from top 40 radio demise. Instead of trying to overcontemporize the pageant's pop finalists with ill-fitting R&B production (read: Katharine McPhee), he has carefully aligned acts with material that matches (read: Jordin Sparks). So the prognosis is aces for the launch of season-seven runner-up David Archuleta. "Crush" is a hummable, age-appropriate midtempo pop ditty for the 17-year-old, showcasing his fine mass-appeal vocal stylings with creamy harmonies and some nice falsetto effects. The track is produced by millennium wiz Emanuel Kiriakou, who has worked with Sparks, Jesse McCartney, Celine Dion and Nick Lachey. "AI" has shown renewed radio potency thanks to such super-caliber artists as Chris Daughtry, Jennifer Hudson and Carrie Underwood—along with the democratizing of the consumer vote, via iTunes. "Crush" is likely to put its money where its title is on the charts."
And from Fred Bronson at Billboard in August 2008:
"So it's nice to report that the artist who earns Hot Shot Debut honors on this week's Hot 100 has an obsession with the charts. More accurately, and at the risk of self-aggrandizing, he [David Archuleta] is obsessed with my Billboard chart books. With his new single entering at No. 2, he has assured himself a place in the next edition of "Billboard's Hottest Hot 100 Hits," even if he has to wait a few years to see his current single listed among the top 5000 songs of the rock era."
SOURCE: Top 10 'American Idol' Songs – AOL Radio Blog
Copy this short URL to share this post anywhere: http://www.dabuzzing.org/?p=9374

Tags: American Idol · AOL Radio · Billboard · Chuck Taylor · Crush · Fred Bronson
Filed in: career|David Archuleta|music|news|reviews
This Post has earned 4 Buzzes.