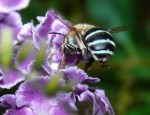 It's scientific! Bees are smarter than com­puters. The insects learn to fly the shortest route between flowers discovered in random order, effectively solving the "travelling salesman problem," said scientists at Royal Holloway, University of London. Even with a brain the size of a grass seed, bees find the shortest route to the flowers they visit every day. They don't need Google Maps!
Since humans are smarter than bees, ergo DA Honeybees are smarter than computers. We David Archuleta fans don't need a scientific study to know that. We use our huge brains to find the 'shortest route' to David Archuleta's music every day. Then we create 'sweet buzz' about it! Every time we do this David's fan base grows and flowers into something more and more beautiful. Now isn't that a nice thought for Monday morning?
More info: Cnet
Copy this short URL to share this post anywhere: http://www.dabuzzing.org/?p=18268

Tags: bees · computers · intelligence
Filed in: David Archuleta|news|opinions
This Post has earned 3 Buzzes.