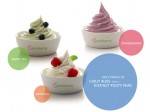 This Mother's Day I want a Pinkberry for dessert. Yesterday David Archuleta enjoyed his first Pinkberry: he chose mango. For after-dinner entertainment, I'd like to hear David sing the Pinkberry song!
The Pinkberry jingle heard on its Web site is sung by the '80s musician Tigra, from L'Trimm. Can you imagine what David Archuleta would do with this little jingle? They would have to change the slogan, "Soft swirls of Chilly Bliss with a Distinct Pouty Peak" to "Heavenly Swirls of Pure Bliss ending with a very High Grace Note." OK, after I hear David's version, I'm sure I could write something better.
Like David, I wish all the "mothers, aunts, grandmothers, and incredible women who act as a mom" a very Happy Mother's Day!
Copy this short URL to share this post anywhere: http://www.dabuzzing.org/?p=15955

Tags: Pinkberry
Filed in: opinions
This Post has no Buzz yet.